Sergeant
PX Member
Minuteman
NF Army-Spec 3.5-15x50 F1 MRAD Mildot
This Army-Spec is unique because it does not have milspec on the face of the parallax turret. I just received the scope back from NF after having a manufacturer service & inspection, note inspection sticker on bell housing.
SOLD
$2350 shipped with scope, sunshade, bikini, and standard NF box.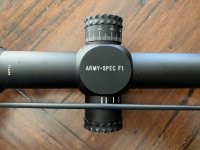 Schmidt Bender 5-25x56 MTC MK248 Mod 1 BDC-MSR reticle.
Supposedly there are 2-3 of these in commercial hands and I have two of them. The other one is on my Stiller Mod 5. The one I am keeping played a significant role down range. The one I am entertaining selling looks like it sat in a cage.
$5100 shipped with scope, ARD, standard Schmidt box.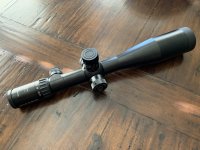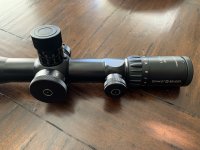 Last edited: