WTB: The OG Shoutbox
Full Member
Minuteman
Well, it LOOKS a little misleading seeing as how there isn't any glass up top yet...this weekend when I take it out, I have 50 rounds of SW Ammo 69 SMKs waiting, and will have a Bushy 3200 10x mil/mil on top before it finds it's way onto my Sig 522.
I intend to do this:
-Eventually run a 1-4x, 1-6/8x or a 2.5-10x of some flavor for optics.
-Replace the Magpul MBUS with some desirable flavor of folding Irons.
-Install a Geiselle SSA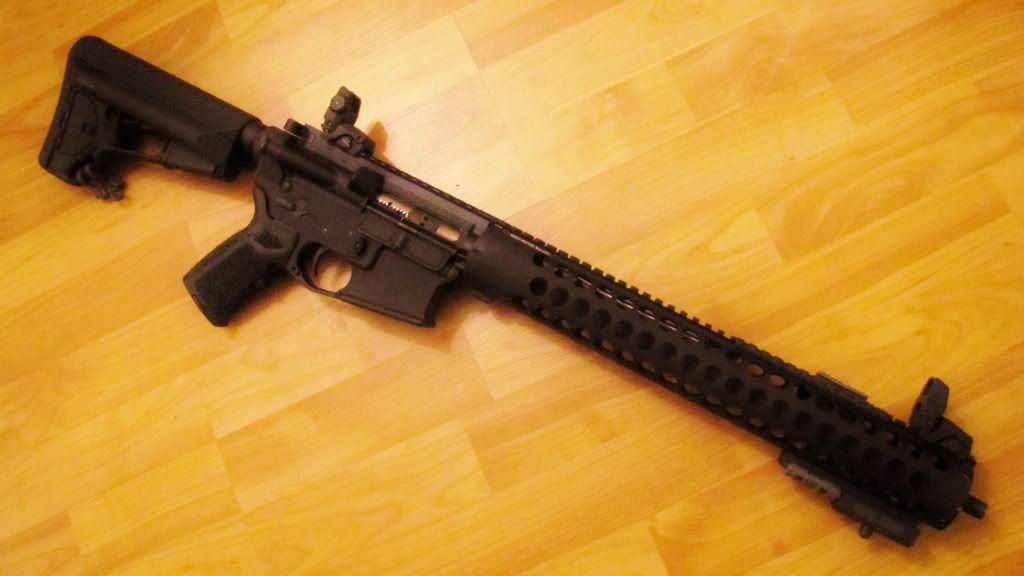 The important parts:
-Daniel Defense 1:7 16" Barrel
-EXO/FailZero Bolt Carrier/Bolt
-A3 Upper of some brand w/ generic brand CH and Badger TacLatch
-Sun Devil Lower w/ Ambi Safety and stippled to shit MIAD
-Midwest Industries 15" SS Handguard
I liked the prospect of a bastardized SPR/Recce Rifle with some MK12 components and mulled over a PRI Free Float tube like what was being offered in a Group Buy, but Xmas Shopping/Money/time before school cut into that idea. The 15" allows me to run a bipod all the way out front and still lets me run my hand out where I prefer to. And the lack of rails all over it kept it relatively light.
After seeing what happens accuracy wise at 100, I intend to shoot it out to 300 or more (depending on what kind of space a buddy's property offers) on steel, and if it sucks, I'll put something like a BattleComp on this, and build for precision on an 18" White Oak or the like and one of the new Seekins Monolithic upper/rails.