i thought id share with the rest of you gun people.
my Remington.
just bought it about 2 months ago, about 100 rounds down the tube.
shot only 3 groups for accuracy after sighting it in, the rest was plinking.
best 3 shot group so far is 3/4" at 100 yards(168 gr. smk federal match ammo), but don't judge the rifle, im still a novice shooter. i love this gun and it is my first bolt action. i love the short barrel i think it looks and feel great. i also love the fact that once i move up to Oregon a can slap a can on the barrel
. i'm very satisfied with this gun.
model is sps tactical aac-sd (1 in 10 twist)
bell and carlson a3 style stock
harris BRM-S 6-9 with generic pod-loc
KRG bolt lift kit (awsome upgrade)
swfa ss 10x42mm (AWSOME scope for the money)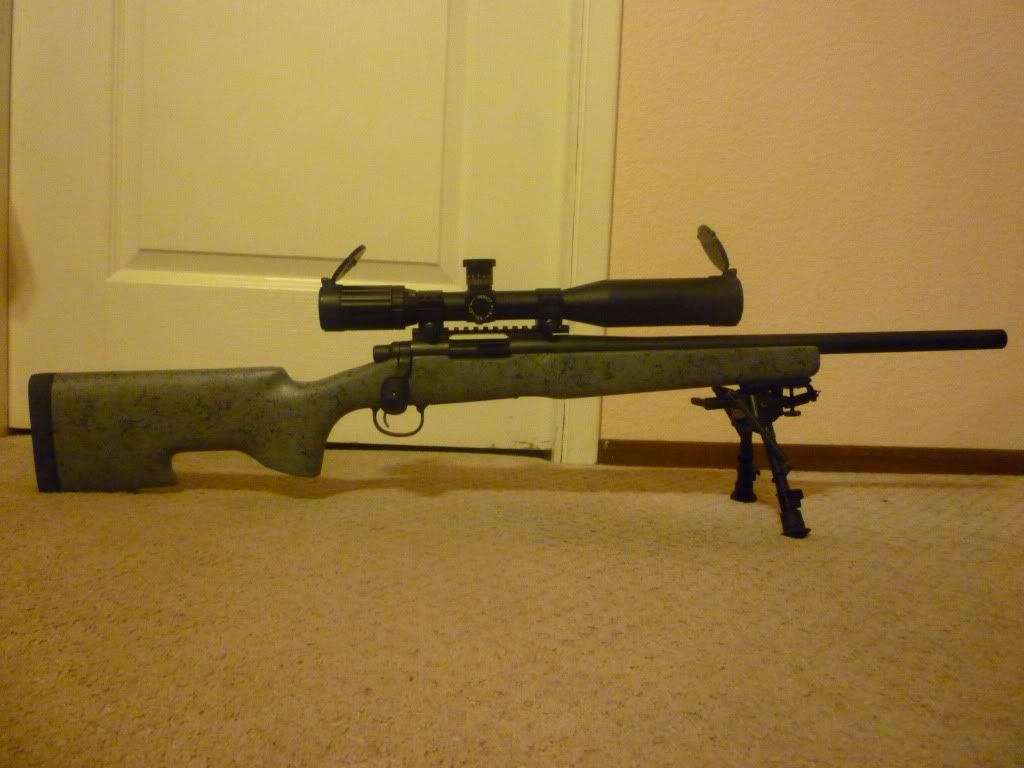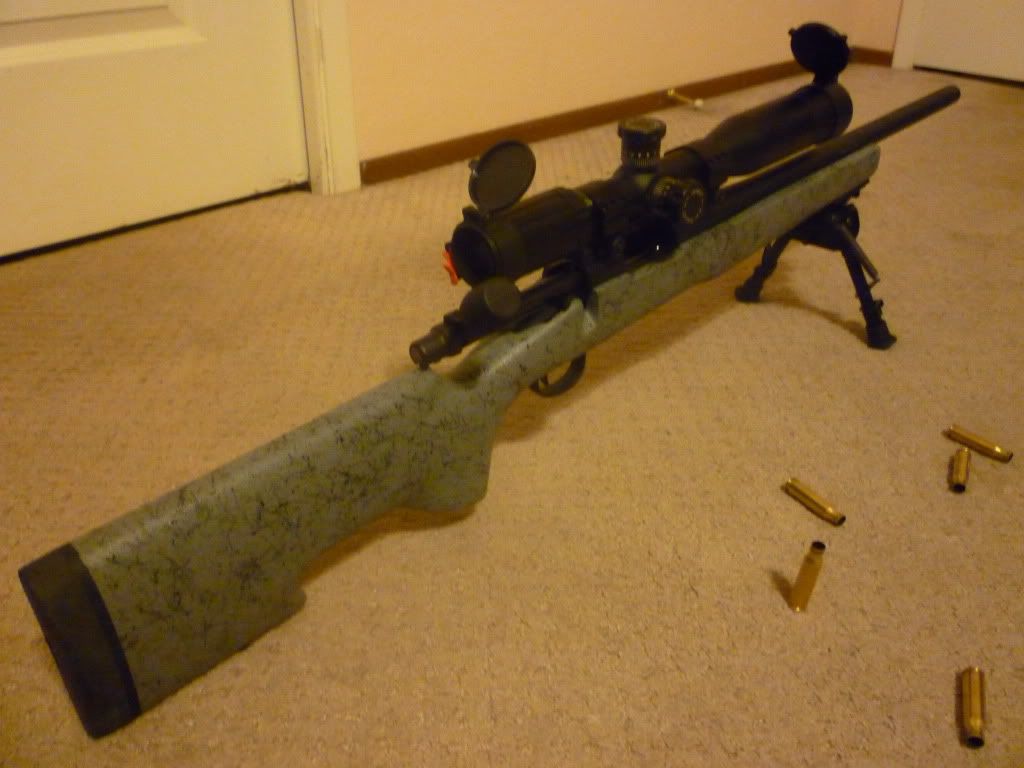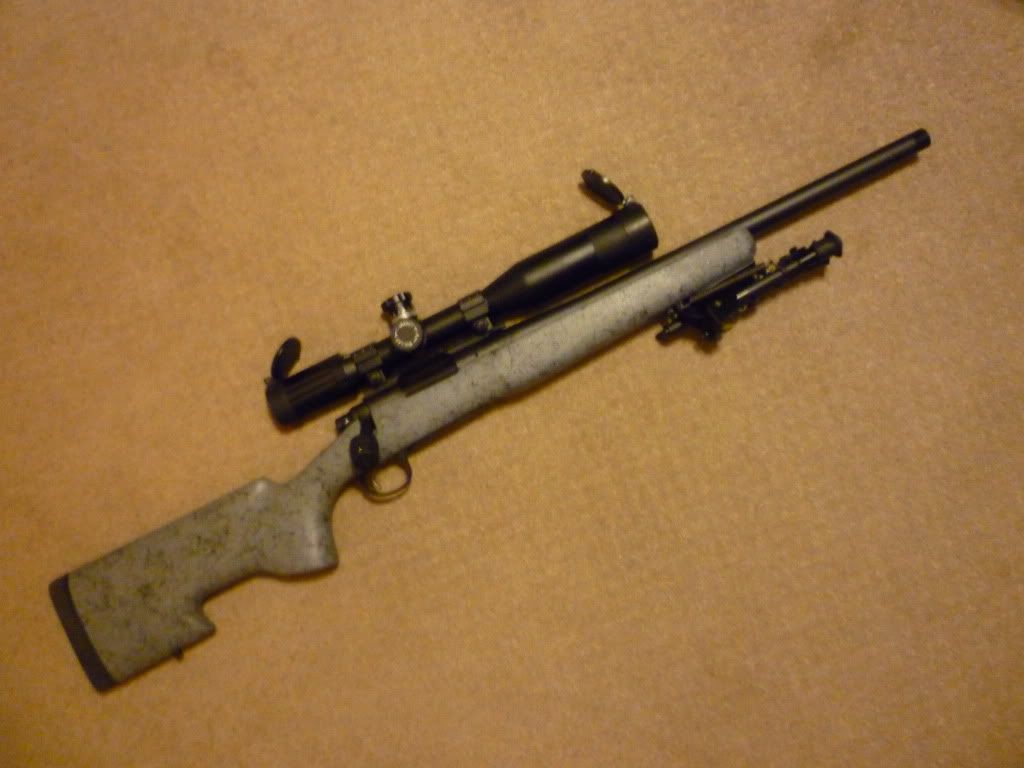 my mini.
its a newer 580 model with a tapered barrel. shoots nice with the harbar, i was pretty consistently hitting a bucket, slightly bigger than a coffee can, at about 300 yards standing up. wanna sit down one day and see what its really capable of.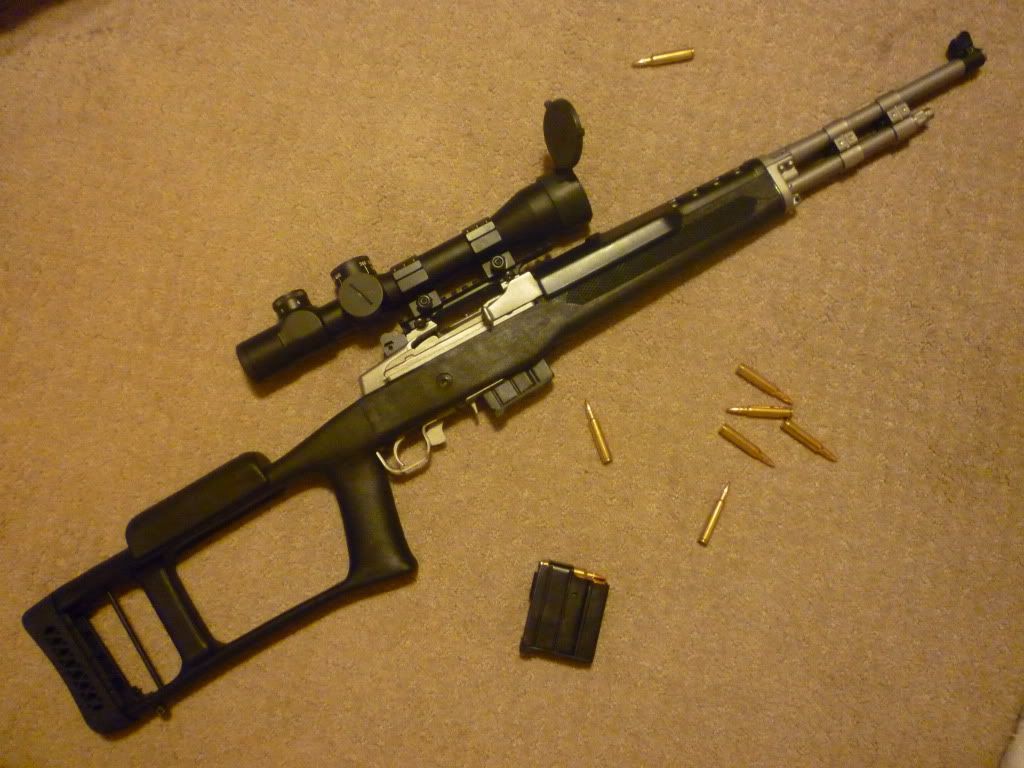 the scope on is rather interesting.
its called a PSOP 5x40 scope, made by the same people who make the russian military scope for dragunovs and ak-47s. it cost 200 bucks, it was a gamble but i decided id take a risk just because other scope they made got good reviews. im satisfied to say the least, good clear glass, eye relief is funny but you get used to it. dont really use the illumination or the calibrated bullet drop turret, but the feature is cool. quality is good, they could have manufactured some things on the scope a little better, but hey for 200 bucks, its a cool scope. reticle looks very similar to the one posted, except with a dot in the middle, and elevation markers are more precise, idk what the heck this one here is supposed to do. very easy and fun to use, i do recommend it if you want something unique for your 223.
cons. if you move the calibrated turret past the 400 yd marker, it changes the scopes zero
(i think i got a dud). and the rear reticle zoom adjust/scope's zoom adjustment (not too sure what their goal was with this part) gets blurry about halfway through, but you don't even need that much zoom for a plinking 223, so no biggie in my opinion. and its built sort of awkward as you can see in the picture.
other than that, really cool scope.
sorry for the crappy pics.
thanks for reading, hope you enjoyed.