Ignorant wretch
Belligerents
5-20×56
Non-Illum
IHR reticle
zero set
Excellent condition, been living in its box. I dont think i put more than 100 rds under it before deciding the reticle didnt work for me.
$1000 (just sticking a price in. really looking to trade not sell)
I need something similar with mil dots or hash marks. i can add a little $$$ to sweeten the pot. Ill also pay both our shipping.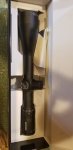 Last edited: