\m/ SLAYER \m/
Supporter
Full Member
Minuteman
Until a few days ago my views on barrel cleaning could be summed up as Bore Tech Eliminator, nylon brushes, cotton patches, that's it, no abrasives, ever. I only pulled out the borescope if I needed it to diagnose a problem, otherwise, it stayed in its box on a shelf.
I had arrived at this ethos due to seeing and hearing many guys go bananas with their barrel-cleaning regimes to the point where it was arguable that they were doing more harm than good. I'd been completely turned off from getting too deep in the weeds with barrel cleaning after seeing too many guys spend more time on getting good with a borescope than actually shooting.
Well, you can teach an old dog new tricks and I've evolved on the subject.
I was talking to someone I trust about it whether abrasives were a good/bad idea, etc and he made a very impactful statement: what one chooses to use as far as cleaning doesn't even really matter that much, but, the fact that borescopes are so cheap now is what is really the thing.
His point was: now that we all can see what we're doing, we should all be able to tell whether we're doing good or fucking things up, just by looking and checking. I hadn't thought of it like that, but that made sense to me.
Here's a 6CM barrel that had 2300 rounds on it when I pulled it, I used a fairly large jump and loaded 0.100" off the lands the whole time, and used a mild load making ~2900fps. Measuring the lands/throat, it barely moved, I lost something stupid like ~3 thou (almost too little to measure).
I figured it died because of fire-cracking... but now I'm not so sure... now I think it stopped shooting because of heavy carbon buildup.
I decided to put the borescope to use and try using penetrating oil as I had heard good things about it breaking hard carbon loose...
Anyhow, if pictures are worth 1000 words, here are "10,000 words". This is after soaking in Eliminator for a couple of days (didn't do a whole lot honestly), then ~30 minutes with penetrating oil, a little Iosso, and a couple of bronze brushes ->
Before: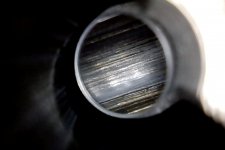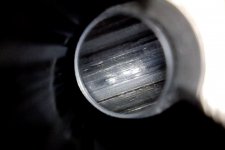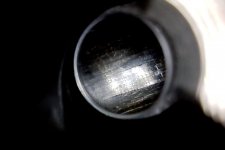 After: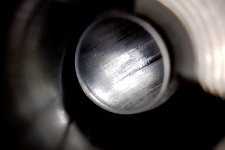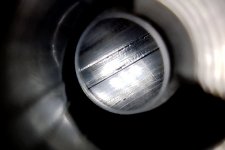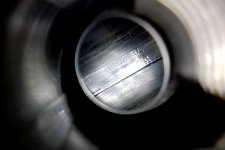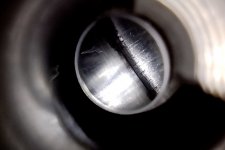 I'm going to spin the barrel back on and see how it shoots in the next week or two... but it looks like there might be more life in it yet.
If it shoots, it'll be good news because I've got another barrel with 2200rds on it that looks just like this one that maybe isn't a tomato stake just yet either... but I think if I end up hitting the next one I'm going to let it soak with the penetrating oil for a couple of days instead of the Eliminator because the penetrating oil seems to do most of the heavy lifting.
I was kind of amazed at how well, and how fast the penetrating oil worked while following along with the borescope, I think it's definitely worth giving a try if you find yourself dealing with heavy carbon. FWIW I used Liquid Wrench Penetrating Oil (yellow and white can), but went to the store looking for Free-All which I've heard is good too and I might try at some point.
Last edited: