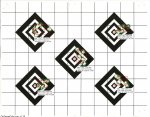 Perhaps my expectations are too high, but I was hoping for better accuracy from my 700P. Do these groups represent typical accuracy for a factory gun, or did I get a lemon (or maybe screw it up, somehow)?
FYI: 5 groups fired clock wise from top left and center last. 3 shots fired beforehand to "warm up" the barrel. 1 minute pause between shots, and 5 minutes between groups. Ammo was .308 Win FGMM 168gr SMK. Scope is Leupold mk4 3.5-10x40 M5 front focul TMR. Leupold MK4 20MOA single picatinny base bedded at rear, 8x40 screws. MK 4 rings. Rifle is Remington 700 Police. Mods to rifle: barrel cut to 24", re-crowned, and threaded 5/8x24 with Surefire Sfmb 762 brake. PTG M5 DBM. Harris BR bi-pod. Recoil lug only epoxy bedded. Trigger polished and set to 2 1/2 lbs, no overtavel. Aluminum firing pin. PTG cocking piece with polished cam. Bolt cocking camway polished. Badger mini tactical bolt knob. All scope and mount screws are torqued to spec, and action screws are torqued to 65 in lbs. Bedding wear marks on action appear to be even.
So far, I have seen no change in accuracy good or bad from any mods. I'll be adding a Shilen trigger set at 1 3/4 lbs. I'm thinking about doing an action bedding keeping the barrel free floated, possibly with "accu risers". Im not planning to replace the barrel or bluprint the action until I've shot the barrel out.
Last edited: