Ronin
Full Member
Minuteman
This is a review that I did on the Model 783 Varmint that was recently published online.
Remington introduced the Model 783 back in 2013 as an alternative hunting rifle to the venerable Model 700 and budget Model 770 that offered good accuracy for an affordable price. Fast forward to the present and Remington is offering some additional versions of the Model 783 outfitted with heavier barrels, muzzle threading, and other features that would appeal to long-range shooters and hunters. At SHOT Show 2019 I got to take a look at some of these models but the Model 783 Varmint, a heavy barreled version with a laminated wood stock, was one that I thought simply looked great. Offered in several common varmint and long-range shooting calibers, I was lucky enough to get a sample to test out chambered in .223 Remington.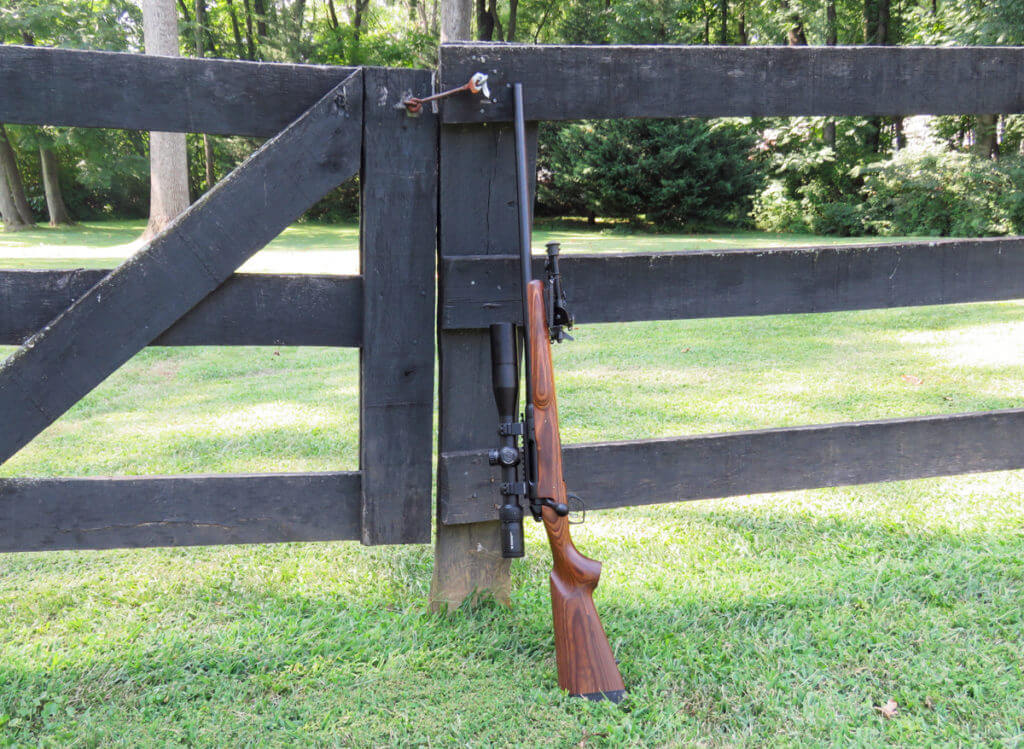 Breakdown of the 783 Varmint
The design of the 783 is a pretty tried and true combination of a cylindrical action with a dual locking lug bolt, a free-floated button-rifled barrel, and a good trigger. I'm sure there are already comparisons being made to the similarities between this rifle and some Savage models, of which there are a few. That being said, Remington originally designed this rifle to fit within certain parameters so it makes sense that they'd take a few pages from Savage's playbook.
The Model 783 Varmint could be characterized as a rifle that's a blend of some of the best features in the industry, but decidedly Remington.
Let's start at the action, it bears some similarities to a Model 7 action in the tang and bolt shroud area but forward of that, it's a different animal. The ejection port is machined just large enough for cases to eject effectively, which can increase rigidity and promote better accuracy.
The barrel is secured to the action with a barrel nut, which can allow for easier barrel swaps down the road using a Savage barrel nut wrench.
Normally the 783 receiver is just drilled and tapped but this one ships with a Picatinny scope base installed so you can run your preference of mounting options. As a habit, I check every scope base that I'm going to be mounting one of my scopes on with a set of Wheeler Alignment Bars to make sure the base is actually straight. I was quite satisfied then when I torqued everything down and found that the points of the alignment bars were perfectly lined up, ensuring that the scope wouldn't be tweaked or damaged by the rings.
The teardrop bolt knob is an excellent addition to the 783 that is functional and ergonomic.
Some actions have a very distinctive feel when you run them and despite some obvious design differences the Model 783 has a feel that would be familiar to most Remington shooters. The bolt handle lift is smooth and positive while the dual locking lugs glide along the raceways, almost as if they're on ball bearings. Those dual locking lugs also represent an interesting departure for Remington as they are actually using a floating bolt head design, a la Savage. Now, there are other manufacturers using this type of bolt head too because it is very accommodating of action tolerances to allow positive lock up and cartridge alignment inside the chamber. The bolt head also uses a Savage-like extractor that slides into the face of one of the lugs and a typical spring-loaded plunger ejector set up.
Regardless of caliber, all Model 783 Varmint rifles come with a 26" button rifled, carbon steel barrel that is roughly a Remington Varmint contour based on the .840" muzzle diameter. This Model 783 was chambered in .223 Remington with a 1:9 twist rate which is actually pretty interesting. It's interesting because on the Model 700 counterpart to this rifle, they too offer a 26" .223 barrel, but it has a 1:12 twist that is optimized for lighter 40-55 grain bullets. To me, this automatically makes the 783 Varmint more appealing since the faster twist rate can stabilize the lighter varmint bullets and heavier match grade bullets if I want to go to longer distances.
I prefer this style of recessed target crown on the 783 Varmint as it better protects the crown from damage and just looks good to boot.
| | |
| --- | --- |
| Model No. | 85735 |
| Action | Dual lug, floating bolt head |
| Barrel | Carbon steel, button rifled, 26" OAL |
| Twist Rate | 1:9 inches |
| Magazine | Detachable box magazine, 5-rd capacity |
| Stock | Laminated wood |
| Sights | None, drilled and tapped for a scope base (included) |
| Overall Length | 46" |
| Length of Pull | 13 ⅝" |
| Weight | 7.5 lbs |
| MSRP | $625 |
Remington's Crossfire Trigger System is adjustable from 2.5 lbs up to 5 lbs.
A bad trigger can ruin an otherwise good rifle and this Model 783 Varmint comes with what might be the best trigger that Remington has put out in ages. Sure it looks like a Savage Accu-Trigger at first glance with its trigger blade, but so do the triggers from Ruger, Mossberg, and Marlin these days. Out of the box the Crossfire Trigger broke at a rather stiff 4 lbs. 6.5 oz., which isn't great but this trigger is so easy to adjust and it actually adjusts properly. You do have to remove the action from the stock to make adjustments but there is only one screw that needs to be turned counter-clockwise to reduce the trigger pull. It only took a few minutes of tinkering with the one adjustment screw to bring the trigger weight down to a 2 lbs. 13.3 oz. average after ten trigger pulls. This process is as safe as it is simple since the sear contact can't be inadvertently set to low and make a great trigger dangerous.
The laminated stock is what caught my attention at SHOT Show and it's a great addition to the rifle that in my opinion gives it a soul. All too often actions are dropped into the run of the mill plastic stocks that are discarded almost as soon as the rifle gets home. The barrel is fully free-floated back to the recoil lug, with plenty of space all the way around to mitigate any incidental contact that might occur, such as from resting on a bag or loading a bipod.
The wide forend fits the support hand well and has plenty of real estate to keep it from sliding around when you're shooting off a sandbag or front rest. The pistol grip and buttstock are very much reminiscent of a traditional hunting stock, making it very comfortable to shoot in field conditions. The drop at the comb was a little much for me to use with an optic and to get up to the proper height I had to strap on a cheek riser.
Length of pull is 13 5/8″.
At The Range
The 783 Varmint is a little hefty to be a walking around gun but a heavy barrel .223 can be such a versatile tool to use for shooting long-range, going after varmints or predator hunting. I pulled together some ammunition from Fiocchi, Winchester, Nosler, Hornady, and Black Hills with bullet weights ranging from 50 up to 75 grains that would suit these purposes. All Model 783's are fed from a flush fitting steel detachable box magazine that is secured into the stock by a steel latch, making for a very strong lockup.
Magazine capacity with the .223 Remington is 5 rounds.
The flush-fitting magazine gives it a sort of BDL look but makes loading and safely unloading the rifle much easier.
As far as accuracy goes, there isn't a lot I can complain about with this rifle as every one of the six types of factory ammunition that I used shot at least one sub-MOA group. I was most surprised that the barrel seemed to stabilize the Hornady Black 75gr BTHP ammunition that according to some shouldn't have been possible with a 1:9 twist barrel. However, running the numbers through JBM's stability calculator, it turns out that all of the bullets had a Miller stability value above 1.3. In layman's terms, all of those bullets were sufficiently stabilized by the barrel. Now, stability doesn't always equate to accuracy but I'm sure with some tuned hand-loads the 783 Varmint would shoot lights out with the heavier match bullets.
5-shot group of Winchester Match 69 gr Sierra MatchKings at 100 yards.
From a pure accuracy standpoint during this test, the nod has to go to the Winchester Match ammunition that was slinging 69 grain Sierra MatchKings. The 783 was simply a tack driver with this stuff. The Fiocchi and Nosler varmint ammunition were no slouches either and both turned in very respectable group averages of less than 1".
| | | | | |
| --- | --- | --- | --- | --- |
| Manufacturer | Bullet Weight | Velocity | Average Group | Best Group |
| Fiocchi | 50 gr. VMAX | 3284 fps | .89″ | .875″ |
| Nosler | 55 gr. HP | 3108 fps | .85″ | .625″ |
| Winchester | 64 gr. EP | 3083 fps | 2.25″ | 1.00″ |
| Black Hills | 68 gr. BTHP | 2780 fps | 1.39″ | .875″ |
| Winchester | 69 gr. SMK | 2749 fps | .81″ | .563″ |
| Hornady | 75 gr. BTHP | 2820 f[s | 1.54″ | .937″ |
All of the ammunition above was shot for three 5-shot groups at 100 yards from a bench using a rear bag and bipod. A Magnetospeed Sporter was used to chrono five rounds to come up with the average velocity.
Uh Oh
During that first range outing, I did experience some intermittent ejection issues where the spent case would be dropped on top of the magazine instead of exiting the ejection port. Of course, that dog just isn't going to hunt so it was time to do some troubleshooting. I had eliminated the brass bouncing off the windage knob and a dirty bolt face as the culprits, so I figured it was a bad extractor. I sent an email to Remington on a Monday to bring the issue to their attention and one of their engineers sent a response the same day. In part it read:
" I would suspect that the extractor installed was older vintage or even a standard caliber extractor… It's easily replaced."
Considering that this rifle is a T&E gun and not one purchased from a store through a dealer network I can certainly see how some older vintage parts made it onto the rifle. By Thursday afternoon I had an envelope waiting for me at home with a new extractor, detent ball, and detent sprint. It took about five minutes to swap out the old extractor parts and run a function test with some dummy cartridges. The rifle was extracting and ejecting flawlessly, slinging them out of the ejection port with considerably more authority than before too. Should this issue have happened? No, but no manufacturer is perfect and Remington helped get me back up and running in very short order. I also understood from their reply that they had been on top of this issue and it has been corrected for guns going out to customers.
Long Range
Now that the rifle was cycling well I decided to go back up to Peacemaker National Training Center and stretch the 783 Varmint's legs a little on their Patriot Range. I had a limited amount of ammunition with me, basically down to some Fiocchi Polymer Tip and Black Hills Match, but it made for a fun trip nonetheless. I used my Kestrel 5700 Elite to get my ballistic data and at 480 yards I put several rounds of Fiocchi ammunition into the kill zone of the steel coyote without much trouble. Three more rounds went into the head portion of a full-size IPSC target, easily coming in at sub-MOA for that distance. I was truly impressed by this rifle and ammo combination though when I went one for one on the KYL rack at 460 yards. This rack consists of five steel plates starting at 12" wide and stepping down to a 6" plate at the end, which can be a challenge even for hot rod match rifles.
I didn't feel like getting roasted alive laying in the 100-degree heat so I broke out my shooting sticks and found a derelict chair to work on some positional shooting. Shooting sticks are a lightweight and portable option to help you take an accurate shot when you need to see over grass or other obstructions, that's why they're used worldwide in the hunting community. The forend of the 783 Varmint rode inside the "V" of the sticks wonderfully and I was able to get good hits on a small 120-yard steel plate and a 320 yard 12″ MGM Flasher Target in pretty quick order. That was both from the standing and kneeling positions.
The Model 783 Varmint was made for conditions like this.
Transitioning to the chair I'd found, I laid my Armageddon Gear Game Changer over the back of the chair and took up a fairly stable kneeling position. The flush-fitting magazine helped create a smooth belly on the rifle that rode the bag very well and allowed me to position it perfectly so the rifle was well balanced. Hits on that MGM Flasher at 320 and an IPSC target at 480 yards were no problem from this position.
Conclusion
After putting quite a few rounds down range I firmly believe the Remington 783 Varmint is the best bang for the buck in terms of long-range rifles from Remington. In some areas, I like it better than its Model 700 counterpart and I'm not afraid to admit that. While there isn't a huge aftermarket for it, there are pre-fit barrels, scope bases, stocks, and chassis systems available so the 783 can be further tuned and customized. BTW, there's a Oryx chassis available for the Model 783.