Gunny Sergeant
Belligerents
Sep 3, 2009
1,280
103
169
66
Another match in the books and I believe it was the best one so far with 38 entries. The scores being shot are getting really high now with a few targets separating most shooters. My decreasing circles at 197 yards was cleaned by 5 shooters this month. Until a short time ago only a handful had ever accomplished this. They range from 10 inch down to 1 inch in one inch increments. I write their name on the ceiling of my shooting shelter for bragging rights. Good job to everyone that has done it. This month Jim Lochary, Keith Phillips, Bob Merillat, Carl Devall and Derrick Warren were successful with Carl Devall being his second time and Derrick doing it two months in a row, both with CZ 457s.
Weather was beautiful with occasional swirling wind that messed with some but overall all three days were nice. I have to learn to shoot either the day before or at the end of the first day, spotting for nearly all the shooters for three days really takes a toll on your eyes. Targets nearly not visible and not even being able to read my notes or the numbers on the turrets makes it difficult but it is what it is and I still had fun. A few competitors do share with spotting when running two shooters when they can and I really appreciate it but until you have spotted that many shooters you can't imagine the strain on the eyes.
I do think even though everyone comes to compete and do the best they can all jump in to help with settings, helping paint targets, scoring and spotting. A buddy showed up to compete and another shooter said he wasn't able to get his regular ammo and had some cheap stuff to use instead. My buddy sold his match ammo to the other competitor knowing he didn't have enough to compete but it didn't matter, he wanted to help. I had extra so he was able to shoot but that shows the type of people that come to the matches. Fun to be around and willing to help the next shooter out, doing well is fun and the winner will be remembered for a couple of days but enjoying the day with others sharing a passion is priceless.
The final stage this month was a target I made with a lot of small targets placed behind a big sheet of steel that you had to shoot thru the openings to knock down. There were 10 shots and it was a KYL (Know Your Limits) stage. In the middle of the second day someone hit beside a top target and it fell over without hitting the real target behind the front. I discussed this with others and even though it didn't actually hit it the target fell. I gave it to them and they could continue. They later missed one and didn't know their limit so they lost all points on that stage but it did set a presidence I used the whole match and a few shooters later on cleaned the stage which allowed them to gain quite a few points. \
I didn't specify on the sheet that if it fell without a direct hit it wouldn't count. I'll learn to be very specific in the future, I usually don't have a final stage with such a high score count but they were pretty small and difficult to hit. Most of the scores on the actual targets used in the regular match were only divided by a few points. Every shot counts and taking the gamble to gain an extra point on a stage might gain you a point or two or give you zeroes instead. I still say on any given day the top 10 or 12 shooters can win the match. There are 85 targets and 3 or so racks you can gamble on smaller targets worth 2 or 3 points, the smallest bowling pin at 100 yards is only 1/4" wide and could be worth 3 points if you can hit it.
This month the drawing winners were Adam Robinson and Carl Duvall, the numbers were 21 and 28. Every entry is in for the drawing, I used a random number generator and the corresonding placement competitors list is how they matched up. I'll have the money for you at the next match.
Placement of competitors were based on reverse count from the farthest target. I had to go back a few places in some cases to get the proper placement. Thanks to everyone that came, hope you had fun and enjoyed the challenge. My match is now considered midrange based on all the ELR matches that being run but smaller/challenging targets can make up for long distances. Some had great conditions and others dealt with wind or lighting conditions. All shot great and I enjoyed watching everyone shoot.
Scores in () are which how many times they entered.
Placement Score Name Gun Scope Ammo
1. 95 Jim Lochary (2) V-Gun March SK Biathalon
2. 91 Keith Phillips V-Gun Kahles SK Biathalon
3. 91 Bob Merillat Anschutz 1907 March SK Red
4. 91 Carl Duvall (2) CZ MTR Vortex SK Biathalon
5. 90 John Shcumacher Anschutz MPR NF Wolf (old)
6. 90 Dennis Kirkpatrick Remington 40-X NF SK Biathalon
7. 89 Bill Nesbitt (2) V-Gun NF SK Biathalon
8. 88 Jim Lochary (1) V-Gun March SK Biathalon
9. 86 David Patton CZ 455 SWFA SK Biathalon
10. 86 Chris Kirkpatrick BSA Martini Peep Sights SK Biathalon
11. 85 Mike Moore (3) Anschutz Bushnell SK Biathalon
12. 84 Jerry Galbraith CZ 457 NF SK Biathalon
13. 84 Dennis Kirkpatrick BSA Martini Peep Sights SK Biathalon
14. 83 Tim Humphrey V-Gun NF SK Biathalon
15. 82 Derrick Warren CZ 457 Vortex SK Longrange
16. 81 Bob Ellwood Remington 40-X Athalon SK Std.
17. 81 Bill Nesbitt (1) V-Gun NF SK Biathalon
18. 80 Dave Calipare (2) V-Gun NF SK Biathalon
19. 80 Cuda Gatten Schultz & Larsen Peep Sights SK Biathalon
20. 80 Robert Brown Remington 40-X Weaver SK Std.
21. 79 Adam Robinson CZ 457 MTR Vortex Lapua Center-X (first time competitor and only ammo he had)
22. 79 Mike Moore (1) Anschutz Bushnell SK Biathalon
23. 79 Rube Perkins Kidd 10/22 NF SK Biathalon
24. 78 Mike Moore (2) Anschutz Bushnell SK Biathalon
25. 77 Dave Calipare (1) V-Gun NF SK Biathalon
26. 76 Shawn Bishop CZ 452 Vortex SK Std.
27. 76 Kurt Yoder Sako SWFA SK Biathalon
28. 73 Carl Duvall (1) CZ LRP SWFA SK Biathalon
29. 70 Karen Marsh CZ Ultra Lux SWFA CCI Std.
30. 70 Butch McCort Remington 40-X Bushnell SK Biathalon
31. 69 Ryan Dougherty CZ SWFA Aguila
32. 69 Chuck Wagner Remington 40-X NF SK Biathalon
33. 67 Steve Wilson Kimber 82-G SWFA SK Std.
34. 67 Tom Rayner Remington 513 Leupold SK Std.
35. 67 Dan Piatt Anschutz SWFA SK Std.
36. 66 Aaron Carpenter Keystone SWFA SK Biathalon
37. 65 Morgan Bettinazzi V-Gun Vortex Razor SK Std.
38. 62 Matt Shato Savage SWFA SK Std.
This is the target rack used for the final stage at 137 yards. Only the center star and the 9 targets in a circle around it were used. The bowling pins and 3 small circles were painted black and not used. The small circles are 2" to give an idea of the other target sizes. Not real difficult but with a bit of swirly wind and being a KYL and a chance at a dropped round make it kinda challenging.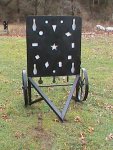 Topstrap
Last edited: