Gunny Sergeant
Full Member
Minuteman
Two score sheete are missing, Father/Son shooting Rim-X guns, Son was having feeding problems. Looked everywhere for them. If it's you please let me know your scores so they can be added
Another great match is in the books. Without a doubt the busiest one I've ever had. My range is just a small 2 bench setup with a lot of rimfire swinger racks so it's not possible to run more than two thru at a time. Takes just under an hour to do two shooters and slightly less if I can get help spotting to run two at the same time instead of alternating.
I'm humbled that others enjoy shooting the matches, I get shooters from those just getting into rimfire shooting to World Record Holders, US Shooting Team members, high ranked PRS shooters and benchrest competitors. I get to see the best equipment available with the best lot tested ammo in varying conditions go downrange. Kinda comes down to no matter what you use pertaining to equipment or ammo Mother Nature still has the upper hand and no matter what the level of rimfire ammo some will NOT go where they are supposed to go. Always gonna be a couple "What the heck" rounds sneak out, just hope that those rounds are on a bigger target and not one of the smaller ones that cause a miss.
I had 49 entries this month, I do hope nobody got too upset if they had to wait their turn to compete. Usually a lot of BS and lies shared on the benches while waiting, sometimes we do spend a bit more time than usual with a newer shooter or one having issues but to me that is part of sharing the sport and keeps them wanting to keep coming back to shoot rather than getting frustrated and feeling it'll never get any better. If interested go to a local match, sit, watch and ask questions about what equipment is needed. You don't have to dive into a Vudoo or Rim-X with $20.00 ammo to compete. Not trying to not get you to ask questions at your local box store or gun shop but most times they aren't familiar with what works for this game, the competitors will steer you in the right direction with no BS or look at the results of matches such as mine to see what is being used and what is not being used.
Weather was super perfect on Friday, I start at 8:00 AM but when I headed down at 7:30 to get ready there were already 8 sitting there ready to go. Usually my range is dead calm in the morning and late afternoon and is the best time to shoot which sometimes causes the backlog early in the day. Mid day the wind does pick up a bit but I"m tucked in a small valley surrounded by trees so even on windy days it's still not too bad. Saturday was also really nice with a slight breeze mid day. Sunday got a bit windier but still not more than a minute or so hold off at the farther targets, the switching did get a few though so you gotta watch that flag every shot.
I have two classes with ammo cost being the dividing factor, anything above $10.00/50 is A class and under is B class. I still feel ammo is the biggest factor over the gun/scope used. There isn't any difference other than I give away a free entry for each class unless a B class shooter is highest score then the A class will have to try harder next month.
There was some excellent shooting done by many shooters, one that deserves mentioning is Ted Kernik shooting an H&R model 12 with peep sights. He had a wrong setting in at one distance and missed his first target. He also put a group on the 197 plate that would rival a better scoped rifle at that distance. It is an 8" plate so I'm guessing 3" or under. He also went 4 for 4 on my bonus stage at targets on a big square plate at 137 yards that were only a blur of dots in a black rack. Very well done Ted. Randy Wise with his Anschutz Exemplar pistol stopped at the 9th target on the 197 KYL rack leaving the 1" circle. Smart move, he tried it after stopping and hit the hanger which would of caused him to lose those lower 4 points. Good shooting. I thought Dakota was on her way to cleaning the course then had one of those wild "what was that" rounds and messed her up, sometimes only takes a round or two like that to get in your head. Great shooter and fun to spot for. Can't remember all the great moments but I enjoy spotting and seeing great shooting probably more than jerking the trigger myself.
Teds Target at 197 yards with Peep SIghts.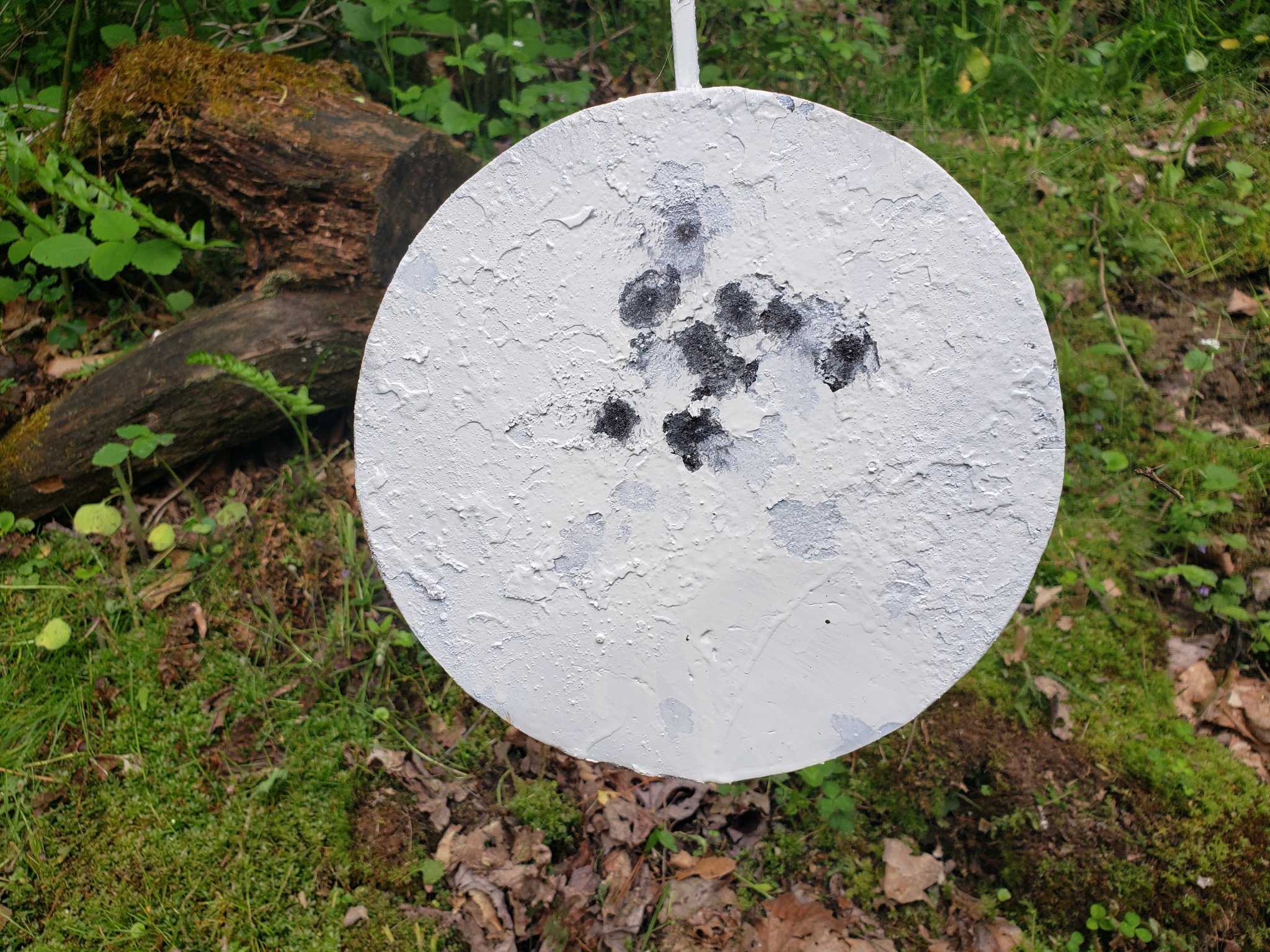 Thanks to those that helped me paint/spot/score to keep things moving, much appreciated. I didn't keep track of which days everyone shot but I may start doing that.
All scores decided by reverse count, this month including the bonus rack. Had to go back 3 or 4 places sometimes.
This was the bonus rack at 137 yards. The shooter drew 4 numbers from a bottle and had to shoot the corresponding target that matched their numbered balls. Not too bad with a scope but peeps..... hmmmmm too small for me to make out individually but Eagle eye Ted got 4 and my Son hit 3, me only lucked into 1.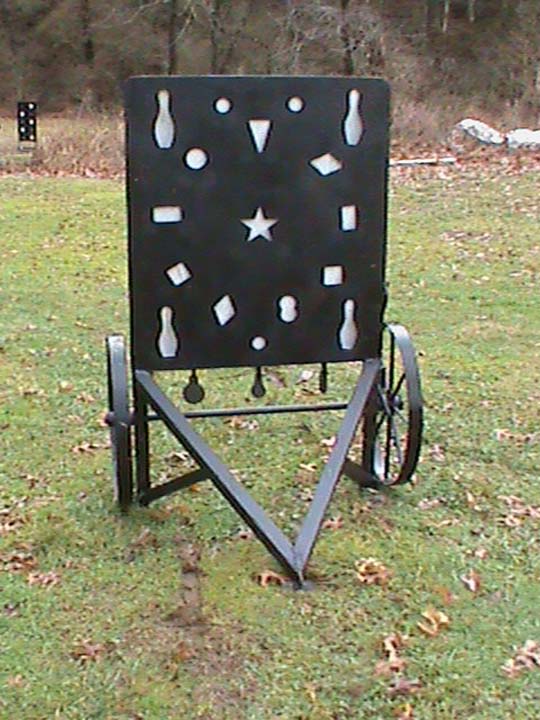 Score Class Name Gun Scope Ammo
1. 93 B Randy Wise Anschutz Exemplar Arken SK Longrange
2. 88 B Ted Kernik H&R 12 Peep Sights SK Bia.
3. 88 B Matt Gallagher CZ 457 Vortex SE SK Bia.
4. 87 B Derrick Warren CZ 457 Athlon SK Long Range
5. 86 A Marc Wright Rim-X Kahles Eley Match Black Box
6. 86 B Dennis Kirkpatrick BSA Martine Int. Peep Sights SK Bia.
7. 86 A Brian Murray(2) Vudoo NF Midas
8. 85 A Dan Bartok Anshutz NF RWS 50
9. 85 B Chris Kirkpatrick BSA Peep Sights SK Bia.
10. 85 B Phil Palmisano Vudoo Arken SK Bia.
11. 85 A Brian Murray(1) Vudoo ATACR Lapua Super Longrange
12 84 B Keith Phillips CZ 457 Arken SK Bia.
13. 83 B Bob Brown Remington 40X Athlon SK Biathlon
14. 83 A Casey Crooks Rim-X NF Center-X
15. 83 B Derrick Warren Remington 513 Peep Sights SK Longrange
16. 82 A Michelle Murray Bergara Vortex Lapua Longrange
17. 82 B Jim Lochary(2) Anschutz March SK Bia.
18. 82 B Jim Lochary(1) CZ Arken SK Bia.
19. 82 A Dakota Wright Rim-X Kahles ELey Match Black Box
20. 81 A Mark Hall CZ 457 Vortex Razor Eley Match Black Box
21. 81 B Chris Kirkpatrick Anschutz Arken SK Bia.
22. 81 A CiAnna Murray Vudoo NF Center-X
23. 80 B Joe Bender(1) CZ 457 Vortex Razor SK Bia.
24. 79 A Jeff Valentine Bergara Kahles Midas
25. 79 B Joe Bender(2) CZ 457 Vortex Razor SK Longrange
26. 79 B Jerry Shaw H&R 12 Arken SK Bia.
27. 78 A Abigail Murray Bergara Vortex Lapua Longrange
28. 78 A Bill Nesbitt Vudoo NF Eley Semi-auto Match
29. 78 A Kenny Arnold CZ AT-1 Vortex Eley Match Black Box
30. 77 B Kurt Yoder Sako Quad SWFA 20X SK Bia.
31. 76 B Cuda Gatten Savage MK II Arken SK Bia.
32. 76 A Dustin Fletcher CZ 457 MTR Athlon Eley Match Black Box
33. 75 B Jerry Galbreath CZ 457 NF SK Bia.
34. 74 B Shannon Shatto Tikka SWFA Eley Club
35. 74 B Joe Strizak CZ 455 Arken SK Bia.
36. 74 B Bob Merillat Anschutz 1907 March SK Longrange
37. 73 B Alvin Taylor Savage MK II Arken SK Bia.
38. 72 B Karen Marsh CZ Ultra Lux Vortex CCI Std.
39. 72 B Dave Callipare Vudoo NF SK Bia.
40. 70 B Rob Jackson 10/22 LVT SWFA 20X Wolf Match (Eley)
41. 69 B Dennis Harrison Savage Arken SK Bia.
42. 69 B Chuck Wagner H&R 12 SWFA 20X RWS Target
43. 69 B Jake Slyder Ruger RPR Bushnell SK Rifle Match
44. 67 B Tom Triplett Bergara Trijicon Eley Target
45. 67 B Kenneth Triplett CZ 457 Vortex Venum Eley Target
46. 66 B Matt Shatto Savage TR Arken Eley Club
47. 64 B Dennis Lawrence Vudoo Bushnell SK Bia.
48. DNF B Butch McCort CZ Bushnell CCI Std.
49. DNF B Frank Rose H&R 12 SWFA 20X Federal Super Match
Last edited: