Hey guys, looking to do the spring cleaning and get out of the game for a bit as I have different work and life opportunities ahead of me that could use the money/focus right now. I may or may not do a gut on the reloading equipment and ammo this summer as well, so stay tuned!
Items are numbered in the picture below. I can get more detailed photos of a particular item if you are a serious buyer. Public "I'll take #x" trumps PMs and questions. Prices are shipped and I kept them low to account for the hassle of doing
USPS money orders for payment. No e-payments please.

1)
My pride and joy. Next Level billet lower, ALG trigger (not pictured), H2 buffer, B5 stock, factory Colt 14.5" pinned upper with added Daniel Defense free float quad rail, ambi-latch charging handle and QD foregrip included. Flip up sights not included
- $1,200 shipped for just the rifle, $2,500 shipped with the Elcan Spectre DR 1/4

2)
Next Level Armament build. BCM 10" mlok handguard, Rosco carbine length gas, 1:7, 11.5" barrel (for my fellow Michiganders, OAL is
<
26" so good to go there), collapsible pistol brace, ALG trigger, Ambi safety, NLA Ambi charging handle (very similar to the new CMMG), Ergo slim grip. Includes rail covers. Flip up sights not included
- $875 shipped, $300 additional for surefire and pressure switch, $350 for the MRO (accessories not for sale separately)

3)
BCM factory 14.5" pinned lightweight upper. Comes with NLA ambi latch and an Anderson BCG. Will include the AFG on there as well.
- $625 shipped - SPF to Beasler1

4)
SDS Imports Duo-SYS 12 ga -
SOLD

5)
Unfired Custom built 308 lightweight shorty. Tuebor Legion Ti action, Proof 1:8 16.5" barreled threaded 5/8x24, Timney trigger, Screech Owl chassis, Ergo grip. Weighs 6.8lbs as the BA and chassis. Brake not included but will come with a thread cap -
$3,100 shipped

6)
Wilson Combat EDC X9 -
SOLD

7)
Lawton 8500 338 Norma Mag -
SOLD

8)
An ABSOLUTE BEAUTY! This is a Pre-64 Win 70 that is now chambered in 25-06. It was done by Williams in Davison, MI years ago. I bought it from the original owner and had intentions to use it as a whitetail rifle but it's too nice and a little hefty for a woods gun. I have the original 257 Roberts barrel for it as well. Stock was bedded for the new barrel.
- $1,200 shipped or $2,000 shipped with the Leupold VX3, rings, and stock pack

9)
Holosun HS503R -
$190 shipped

10)
APA Fat Bastard Gen 2 338 brake 3/4x24 threads. About 150 rounds through it but it's clean.
- $130 shipped

11)
ADM QD FDE 30mm mount. This was painted but I stripped 90% of it
- $100 shipped

12)
Crimson Trace 5-Series 3-24 with LR1 reticle (mil mil FFP). Comes with throw lever and nightforce UL rings -
$900 shipped

13)
Like new Elcan Spectre DR 1/4 with the 5.56 reticle I believe. All side illum. works great and I used this for several weeks straight and it held and returned to zero like a champ. Awesome optic. -
$1,600 shipped - SPF to Beasler1

14)
New Burris PEPR 30mm AR Mount -
$65 shipped

15)
Weaver 7x rangefinder. These were advertised as 1000 yard rangefinders when Weaver made them. I have hit 1000 no problem with it and up to 1400 on trucks and buildings. Great, reliable, rangefinder for cheap. Covered by Vista Outdoor's warranty even though they are discontinued is my understanding. -
$180 shipped

16)
Timney Mossberg ATR trigger. New in package. -
$80 shipped

17)
Original Rock River carbine free float quad rail. Comes with locking ring and barrel nut.
- $50 shipped

18)
Fostech Echo Sport Binary Trigger new in package -
$200 shipped

19)
GreyOps Arca Plate (I think maybe this was the Gen 1?) -
$140 shipped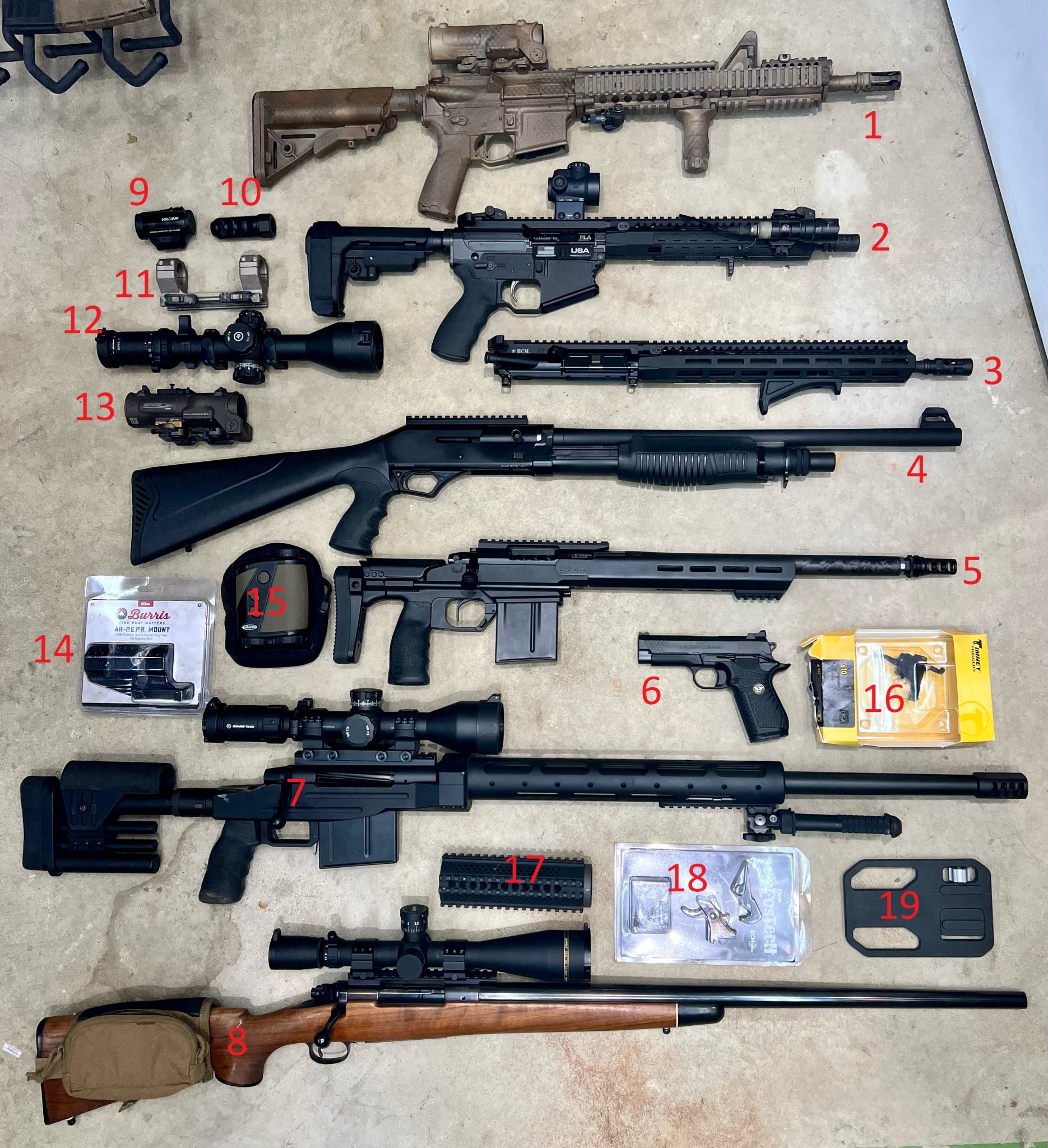 Last edited: