"Cartman 1-2, come in"
Supporter
Full Member
Minuteman
Oct 23, 2017
6,885
14,445
Full disclosure: I've never really done an actual seating depth test before in my 10 years of loading for bolt guns. I've only really tried to duplicate factory match ammo dimensions with better velocity, SD, and ES. It works, but I wanted to actually see what magic could happen.
I'm going for a solid load that will allow me to hit 2MOA targets out to 1000-1200 yards. Ideally I'd like to be able to do 1.5moa targets out to 1000 and 1moa targets to 700.
Ok, so, as part of my finalization of a magical load for my Tikka T3x Tac A1, 6.5 CR, I chose the Sierra 142 pointed Matchking to devote my love and attention to....
They're pretty: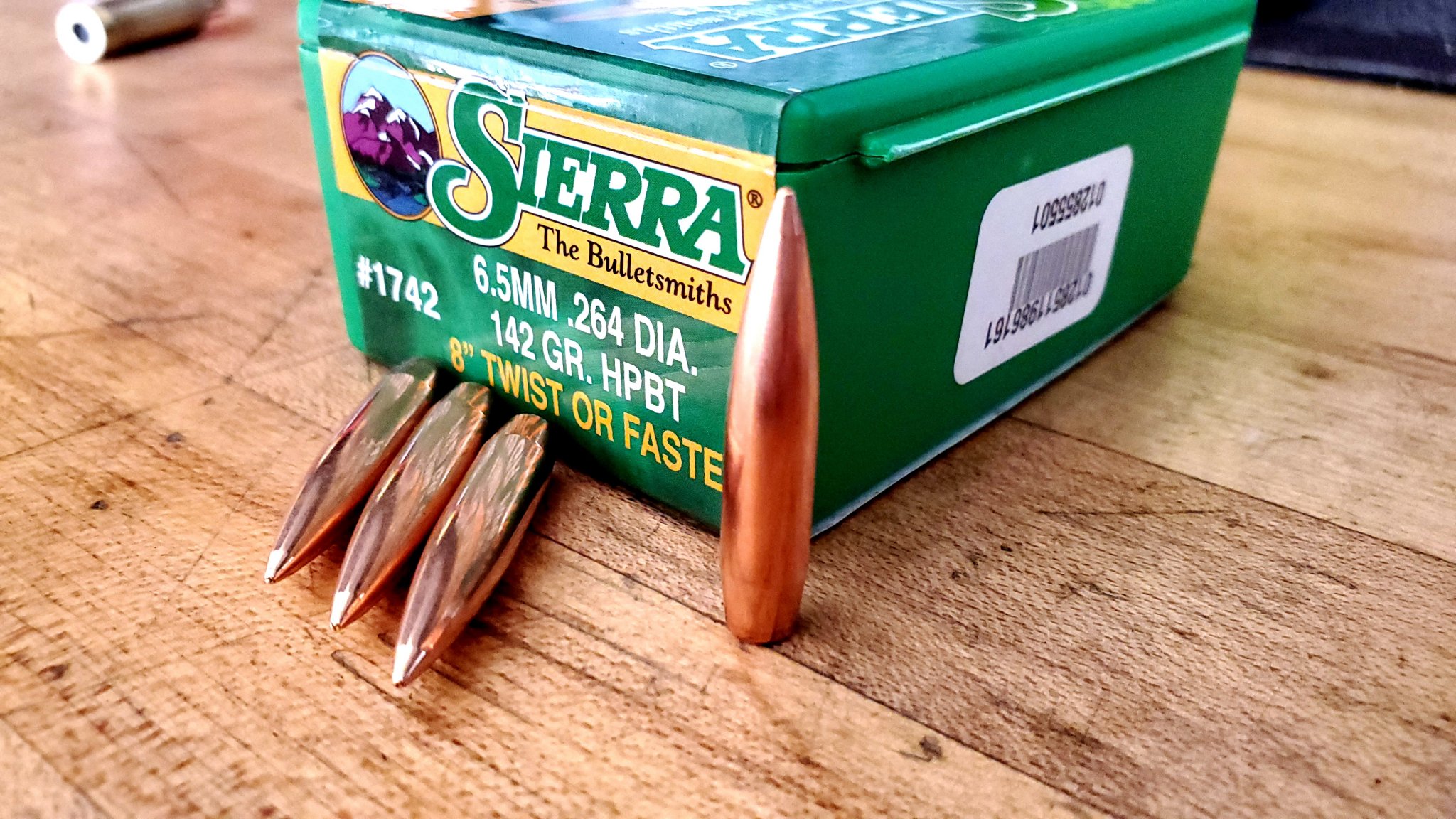 41.3 grains of H4350, Prime brass, Federal 210M primers is the recipe.
I shot a seating depth test starting at .030 off because this Tikka has a very long throat and if I were to touch the lands, I'd have just over .13-.14" of the bearing surface in the neck of the case. I'm not going to single load this, and I don't want to handle my ammo like I'm walking on eggshells.
Today, I did the test at 201 yards. 2 groups of 5 for each depth. One group aimed directly at the aiming spot, the other was 0.5mil right with my magnetospeed mounted. I dialed 0.5mil right and aimed at the same aiming spot.
Here are the results and I have a question at the bottom: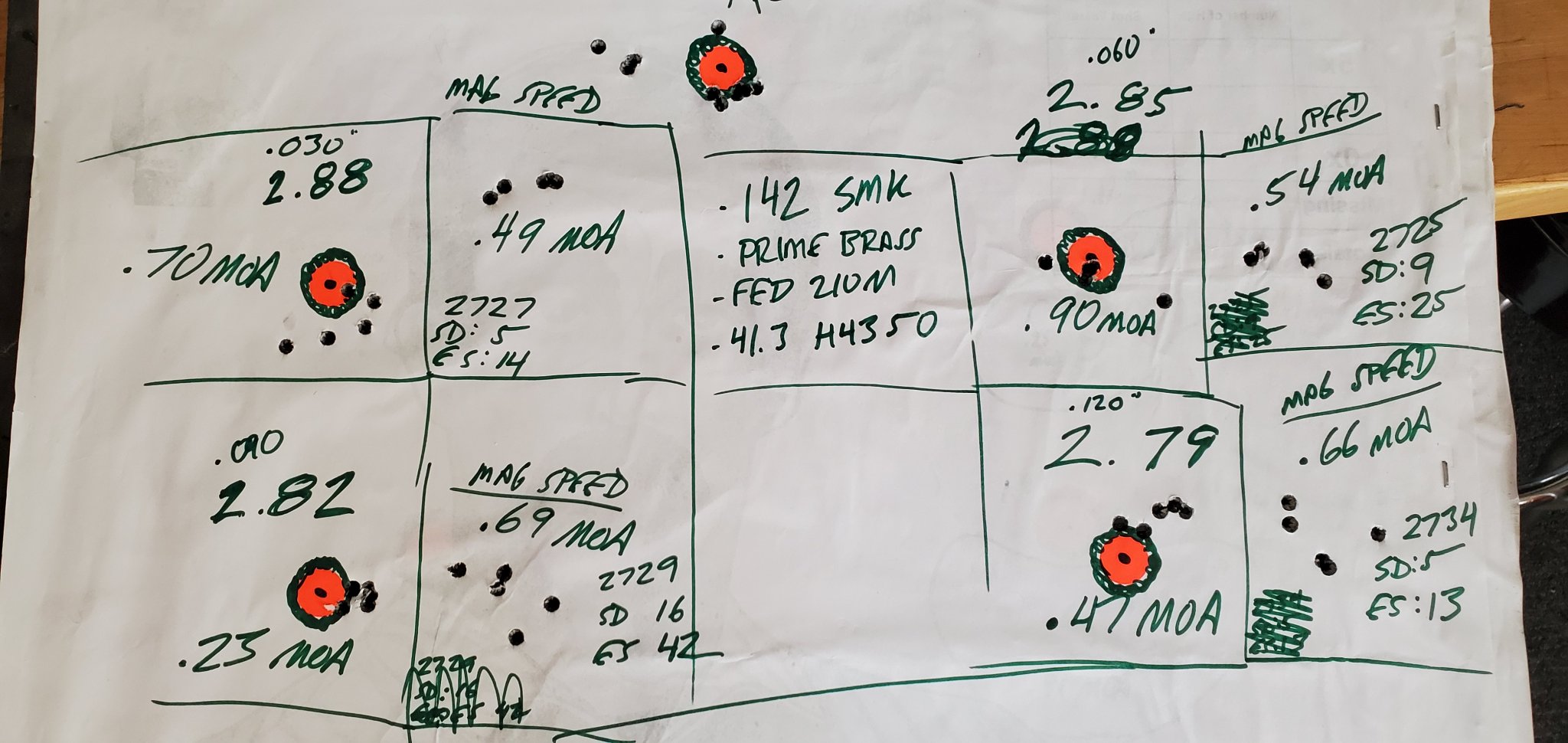 .030" jump:
V: 2727, SD 5, ES 14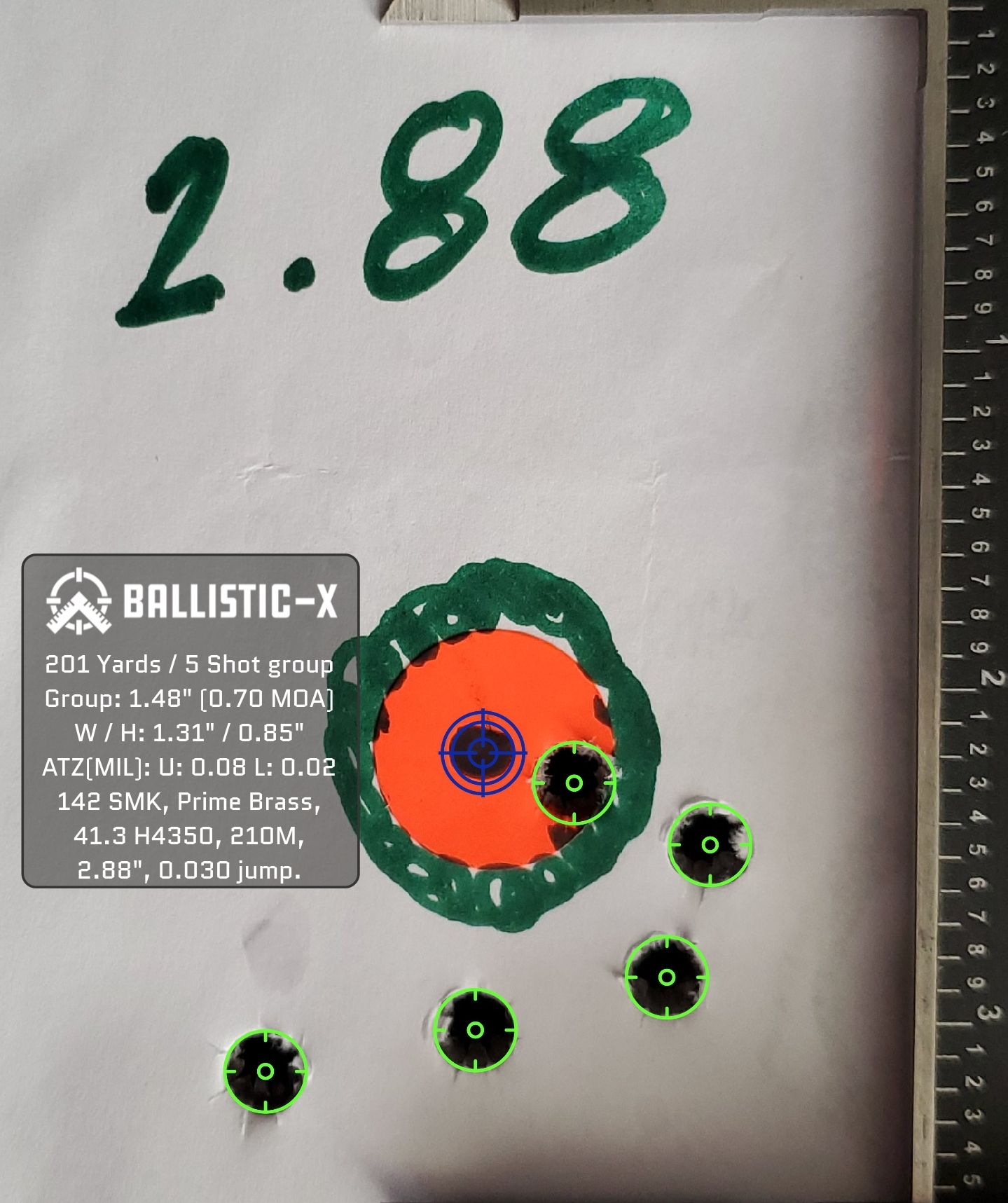 .060" jump:
V: 2725, SD 9, ES 25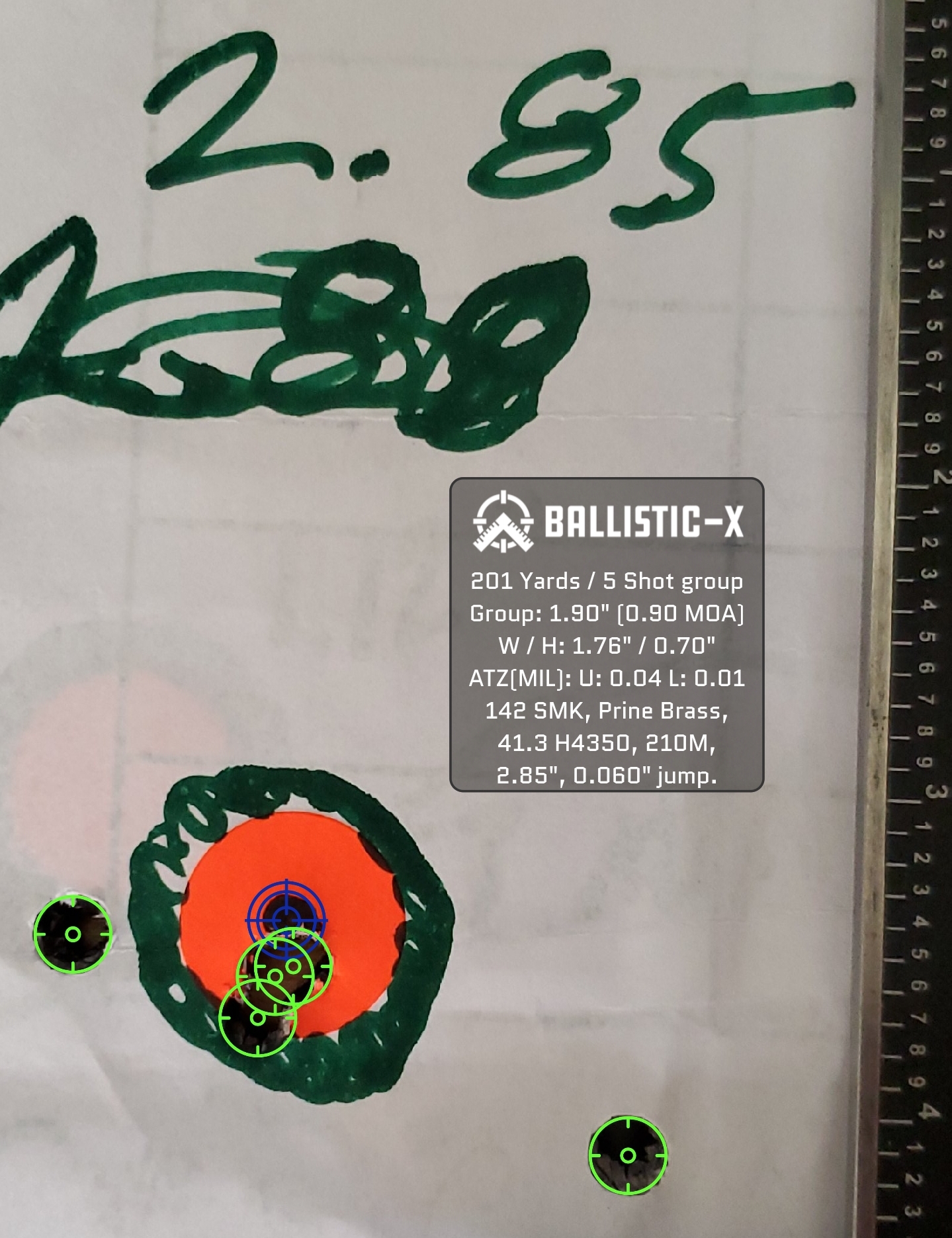 .090" jump:
V: 2729, SD 16, ES 42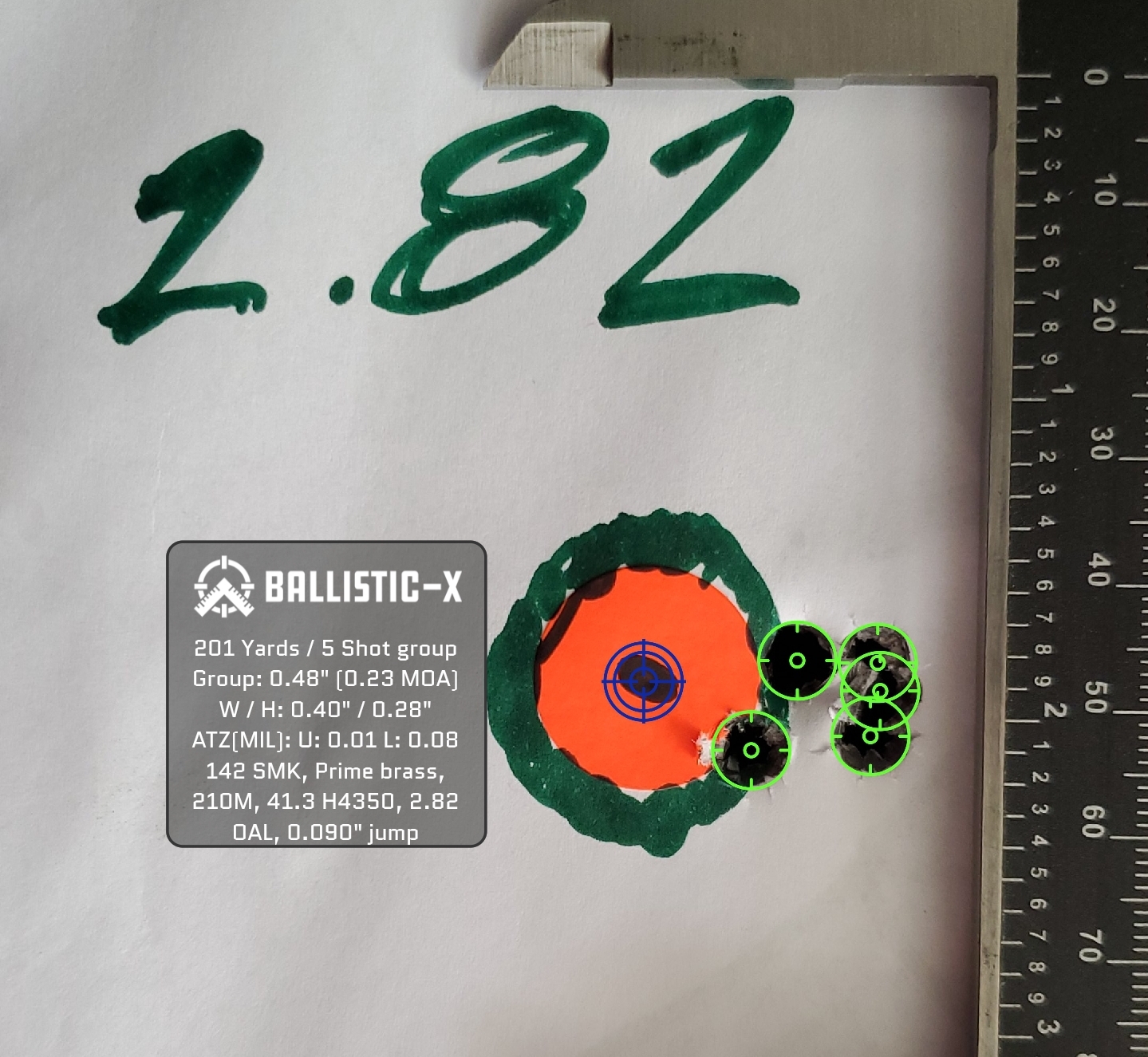 .120 jump:
V: 2734, SD 5, ES 13
One thing that jumped out at me was as the jump increased, the point of impact shifted up from below the aiming spot with the .030 to even with the aiming spot at .060 and .090, then above the spot with the .120 group.
I'm thinking of going with the .090" because A. It had the best average group size between the two groups (also, 0.24moa is the best I have every shot ever in my life) B. The 5 shot velocity data is usually statistically BS and usually just a guide.
Question: Should I maybe look at the .120" jump? I ask because when doing a ladder test, we look for charge weights that have the bullet evit the barrel on the top of the sine wave upswing.
If you've gotten this far, thank you for your time, and any information or point of view would be greatly appreciated.
Last edited: