I have up for sale a Like New and Very hard to find, HK416 Complete Upper with the Very Desirable 10.4" Heavy Barrel. The Upper is currently installed on a Sig 516 Pistol Lower Receiver and has only had 100 rounds shot thru it. It is Super Reliable and Extremely Accurate. I have installed a set of HK416 Diopter Sights that normally do not come with these Uppers. This is a $400 dollar extra and completes the HK look and Upper Package. This HK416 Upper has all matchine Date Codes and is all Factory Original. The Barrel is marked with the AF date code, the Bolt has the AF date code, and the Receiver is marked with the AF date code.
I will also include some HK416 Extra's to make this an Awesome Deal.
-HK416 Early Stock
-HK416 OTB Buffer Tube
-HK416 Proper Buffer
-HK416 Buffer Spring
-HK416 Battle Grip with Storage
-HK416 Castle Nut and Back Plate
-HK416 (New) Spare Firing Pin
-HK416 (New) Spare Piston Rod Assembly
-HK416 (New) Spare Piston
-HK416 (New) Spare Cam Pin
-HK416 (New) Spare After market Complete Bolt
These HK416 Uppers are Very Hard to find right now as HK will no longer sell these as Post Samples to Dealers. So with this in mind there will be no more Take off Uppers or extra parts being removed from Class-3 Dealers Post Samples. These will just Sky Rocket in value. HKparts was selling these for $6000 dollars and are now Out Of Stock. And it looks like they will not be geting anymore of these in stock anytime soon.
If you own a SBR or a Machine Gun then here is your chance to make a Big Upgrade and turn it into HK Perfection.
SOLD
Sig Sauer 516 Pistol Lower Receiver is Not Included at this price....
https://beta.hkparts.net/product/hk-416-10-4-upper-kit-german-hk-otb-p962.htm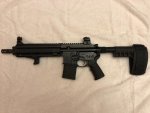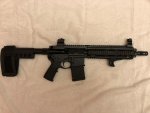 Last edited: