Sinus infections are a bugger and generally deal with one or two each year. I have bad seasonal allergies which trigger the infection and get it treated before they get bad. Irrigation of the sinus cavities definitely help. My long time allergist who treated the infections always recommended to not to ride until the infection had run its course.
I generally get at least one in the spring due to allergies, but they are typically not week-long struggles like this one. Normally I'd try to fight against it (which I agree is not wise), but this one left me with no choice but to ride the couch until it mostly passed.
Did a socially-distanced MTB ride last night with some buddies: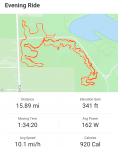 I felt better than at any point in the last 10 days, but at no point was this performance anything to brag about.
We were standing around in the parking lot at the end of the ride, and up rolled a county sheriff deputy. He noted that we were maintaining a respectful distance from one another, thanked us for not littering (apparently that's been a problem lately), and moved along.