Command Sgt. Major
Full Member
Minuteman
Feb 23, 2010
30,297
108,950
So last weekend while hanging out at Precision Rifle Expo and drinking some adult beverages and eating boiled peanuts... the conversation turned to Harris Bipods (go figger...) and Tasco scopes. And to all the 'laughable' gear that everyone here... laughs at.
Naturally... I could not help but point out that when I built my first 'precision' rifle in 1988... the choice of stuff available was, well, not as simple as it is today. First, there was no Internet with great Snipers Hide threads full of Gear Reviews, Stuff for sale and compare/contrast info. We had Shotgun News and the Gun List... and maybe small ads in the back of Shooting Times or The American Rifleman. Maybe, if you were really 'in the know' you had a photocopied catalog from Choate Machine and Tool (who remembers them?) Oh and ordering was by phone with a credit card, or in some cases, mailing off a check and waiting for your gear to come back a couple of weeks later. Maybe also find stuff at a big gun show. If there was one in your area.
Plus, as a group/hobby, precision shooting was pretty limited. You had your varmint shooters. And you had your benchrest shooters. And you had your military snipers... but those folks were all secret squirrel and stuff and nothing was 'posted' for all to see. So there was no 'community' sharing info, etc.
Sooooooo... when you wanted to start precision rifle shooting, you were in a vacuum.
Anyhoo... this led me to point out that 'where it all began for me' was a Remington 700 Varmint in .223... Which cost a ton of $$ in 1988 in BDL format. IIRC over $800! And it was beautiful. Put on a Harris Bipod ordered from a catalog. And a scope that I can't remember what it was... It Shot dime-size groups. But would NEVER hold a zero. Because in Eastern NC... the humidity was appalling. So you could shoot nice dime-size groups at 100 and the next day, not even be on paper. FUCK...
So.... from Choate, a Plaster "Ultimate Sniper" stock... which is really neither. Moved the Harris bipod over. Now the rifle is heavy, ugly and clunky. But damn if it does not hold a zero! But scope is still a bit inadequate.
Find a Tasco 6 - 24 Varmint c. 1991 or so at a gun show that, IIRC cost me a boatload of $ at the time. Like $250. For a used scope. Rings? Whatever. They fit. That was in 1989 dollars when $250 bought a lot!
And that's it! Still have it. It's shot a ton of coyotes. Varmint Grenade Boolits... it loves them! Scope feels like it's full of marbles. I took the Harris Bipod off to use in the restoration of my IDF Mauser sniper rifle. Didn't replace it.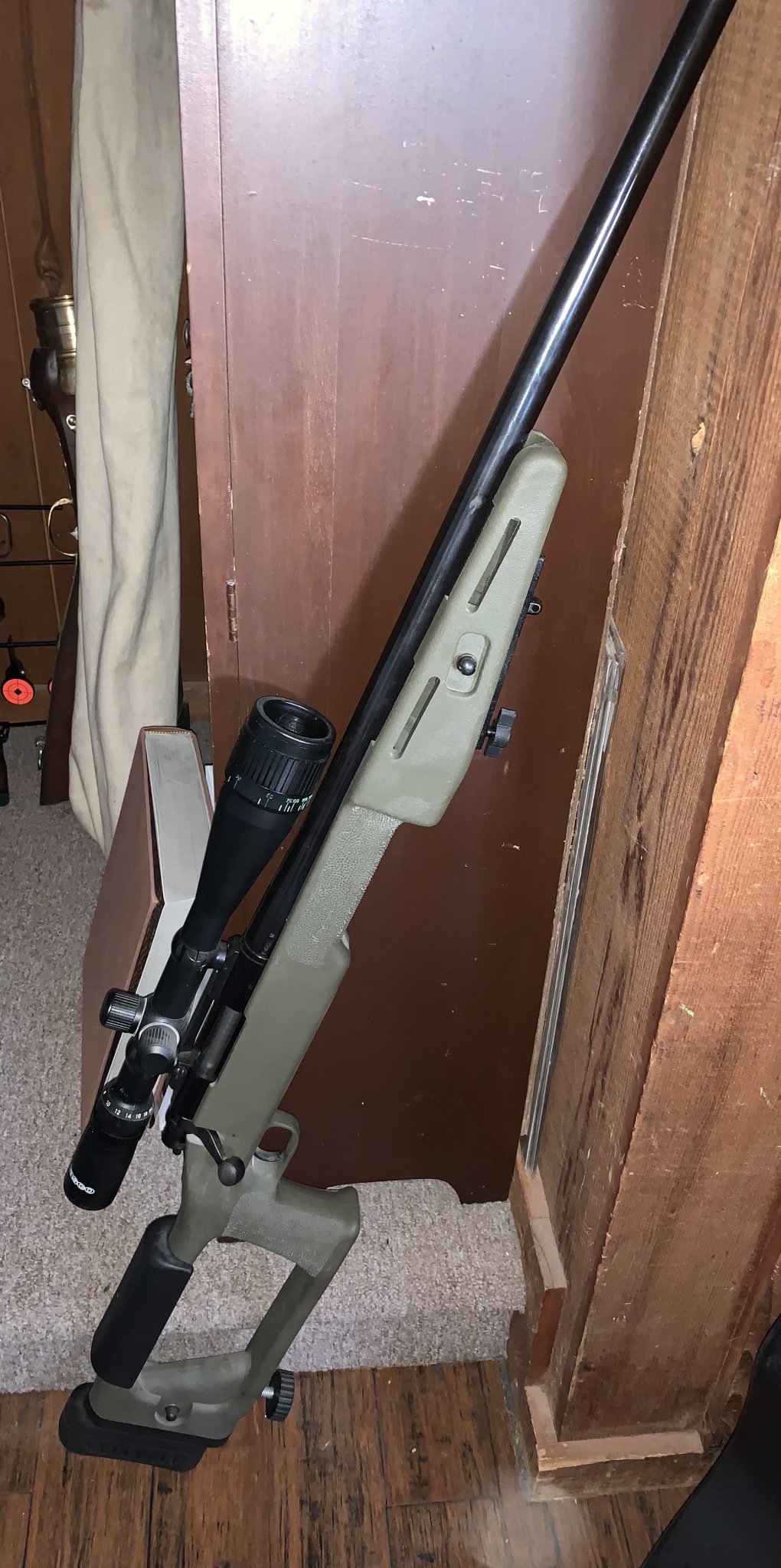 By today's standards... it's a laugh a minute. As I was describing it.. it's like a running gag... but here it is! In all its glory. And as I was getting ribbed for Harris, Tasco and Choate on the same gun, I said I'd post it here and let everyone have a go! Because while it may not look like much today, back almost 35 years ago it was the 'nads and I was pretty proud of it. And how it shot.
Also, as you chuckle under your breath, hear this: It still shoots! I haven't touched the zero in at least 20 years. It still holds minute of woodchuck. Though I need to buy a new Harris bipod for it. Uneven legs and all. Just 'sayin.
So.... where are your roots? What 'precision' gun 'Got it all started for you" and might just be sort of... dated... at best. Cringe-worthy, even? At worst, Laughable. Are you even willing to admit it? Or share it?
We all started somewhere... where was it for you?
Sirhr
Last edited: