Gunny Sergeant
Belligerents
Jan 16, 2010
4,753
1,302
219
42
It is time for me to make a decision about this rifle. Here is the story:
A friend of mine purchased this rifle new and only put 230 rounds through the barrel over the course of 5-6 years. He wanted an AI and I missed my old TRG (they are my all time favorite rifle ever built), so I traded him my AT for it. I have owned it for 2ish years and have intended to put a 6.5X47 Lapua barrel on it but I just never got around to it. So as opposed to putting a barrel on a rifle that I don't have time to shoot I guess I am going to sell it. When I got it the rifle had been sitting in his safe without being fired for several years and the bore had developed a little surface rust. I cleaned it well and found that it was slightly etched from the rust, but I decided to shoot it to see what it would do. I found it shot very well, right around 1/2 MOA out to 300 yards (which is as far as my paper target range goes). I decided to work up a load for it and settled on: 43.5g of RL15 in Lapua brass with CCI BR2 primers and a Lapua D46 0.015" off the lands which has a muzzle velocity of 2676 FPS. I use this load out to 1100 yards which takes 12 Mils in a 2308 DA (the last time I was shooting steel). With this rifle & load I have no issues making solid repeatable hits on 1.5 MOA targets (keeping the rounds easily On target, sub MOA if I get the wind right). So the etching in the bore really is not effecting the accuracy right now, but because it is there and I was planning one putting a barrel on it at some point I am pricing it accordingly.
This rifle is in excellent condition as are all the accessories and the scope (less the slight etching in the bore). The rifle currently has 965 rounds on it total.
Here are the details:
-post 2013 (updated trigger, safety, and butt pad) TRG 22 chambered in 308 Winchester with a 26" barrel threaded M18X1.0
*please keep in mind the bore shows a little etching, but it isn't effecting accuracy or velocity*
-Sako TRG bipod **$494 @ Eurooptic
-extra Sako TRG magazine (2 total) **$179 @ Eurooptic
-Sako TRG 0 MOA scope rail (not installed, just extra) **$139 @ Eurooptic
-Nightforce TRG 20 MOA scope rail installed **$120 from Brownells
-Sako mirage band **$55 from Beretta
-all factory boxes for the rifle, bipod, and extra magazine
-Upgraded thumbwheel adjustable butt pad **this is an AWESOME upgrade and cost me $150 to get it shipped from Norway
That is over $1100 in additional items included, so I am not willing to negotiate on the price. But I am willing to entertain trades, spec the ones I list below.
**Sold pending funds **for the rifle and extra items listed above.
$4300 If you want the scope & rings that is on the rifle (Leupold MK5 5-25X56 with the illuminated TMR in Seekins rings, with everything it came from Leupold with in excellent condition. I am the original owner and it has only been on this TRG).
Possible trades:
-Bighorn TL3 short right hand action 0.473 bolt face
-6mm BR on a TL3 with low round count (I'll consider other actions as well)
-Tubb T7T trigger
-Manners TF4A Carbon shell with a R700 SA Mini chassis (prefer a gen 2)
- Manners MCS-PRS1 with a R700 SA Mini chassis (prefer a gen 2)
**I may consider a Dasher as opposed to the straight BR
text me or call if you prefer 207-740-7743
thank you for looking - Jesse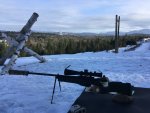 1100 yard target is the large patch of snow just below the bottom of the ridge in the picture.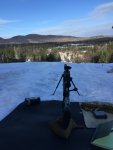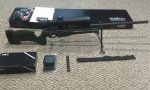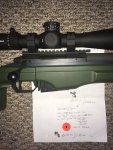 Upgraded thumb wheel adjustable butt pad, super slick!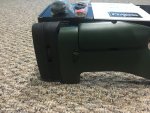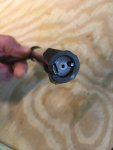 I shot thses today with some ammo that was loaded for my AT (that is why it is not zeroed for this ammo), not this rifle just to have a group or two to represent how it still shoots well. I shot one group with my old heavy ass SAS stainless suppressor on and one with it off, quite a POI shift with a damn near 2 pound can!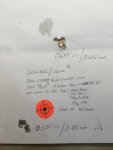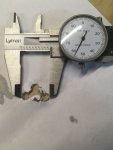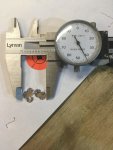 Conditions I shot these 2 groups in, I also had heavy leather insulated gloves on while shooting. The rifle can do a bit better.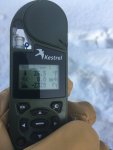 Last edited: