Ronin
Full Member
Minuteman
So, I only had to do a short write up for a publication so now I'm going to offer some more comprehensive thoughts on the subject for you fine people.
Unboxing and Overview
I have to say that the Gen III 1-10 comes in one of the nicest scope boxes I've ever laid my hands on. It has a magnetic closure on the lid, fitted foam inside, and a space for everything from the manual to the sunshade.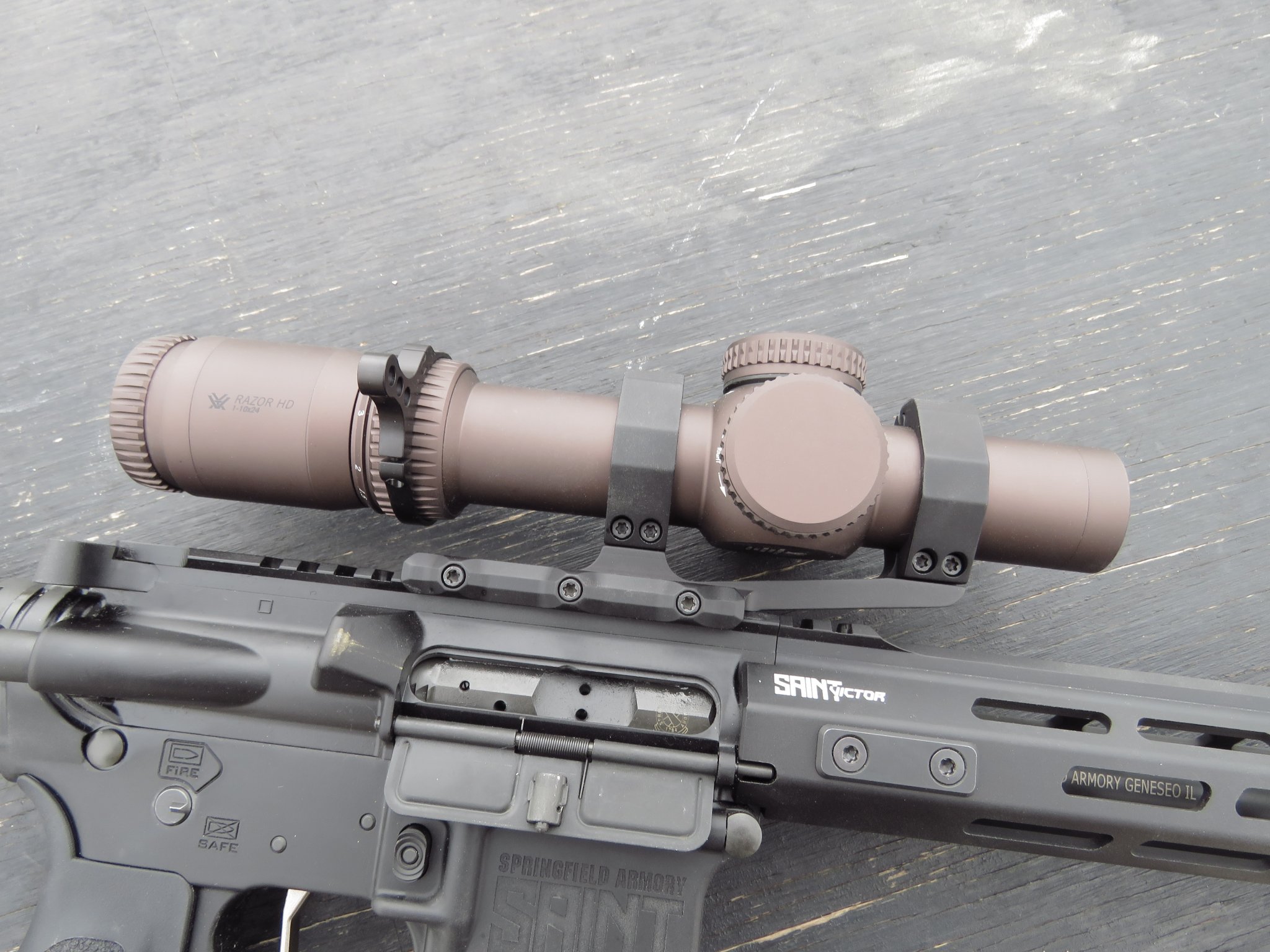 Lifting the scope out of the foam I immediately noticed an impeccable level of fit and finish, it exudes quality in my opinion. Nothing felt gritty, loose, or too tight for that matter, it all felt just right. The euro-style ocular adjustment was stiff but it rotated smoothly so it was easy to get the reticle focused but it's not like it was going to get bumped out of adjustment by just taking it out of the case. Same with the magnification ring, it rotated perfectly but with a slight resistance, which is why it makes sense that Vortex included a SwitchView throw lever in the box. Mounted on a rifle, fully rotating the magnification ring would be awkward. Illumination, elevation, and windage knobs felt good, no complaints there at all. The clicks on both elevation and windage knobs were audible and tactile and quite consistent throughout their rotation.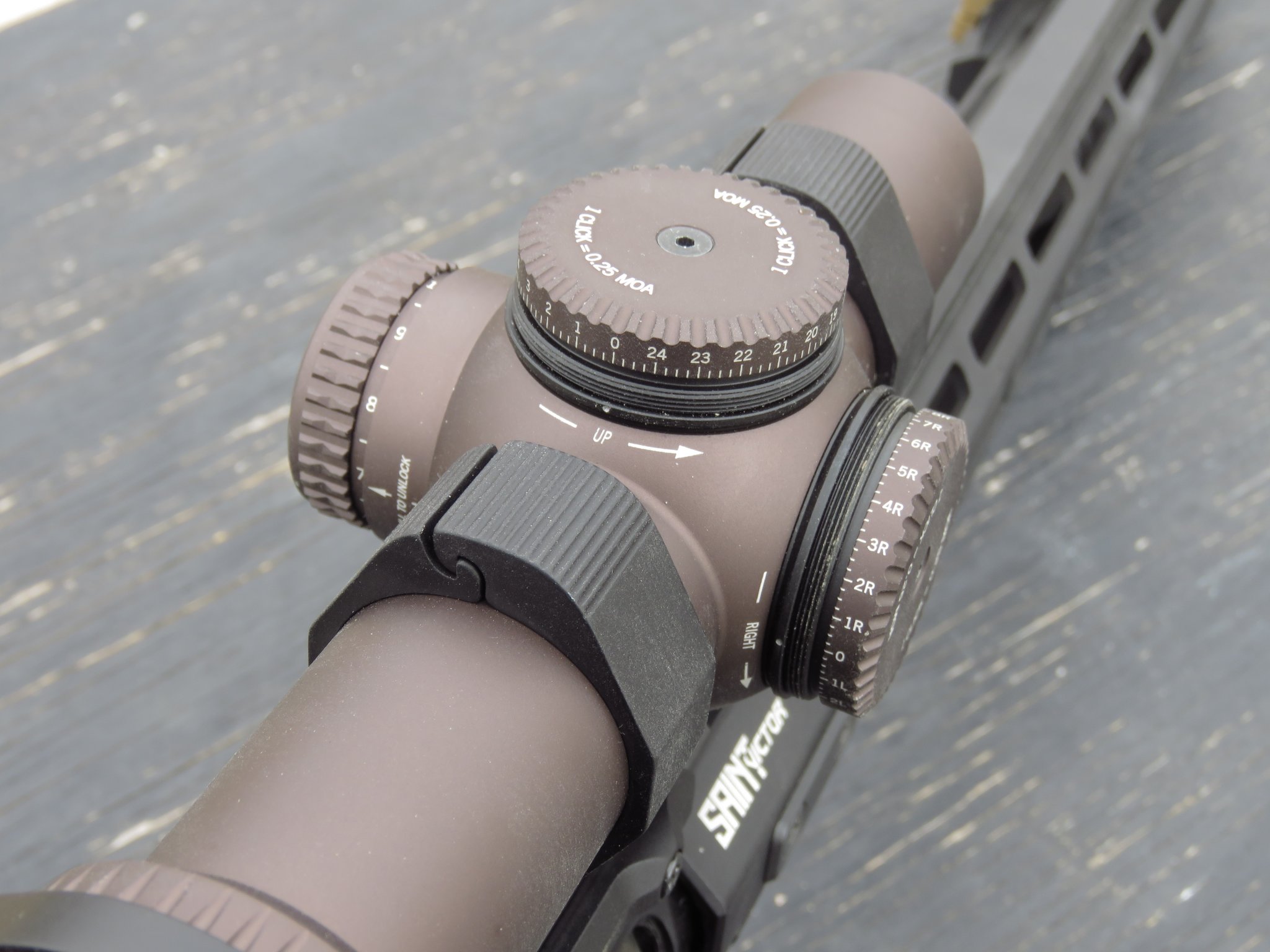 I'm not going to bore you with a bunch of figures but it is interesting that Vortex was able to keep the weight and length the same as their Gen II 1-6, while increasing tube diameter and magnification.
The EBR-9 MOA Reticle
While I'm a pretty die hard mil/mil kinda guy, I wasn't going to turn down a chance to check this optic out simply because it had a MOA reticle. The EBR-9 MOA is actually a BDC reticle located in the FFP and follows Vortex's general subtension layout that I've noticed is common amongst their different BDC reticles. This isn't a bad thing and they're kind enough to supply an excellent reticle manual to help you work out your drops for most common 5.56 and 7.62 ammunition types.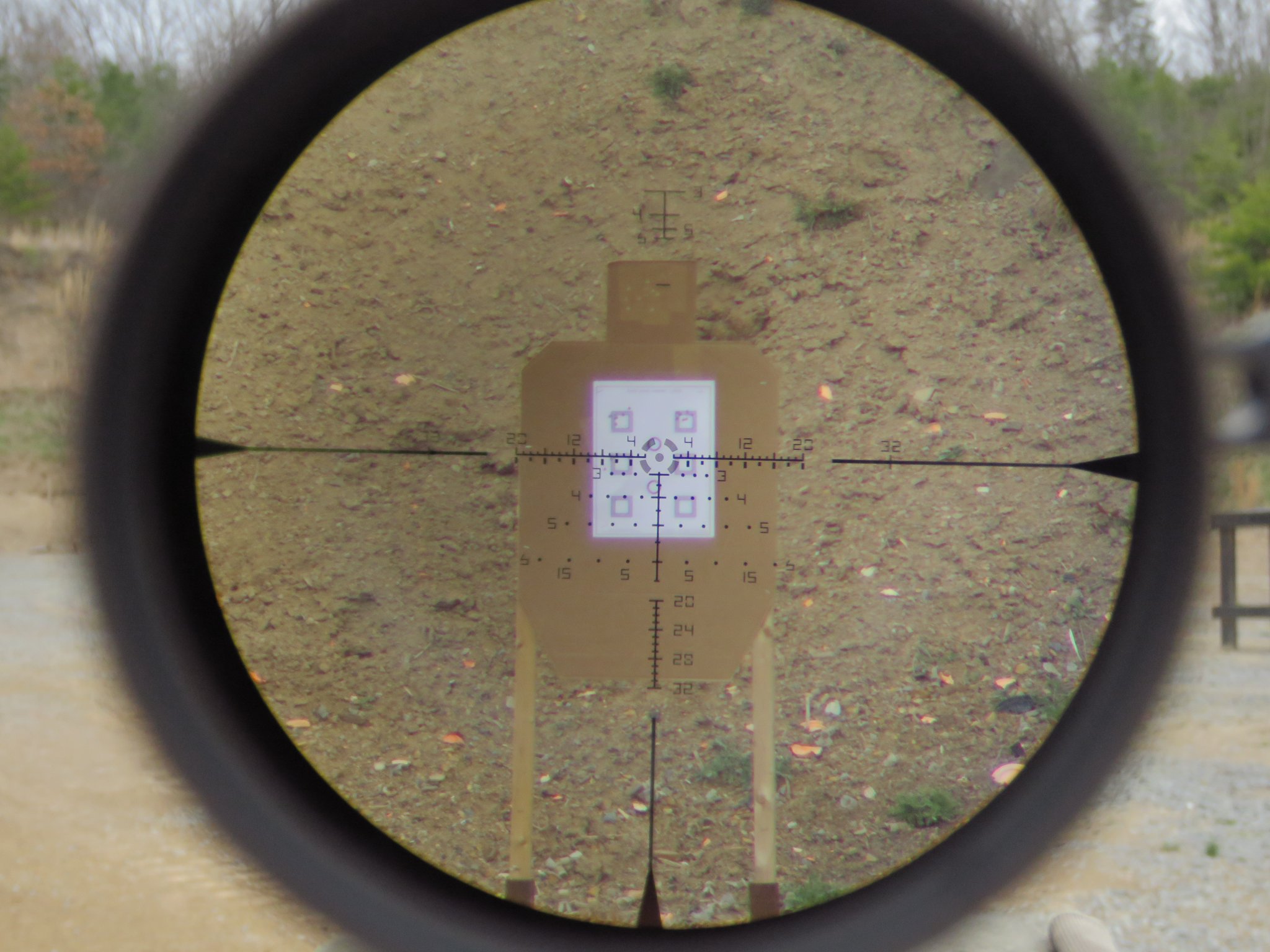 That being said, instead of doing the old zero at 50 yards and hoping the hold over lines match up kinda close method, I went a different direction. I tuned my zero at 50 yards so that I could give the trajectory of the round the best possible chance to match up with the hold over lines from 300-650 yards. This isn't going to work out perfectly in every case but it's pretty damn close. For example, if I was shooting Mk 262 Mod 1 and simply zeroed dead on at 50 yards the actual ranges for the holdovers could be 20-30 yards off, so instead of the 500 yard line being 500, it'd be 470 yards. However, if I tune the zero to be ½" high at 50, that works out to roughly a 220 yard zero and the hold over lines are matching up to within 5 yards or less out to 600 yards. JBM Ballistics was an excellent resource to help work some of this out and I found that I could get the hold overs to match up with 77gr SMK's, 55gr ball (within reason), M118LR, and M80 ball too.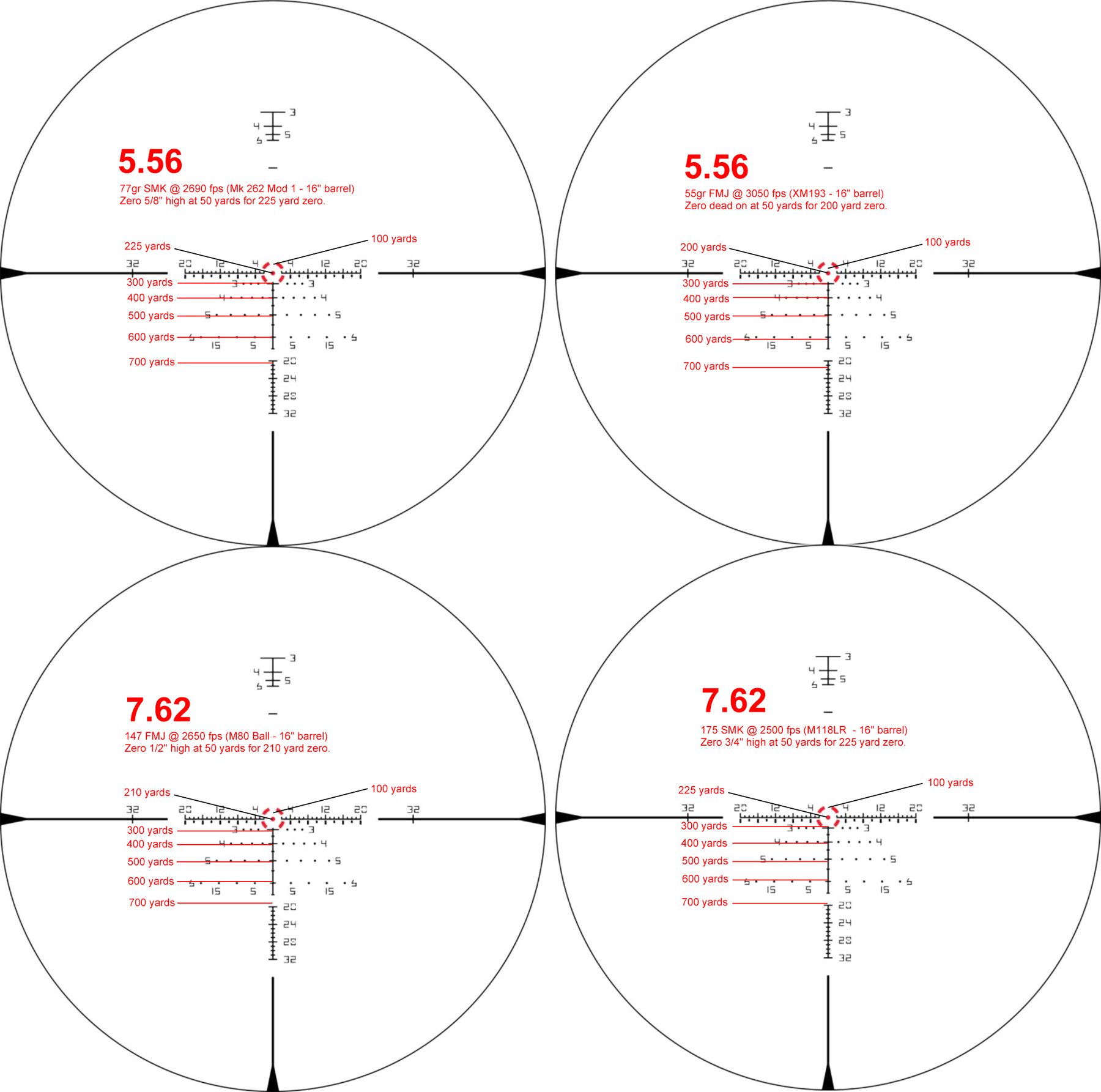 There is a ranging feature on the reticle but thankfully it's up and out of the way in the reticle, i think they realized that using the holdovers stadia for ranging is lost on most of us. We're usually not engaging targets that fit the criteria for those brackets and we're better served by windage holds. The windage dots to the right and left side are calculated for 5,10,15, and 20 mph winds, although with JBM I found they mostly correlated to a wind speed a couple mph faster. Not a big deal really, for the most part the windage holds are within 1 MOA so depending on the size of the target it will still be a hit.
An interesting feature to this reticle that I actually fell in love with is that the illuminated portions of the reticle are somewhat see through. Segmented circle reticles like this have normally been solid so that they can illuminate but this has caused heartburn because that tends to obscure large portions of the target on higher magnification.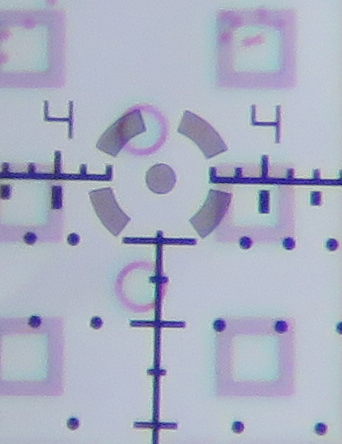 With the reticle being see through, those obstructions are a lot less evident and you can more precisely place the reticle for consistent holds. The illumination itself is daylight bright and the typical day time setting that I found myself using most of the time was "7", in bright, bright conditions bumping it up to "9" may be necessary. The highest setting might be for shooting directly into the sun, I haven't gotten confirmation on that but if you dial it up that high, grab your shades before you look through the scope. Down at "1" the illumination is almost too bright for night time settings but then I thought about how this scope might be used in the context of a duty or defensive rifle with a white light. If there was a low setting to where the reticle was still visible but wasn't not so bright that it washed out the target behind it, it'd definitely get washed out the moment you activated a multi-hundred lumen light. With the lowest illumination setting as it is, you can activate the weapon light and not worry about losing the reticle.
Optical Performance
Being from the higher tier of optics from Vortex, the image quality was very good, I really have no complaints in that department. Chromatic aberration is kept to a minimum while color and contrast looked true to life up on 10X. On high magnification the eye box can get a little tight but at 1X, the eye box and field of view improved dramatically. This no doubt helped when transitioning from target to target later on.
At The Range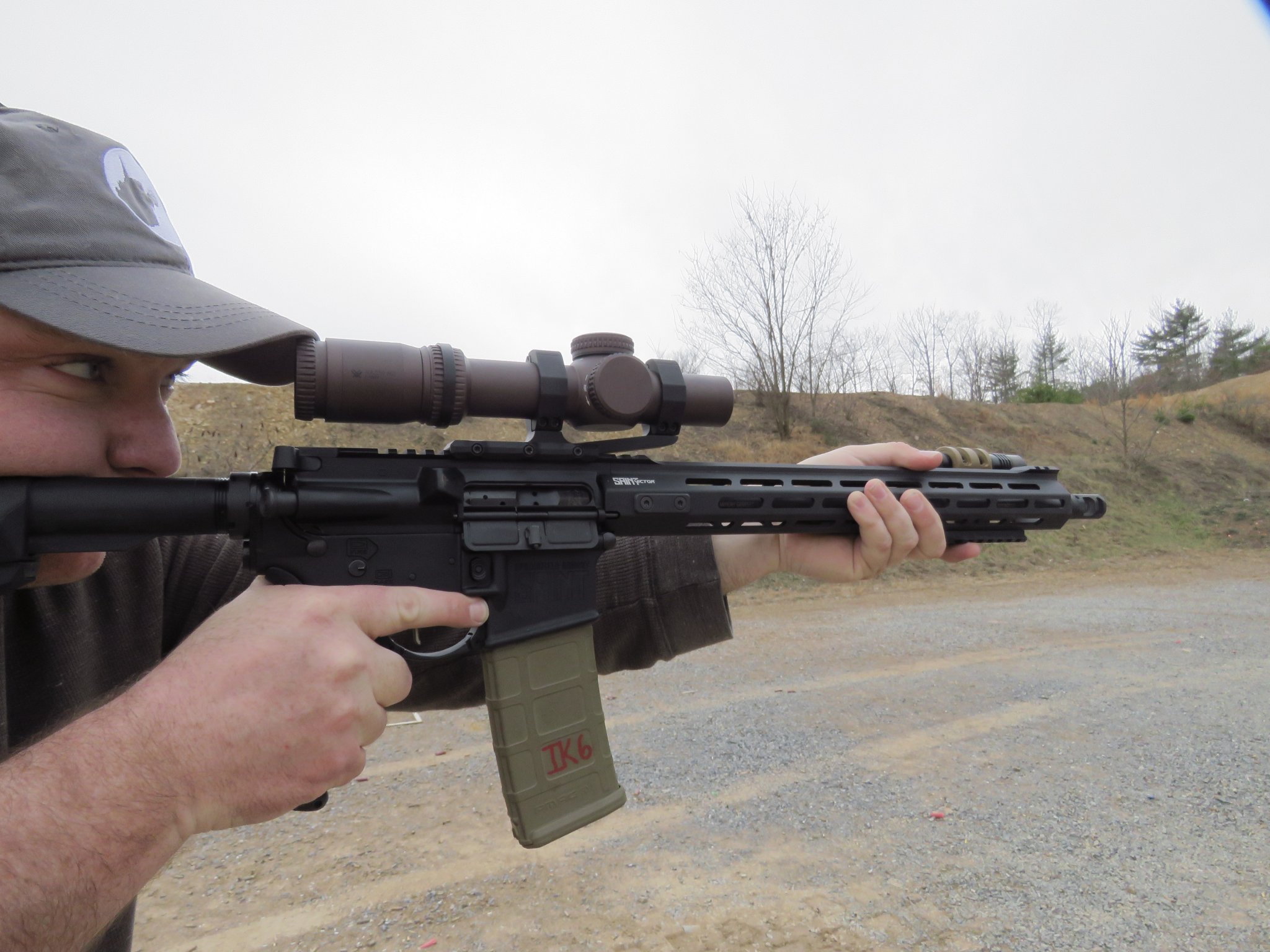 Because of the nature of the review and current events I didn't actually get as much range time with the optic as I wanted to get a full, in depth review. I mounted the scope in an AeroPrecision extended 34mm mount and I'm glad I went with that mount because this scope has some serious eye relief. I had the scope pushed a little farther forward than I'd normally have it. Getting the optic zeroed was incredibly easy, I was on paper in five shots but I think that was more by accident than by design. Even still, tracking was spot on, I tested the tracking up to 30 MOA and back down to zero and experienced no significant issues with the mechanical tracking.
Down on 1X I was pretty much as fast with this scope as I am with an Aimpoint. I had three IPSC targets set out, spaced about 20ft or so apart with the drill being two shots center, two shots left, and two shots right. Transitioning between all three and getting good center of mass hits generally put me in the 3's from about 10 yards. Where I thought having this huge illuminated dot would be a disadvantage somehow turned out to not be the case at all, it was super easy to pick up and put exactly where I wanted rounds to be.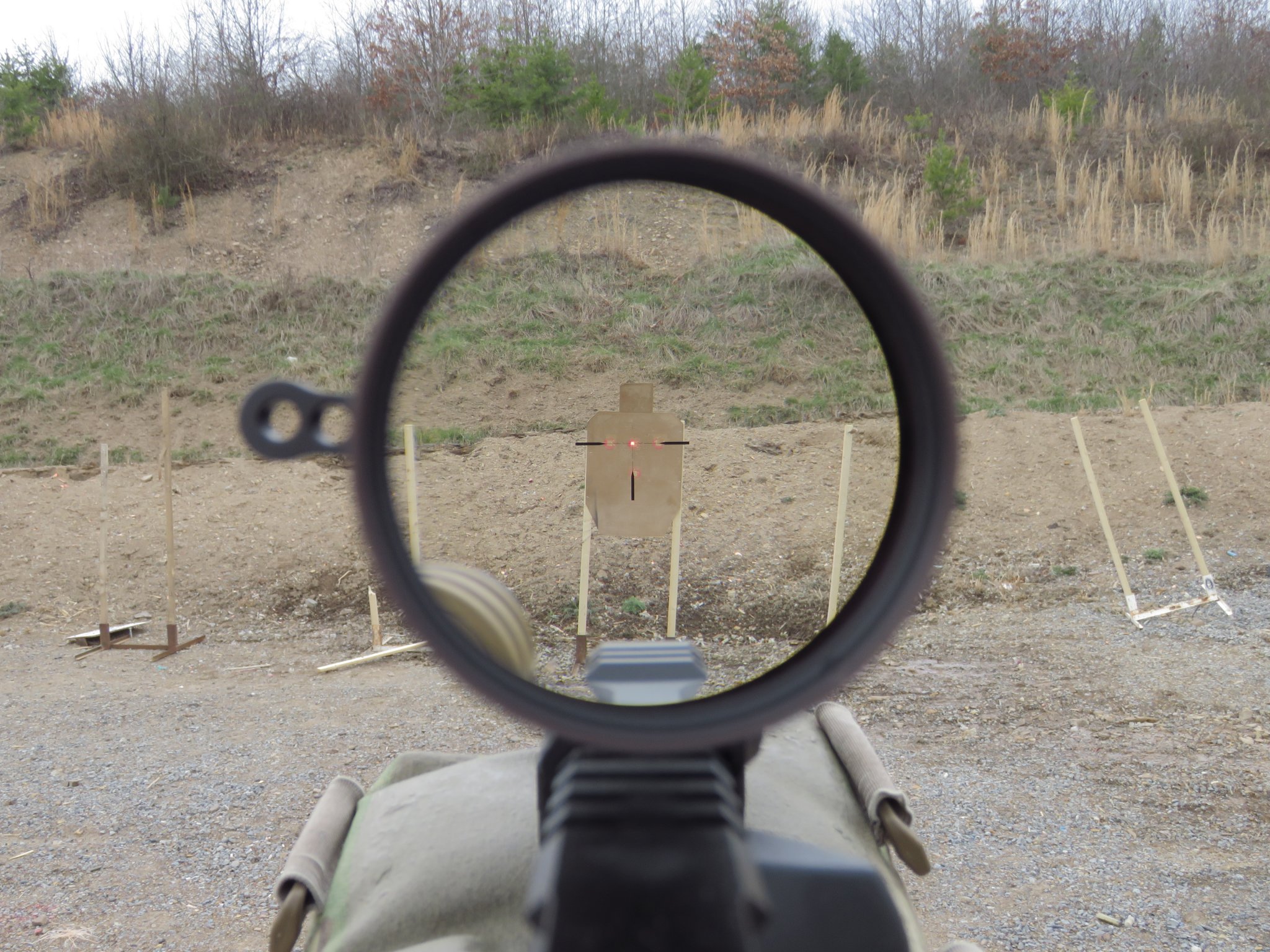 The BDC reticle and FFP makes this scope pretty brilliant at longer distances too, especially since the reticle isn't going to obscure large portions of the target. Being perfectly honest even though I'm a mil/mil guy, this BDC reticle is pretty bitchin' I wouldn't cry if that's what I was stuck with. If for some reason you feel the need to dial out to longer ranges, the elevation knob has 25 MOA in a single turn, which should be more than enough to get you out to 700 yards without getting lost in the rotation.
Conclusions
I've used a fair number of low power variable optics and to me, it seems like Vortex took the best features from some of my favorites and mashed them together here. This scope joins a short list of optics that would be my preference for a precision semi-auto like a recce carbine or SPR. I just wish I could've afforded to keep this one.