Red Forman
Full Member
Minuteman
Supporter+
Dec 20, 2017
15,815
133,296
I recently purchased 20 pieces of once fired Alpha OCD 6GT brass to supplement the 200 pieces (199 after sacrificing one piece to an AMP annealer) that I had purchased prior for my new 6GT barrel. I decided to load up the 20 pieces with a similar load, although different bullet, to my other pieces and "fire form" them to my chamber prior to annealing and adding to the rotation of my other 199 pieces. Those are all on their third firing after annealing after two firings since new. All was going well, see below, until the last 7-8 rounds fired. As you can see, the last seven rounds began to move down. I had the Magnetospeed attached and there was essentially no change in speed. My initial fear was 1. that there was a baffle strike, 2. Magnetospeed strike, or 3. the reticle in my scope had moved. I decided to take the rifle back to the range and shoot some rounds of known quality to see what I could find after inspecting the baffles on the suppressor and the Magnetospeed wand with no indication of any kind of strike.
Continued below pic.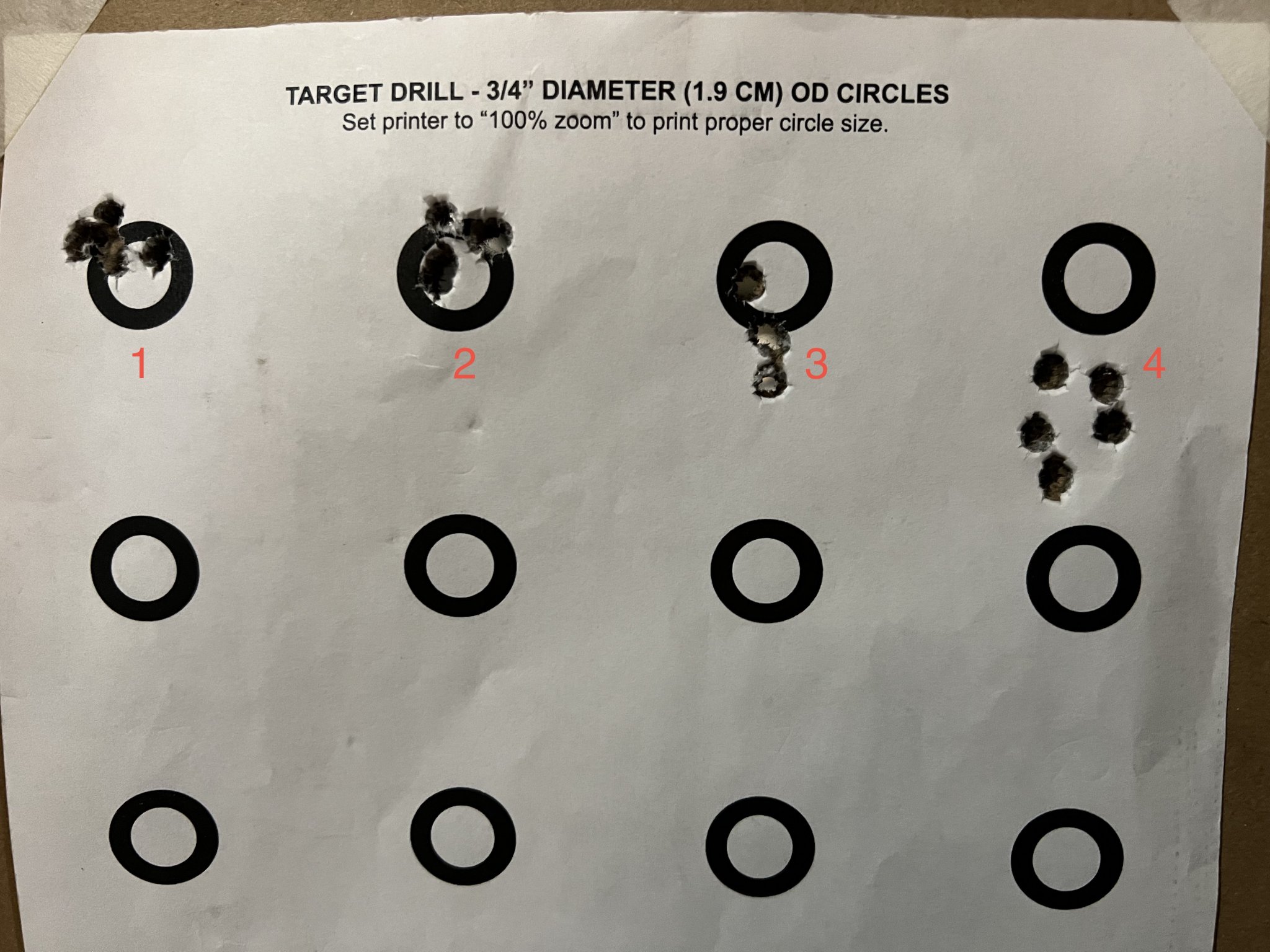 After shooting the first five rounds, I was relieved to see that my zero had actually not changed and all looked good. Until I shot the second five rounds which seemed to move again. (see below). I continued with another five rounds after making minor adjustments to elevation and windage (after turning the turrets a few rotations and returning them to the 'new' zero) and the group tightened back up but moved to where I had adjusted. Then I returned my turrets to the old "zero" and all was well again for the last two groups of five rounds.
So, what's going on? Is it just me and my POI changing due to slight adjustment for the different target via Chris Way's POA/POI change due to different angle of sight from the shooter? I've always noticed a slight change of POI with the different dots in the past as well. I've 'decided' that it was due to the slight angle of change in POA due to not moving my position, just adjusting the rifle on the bench, again via Chris Way's observations/teachings.