RegionRat
PX Member
Minuteman
I have
2
1 case of 140eldm 6.5cm. Both cases are the same lot number.
Asking $535 shipped
each or $1025 shipped for both CONUS
If you are in a restricted state, PM me and we can see if we can work something out. I have shipped ammunition to California recently and it wasnt a big issue. Im not familiar with other states.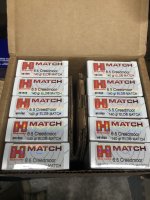 Last edited: