It's possible
Supporter
Full Member
Minuteman
Cleaning out some parts bins and have the following for sale:
Patriot Valley Arms Shockwave 4 port muzzle brake.
Just like a Jet Blast with an extra port. Only 40 rounds on the brake, practically new. 5/8x24 6.5mm self timing, stainless.
- $100 Shipped SOLD

LabRadar sight with pic rail
for mounting a red dot or other sight on top of the Labradar. Has a peep sight below the pic rail for manual aiming and/or to zero the red dot. Remove the existing bolt, pop this onto the LR and use the new bolt in it's place. -
$15 Shipped
PayPal F&F preferred. Happy to provide additional pictures upon request
(Click to enlarge)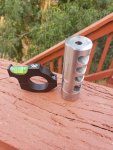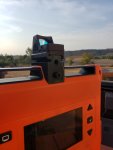 Triad Tactical spotting scope cover for Bushnell Legend T 15-45x60.
This is a really nice cover that allows you keep the pic rails on the top/sides of the spotting scope without removing the cover. The cheapo stock cover that comes with the spotter covers up the rails, so you end up having to decide between rails or cover, can't use them both at the same time. This is meant to stay on the spotter 100% of the time. Comes with the longer screws provided by Triad. Its lightly used in excellent condition, no issues. Ranger Green. -
SOLD

Vortex scope mounted bubble level
for 30mm scope tubes. -
SOLD

Weatherflow meter for smartphone
. Reads wind, atmospherics including density altitude, etc. Connects to your phone with Bluetooth and displays real time data in the free Geoballistics app. There are a few different models out there, this is the one that's ~$80 on amazon. No issues, works well, I just got a Kestrel a while back so I don't need this anymore. -
SOLD

Armageddon Gear Data Armboard
. Comes with two boards & two pens. -
SOLD

Sidewinder dope card holder
. This is the clear one so you can have dope on both sides of the card. Comes with a handful of blank cards. I'll include replacement Velcro from a roll. -
SOLD

Phantom Precision skid pad
. No rips or anything, barely used this, but when I did it came in pretty handy. Has a grippy finish on the bottom to help stick to bags, barricades, etc. Velcros to the forend of the rifle. I'll include replacement Velcro from a roll. -
SOLD

Giraud trimmer 6BR case holder.
Comes with sample case and original Giraud lock ring. -
SOLD
Last edited: