Unnecessary Overkill
Supporter
Full Member
Minuteman
Want to sell a extra 6xc Whidden die set, used. $150 obo shipped. Bushings not included. PayPal F&F or PayPal G&S +4%, or if you prefer another form of payment just ask me.
I can also make a package deal if you need more 6xc stuff. I use the 6xc in my Desert Tech and was going to build a lighter weight rifle, then went another direction.
These are not 6xc 2 for Alpha brass.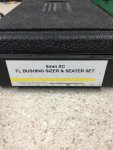 Last edited: