The Red Hunter
PX Member
Minuteman
Selling my ZCO 527 w/MPTC 2 $Sold
Scope will come with ARC M10 1.1" tall rings, Tenebraex Covers and MKM bubble level as part of the package. Will not split since I would like to sell this as a package deal.
FULL DISCLOSURE: I tried a Spuhr 6001 on this scope and it sits too close to the erector housing causing some drag on the parallax. This is why I am selling it with the ARC rings. They do not seem to cause any issues unless you run them right up against the erector housing. I spoke with Jeff at ZCO and he recommended split rings rather than the Spuhr.
NO TRADES
If you do not want the rings $3100 shipped.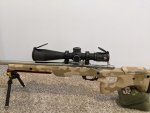 Last edited: