Earlier this month there was a thread about ELDMs "failing" on a mule deer. I commented something to the effect of the shot placement was less than ideal. A statement I still stand by. But as much as I love commenting on the Internet I figured I should try an ELDM on game to see how it worked.
This morning I went out on the final day of Wisconsin regular gun season to shoot a meat doe for my aunt and uncle. I was set up from a thick pasture expecting shots from 250-400. About 10:10 I heard a deer blowing and looked to see a large doe at 30yds in the picked bean field stamping and blowing. She ran to about 60 and stopped. I shot behind the shoulder trying to minimize meat loss. At the shot she ran flat out for 125-150 yards and piled up in a fence line. The blood trail was grotesque and I don't find the distance traveled to be a negative, as a switched on animal can cover some ground. I would guess if she was relaxed she would've dropped or fell much sooner.
Results were a 1/2" entrance and an 1 1/2" exit. Impact speed of 2675 out of a 260. Clipped a rib on the entrance. Top of the heart was mangled and both lungs had serious damage. No sign of fragmentation.
Entry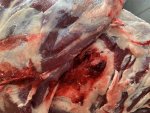 Exit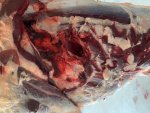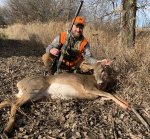 One deer doesn't prove anything. But I figured if I was commenting on it I should try it for myself. The wound channel looked very predictable. Reminded me of 30 Cal Corelok entry and exits.