Lumberjack
PX Member
Minuteman
Custom Built Beanland 7 SAUM
- Remington Stainless SA RMEF Serial Number
- Side Bolt Release installed by Kampfeld Customs.
- PTG One Piece Bolt, Milled Fluting, Tactical Bolt Knob.
- Feedramp notched for mag length COAL of 2.950".
- Near MFG 20-moa scope rail.
- Bartlein HV Contour 5R 9-twist finished at 26", ~1100 rounds fired.
- Surefire SOCOM MB762 Muzzle Brake
- Cerikote in MilSpec OD Green.
- Huber two-stage trigger, factory set at just under 2-lbs.
- Manners T2A with minichassis, heavy fill, B&T Bipod Rail, Left side Flush Cups, 1" Decelerator Pad, Custom painted in MultiCam. Has some case mouth erosion, and one small chip in the paint as pictured.
- Rear tang bedded.
- Weibad cheek pad.
- 2-ea new in wrap 7-round Alpha Mags will be included.
Comes with the following;
- 53 Loaded Rounds on Virgin Remington Brass, use as components.
- 80-each Remington cases, 2X fired.
- 200+ Berger 180-Hybrids (100 are pointed, and a few extra are pointed and pulled).
- 500-ea Federal Gold Medal Match 210M Primers.
- VihtaVouri N150 Powder, 2-lbs sealed.
Scope, Scope Mount, 2-Round Holder, and Bipod not included, but will sell an Atlas bipod to the buyer of the package for an additional $225.
This rifle is extremely accurate, just like what you'd expect from a Beanland build. If you shot the old T3 match, or the Q-Creek ELR match, Yes, this is the rifle that kicked your ass!
$3000 plus actual shipping and insurance cost. I cannot ship the powder or primers, so those are limited to local sale in NW Colorado. Or, on March 29th, I will be traveling through Golden, NW Denver to Boulder, and even as far as the new Mile High store. Can meet for transfer on that day. If meeting in person, I will need cash, and buyer will be responsible for transfer fee.
Not interested in splitting anything up.
USPS Money Order or Check only. Sorry, I cannot do electronic forms of payment such as PayPal, so don't waste my/your time asking.
Trades;
Wilcox RAPTAR
LMT Enhanced BCG
LMT 14.5 Gas Piston Barrel
Berger 140-Hybrids
Sierra 107-SMKs
Surefire SOCOM 556MB (New)
Manfrotto 458B NeoTec Pro Aluminum Tripod
Leupold Delta Point Pro with 2.5 moa Dot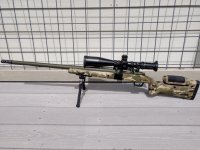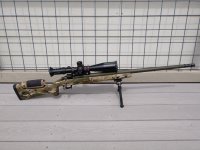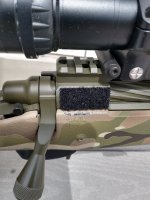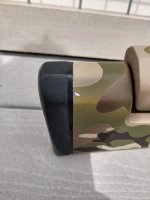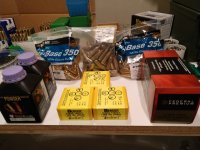 Last edited: