Sergeant
PX Member
Minuteman
So I picked one these up this week and I think it is an all around very solid optic. Of course I am not an expert, nor do I claim to be. This is just some of my thoughts and impressions that I will try to keep as orderly as possible. I will say that I am a bit of a glass snob and have a couple S&B's, a Tangent and a couple Kahles all for my long range needs. When it comes to AR platforms however, I do not consider it to be "precision" shooting so I tend to aim for best bang for the buck LPVO's.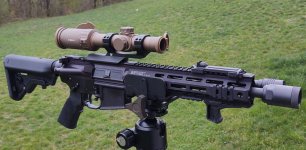 Reticle- Starting off with the SFP vs FFP, I totally get both sides of this argument. Me personally, I can go either way. I prefer a FFP (because all my LR scopes are) but it seems like the reticles always fall short at one end or the other. I do not think an LPVO is really meant to be FFP but if the reticle is properly executed, it could be successful. My biggest complaint about FFP's is that usually the small low end reticle is almost unusable. This could be corrected by making the illumination "Aimpoint" bright but they never do.... except Vortex. So, if you happen to be in the scope business and are reading this, make your FFP LPVO's DAYLIGHT BRIGHT.
The CX900 is, IMHO, a really good balance. Again, I totally get the BDC vs MIL holdover thing but for me, I like simple. I think it eliminates some thinking to have a BDC for shooting under stress. One thing I really dislike is having to count down mil hash holdovers like on my K16I SC1. I think all mil hash holdovers should be numbered every other or so, again, to eliminate some thinking. I am sure a lot of you know this, but you can adjust your zero range to help the BDC to be more accurate. I have done this many times and it works well. I try to adjust my zero to be more precise at distance and maybe a bit more off at closer ranges. Having bad dope at 600 yds and being off by 2 MOA is a bigger miss than being of by 2 MOA at 200. I hope that makes sense... The beauty of the CX900 I think is the mil wind holds. With this, holding for wind is more versatile. For me, I will just use the Accuracy 1st rapid wind method so I can easily compensate for winds at almost any range. Although the FFP reticle is not daylight bright (more like daylight visible) it is still very usable thanks to the large bullet shapes marking in each quadrant that draw your eye to the center.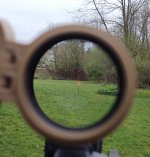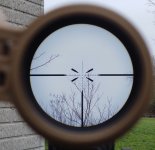 Glass- It is very good...at the price point. Unfortunately my K16i was sent in for repairs so I cannot compare them side by side. Best I can recall, this SAI is very comparable to the Kahles as it seems like when you put them up to your eye, the only thing that changes it that a recticle appears. I am very pleased with the clarity and quality overall, but glass is so subjective so take it for what it's worth. At 1x, I am pretty certain that the SAI has a bit more fish eye than the K16i. It just does not seem quite as flat when panning.
Adjustments- The turrets seem very functional and are recessed a little into the housing. The clicks seem very precise and audible and have the ability to zero them out though I'm not sure why. One thing to note for sure is the zoom ring. it is incredibly smooth and easy to turn. Might be a no-go for some guys but it is super slick. It is lighter and smoother than my K16i for sure and it almost feels like it's broken. In other words like it's just turning and not really articulating with anything else. I really like it and a throw lever on this thing would be overkill for sure.
Overall- The SAI picks up on a lot of things that I just didn't like about other LPVO's. A very usable FFP reticle, hybrid BDC reticle, excellent glass, and the VSOR ranging that I didn't mention earlier is a really nice addition. Including Tenebrex caps and tethered scope caps are a really nice touch as well in my opinion. The initial offering in FDE I really like too, I get bored with black...
What would I like to see different? Daylight bright illumination of course! Also, the 1-6 offering is a bit 2018 as some have said and I totally agree with that. A 1-8x at least would have been a better start but for me, it's going to ride on an 11.5" SBR so 6x is very adequate I think. A little more zoom for PID could never hurt but for the weight savings, I am happy with it.
Went on a little longer than I thought, sorry about that. Thanks for putting up with me.
CM