Gunny Sergeant
Full Member
Minuteman
Wasn't sure if I should post this here or in reloading but considering it's an AR-style gun, thought it'd be best here.
Having an issue with bullet setback in the case, Hornady Sub-X, 190gr. 300 blackout.
I was getting ready to load a bunch of rounds and was experimenting with neck tension and crimping. On a whim, I loaded up a dummy round with the bullets in question and dropped the bolt on it. After ejecting it there was significant bullet setback along with a gouge in the bullet (see photos). I tried crimping the bullet, really crimping, same result. So I pulled the firing pin and loaded a factory Sub-X round. Same thing, bullet setback and the gouge.
I then took another sub round, S&B 200gr. FMJ. I've shot just under an MOA at 100 yards with the S&B's so I know they work. Did the same thing, dropped the bolt on one and no bullet setback, no gouge.
Interestingly enough I did shoot the factory Hornady Sub-X load and was sort of surprised at how inaccurate they were in comparison. There are very few expanding 300 blackout sub bullets that are available and somewhat affordable so I went with them figuring I could improve on the factory load.
Barrel is a Faxon match grade stainless/nitrided. The gun shoots everything and I've never had a FTF with it. I've also shot a bunch of hand-loaded Berry's 220gr bullets and I haven't notice any issues with them and for the price, they're pretty darn accurate, enough for fun plinking anyway.
I tried two different bolts, same results. I'm guessing it's down to the bullet's profile? Anything I can do short of changing the barrel? I have about 800 of these suckers and it'd be a blow if I couldn't use them. The rifle is also a form 1 so I'm stuck with the length at 10.5" which really limits my options as well.
Solutions?
Photos...my load, super crimped (intentionally).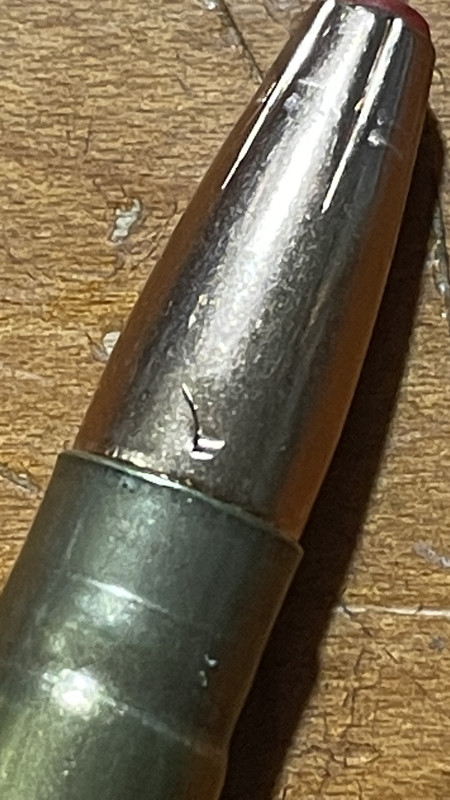 S&B's, one on the right has been chambered.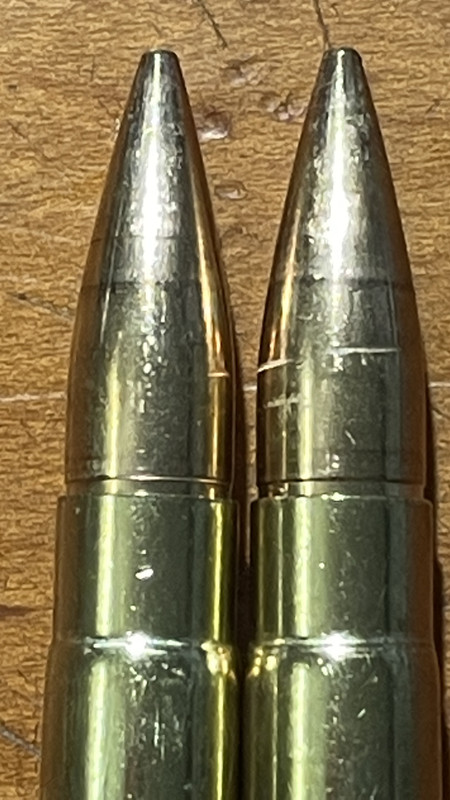 Factory Hornady round chambered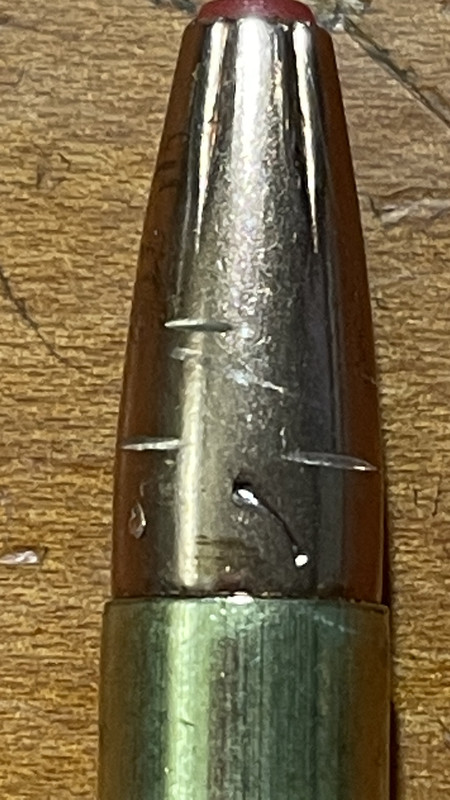 Last edited: