Private
Full Member
Minuteman
Spec built M40A5 that Retired Marine 2112 MGySgt Dave Clark finished this week for a customer here in FL. As you can see, he's taking an alternative path forward in his choice of optics and mount, but it'll work out fine for him as his new long range rifle.
The second rifle is a Spec Built M40A3 built on a customer supplied stock, again, built by Retired Marine 2112 MGySgt Dave Clark.
Lead times for M40 series and or custom rifles builds range from 5 to 8 weeks once we have all your parts.
We have barrels, stocks, bottom metal, and receivers in stock.
Build cost for a complete M40 series rifle is $1250 if you send us all your parts.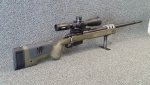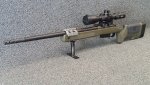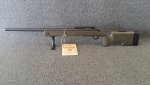 Looking forward to talking to you regarding your M40 build or your custom build