This project has been going on for a while, but I figured that I would share some along the way.
Meta:
I shoot a TRG22 with a KRG foldingstock as my main rifle this year. Its a dream rifle of mine, and it took me some time to get around to get one. I was caught up in running Tikkas, Sauers and Remingtons, but I found my way.
I did a small carbonfiber project a few years ago and made a comb-riser for another rifle, since then I had more cloth and epoxy laying around but I never figured out a good project to get going, until this one.
The main criteria is to make a front section for my TRG wich lines up with the KRG pistol grip panels. Its nice if it is light, but it does not really matter, however, it needs to be sturdier as the moulded Urethane that Sako uses is not extremely durable, just good enough.
So, as far as I know, you can make carbonfiber parts in two ways, either you have an expensive mould made from CNC cut alloy and use pre-preg cloth go lay the structure up. You can also go the low-tech way and make something with a foam core and do carbonfiber laminate on top of or around it. If you are an expert at this stuff, bare with me. I am making this at home, with a moderate amount of tools and posibilities.
Step 1.
Get some high density foam and make the shape. I found two different grades and got both to get going. The blue one is ligher than the gray one.
Step 2.
Measure twice, draw and start cutting.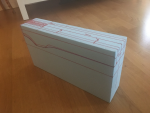 Step 3.
It starts to take shape.