Gunny Sergeant
PX Member
Minuteman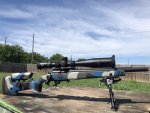 Just shy of 1,000 through it. So bolt still breaking in.
Original owner
18" m40ish contour
Vudoo DMB
McMillan A3-5 Custom paint with QDs, action bedded.
04 mags with 02 mag carriers
Vortex Viper PST Gen 2 5-25 mil/mil
AADMOUNT Scope Caps
Burris Signature XTR rings
TriggerTech Special
RTIC hard case
I'm open to trades, plus/minus cash on either end.
Big Horn Origin SA
6mm 1/7 twist 28" M40ish contour barrels
original 6xc stuff
Maybe consider Spotting scope with mil grid
$3,750 shipped (48) and insurance is on you.
May entertain offers that don't include the scope and rings.
Not looking to break apart barreled action from stock. The M5 inlet was modified to allow the Vudoo DBM.
Thanks for looking.
Last edited: