Aim > Impact > Take a Nap
Full Member
Minuteman
Summary:
I found that CLR will etch a rimfire (CZ) barrel and totally remove bluing in 15 minutes' exposure (photos below) but doesn't seem to affect unfinished stainless steel barrels if used judiciously*.
(* T
he opinion/observation on SS barrels is subject to change if more thorough testing by interested parties yields different results
).
-------------
I'm starting this thread as another "chapter" in the carbon ring / cleaning discussion last addressed in
this thread
which had gotten long and a bit scattered. As usual, there is mention, concern, comment, etc. about the use of CLR (CalciumLimeRust cleaner) and possible detrimental effects.
What set the thread apart, IMO, is that
@Frank Green
of Bartlein Barrels weighed in with
some observations from actual testing
down on page 2 of the thread. He noted some etching and pitting after overnight exposure to the stuff... read it for yourself. Very good stuff.
I'm breaking this out to focus more on CLR per se as opposed to broader cleaning commentary.
My experience is that CLR does a great job in loosening carbon that seems practically impervious to various flavors of Hoppes and similar bore cleaners. The mildly abrasive, petroleum-based Remington 40X cleaner is far more effective than Hoppes et. al., works on copper fouling, and is less vicious to finishes and surfaces, but has its own potential issues if misused and can't hold a candle to CLR for nuking carbon.
Here's my process:
Wrap a thick patch around a worn "sub-caliber" brush, wet the patch thoroughly (but nowhere near dripping) with CLR, and run it through a few times, letting it come to rest in the barrel leade with the rear of the path atop the carbon ring. Let it sit 2-10 minutes, run it back and forth a couple more times. Insure CLR does not drip onto anything you don't want damaged.
Run 2-3 dry patches through the bore.
Check fouling with bore scope (I surely don't want CLR on my bore scope...). Repeat steps 1-2 as necessary. I do not try to get every speck of carbon out, especially on barrels that have obvious fire cracking.
Thoroughly clean the thoroughly dried barrel with Hoppes or similar to insure no CLR remains. Followup lightly-oiled patch is insurance.
(Note: CLR will not touch copper fouling, but maybe... maybe... copper come out a bit easier with the follow-up Hoppes. Maybe wishful thinking, but I haven't had much trouble with copper fouling.)
I have not noticed any detrimental effects on my unfinished (other than bead blasted) Bartlein SS barrels and APA brakes (I'll soak the latter for a couple of hours but not overnight).
But what about softer rimfire barrels? Mike Bush (
@RAVAGE88
) of Vudoo fame specifically recommends against CLR, so my Vudoo has never seen it.
But tonight I decided to try CLR in a carbon ringed CZ 455 factory barrel that might have been made with a cordless drill and a chainsaw file compared to top-shelf barrels; the bore scope and simply the feel of Hoppes-soaked patches going through reveals the barrel is, well, a CZ barrel - it shoots fine for what it is. I figured I'm not going to hurt it with CLR.
The first CLR patch blasted the carbon ring almost completely with a 5-minute patch "dwell" as described above. The bore scope, curiously (or not), showed the first 5-6 inches of the barrel almost completely free of carbon, followed by a sharply-defined 6-inch section of noticeably carbon-fouled bore, followed by a final shiny-clean section. I can
feel
patches hit the rough section. So I ran another CLR patch to see if more of the rough-section carbon came out - some did, of course, but not all, and I called it good. Three dry patches followed by four Hoppes patches followed by two dry and a final lightly-oiled patch.
Total time of CLR contact with the bore was 15 minutes tops, with only five minutes or so of CLR patch actually in the barrel.
You can see the mild etching; there were maybe five or six of these
in the area where I let the wet patches soak for 2-3 minutes
. Now, my previous exposure with "etching" was acid rain etching on a German car whose previous owner had let rain-wet leaves sit on the hood/roof/trunk for too long. I could clearly see the leaf etching - but I couldn't feel it, and I knew the car had not been waxed. My point is, given how rough that CZ barrel is, I'm betting the etching means nothing.
The muzzle bluing is
gone
where the CLR dribbled out.
Bottom line, for me, is there is a place for CLR in my firearms cleaning toolbox, but only for specific cases - not general cleaning. I really need to try the Bore Tech suite of products as well.
Hope this is of some use to the community.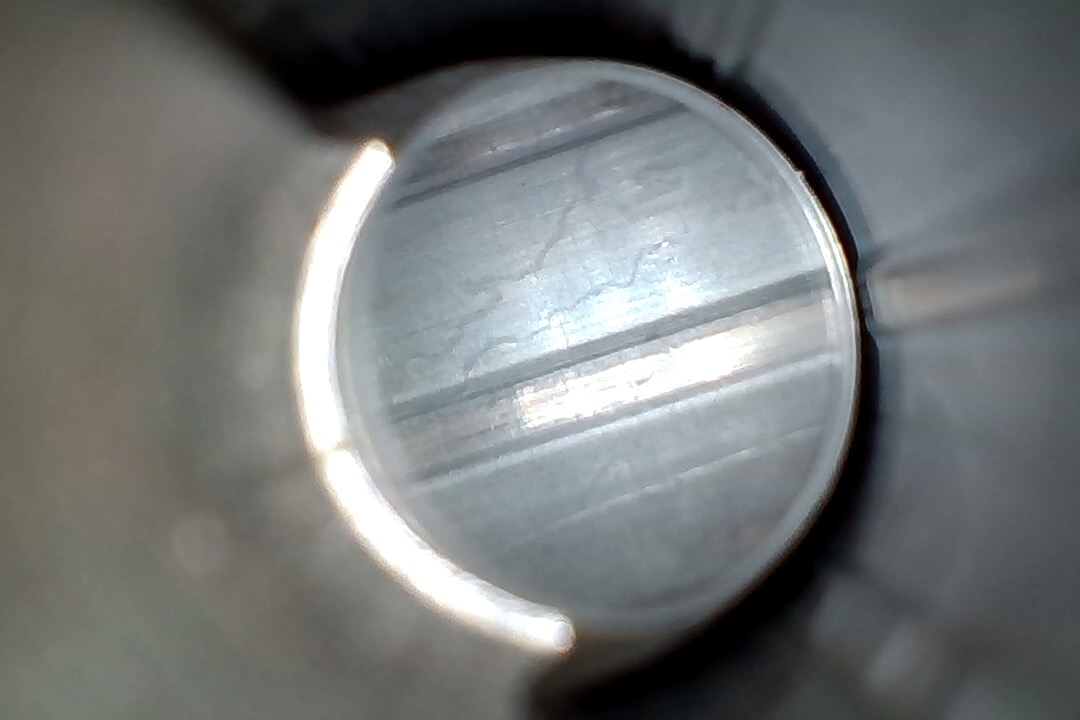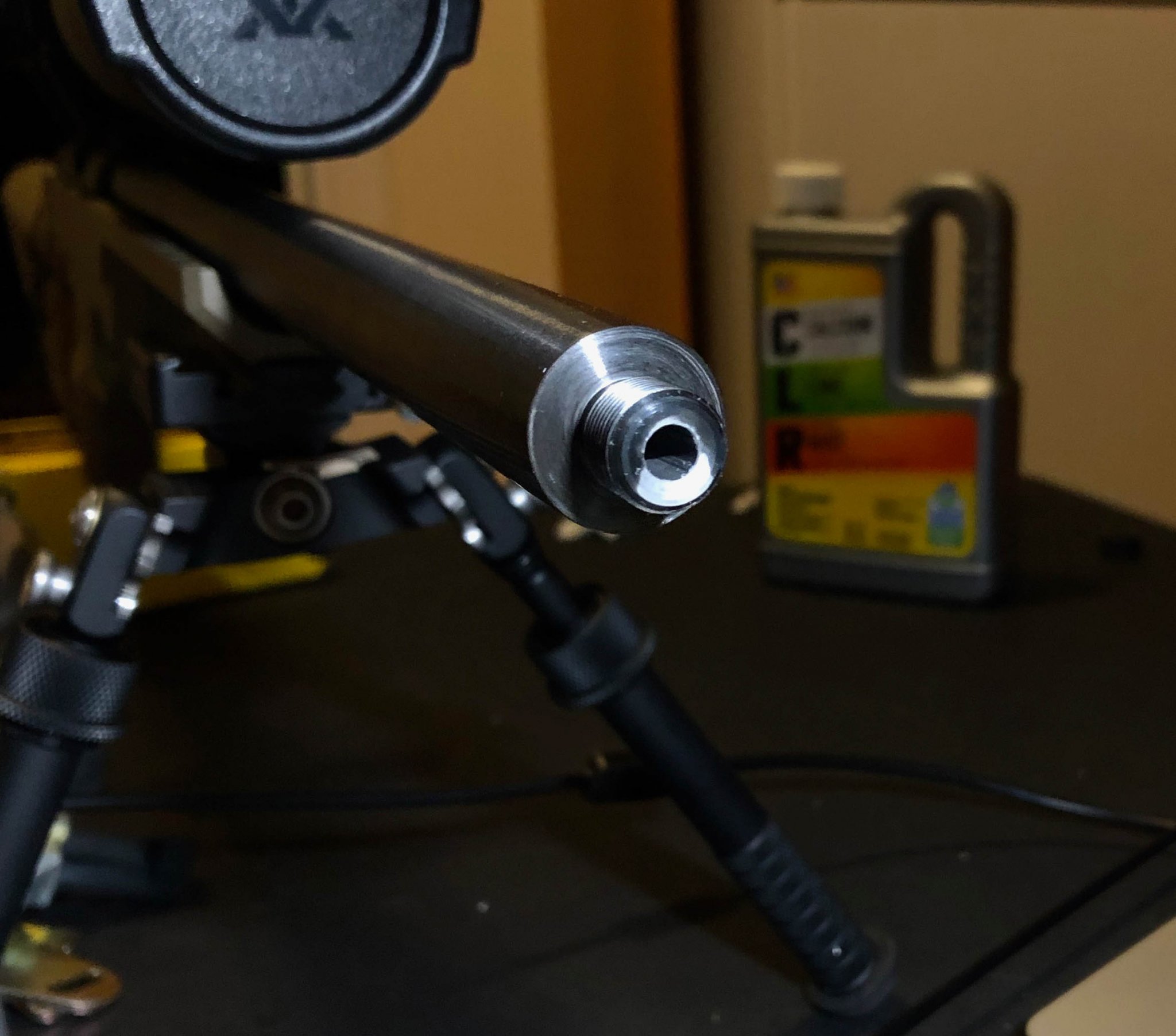 Last edited: