Jan 11, 2014
846
2,793
99
Went out Friday with my 300 win mag to my local range. Sat down to shoot the 500 yard target, pull up my ballistic app and check dope for 500. App said to dial 2.6 mils, so dial in, held for a little wind and first shot sailed over the target . So I dialed .3 mils down and hit dead center in the plate. Moved on to the 540 yard target, app said to dial 2.8 mil, dialed in on the scope and fired. Same thing, sailed over the target. Dialed down .3 mils and bang dead center.
I went to check all my data I had input into my ballistic app, everything looked correct but to get my app to line up with what I actually dialed I had to adjust my velocity up to 3100 FPS from 2860 FPS.
Here is the data I had enter into my app. The app I use is ballistic ae
Weather inputs are
Altitude 800, temp 80, humidity 75, baro 30.1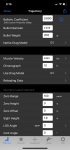 I have chronographed the rifle and over 5 shot the average is 2864.
load data for the rifle is
300 win mag
Norma brass, cci250 primer
H1000 77.1 grains
208 eldm seats at 3.650
Rifle data
Trued Remington 700
26 inch bartlien #4lt bull
Grayboe stock that is bedded
Timney 517
Silencerco harvester 30 suppressor.
So question is why is my dope so far off from what I actually dialed? I am pretty new to the app I have and I have to be screwing something up. Hope this ramble of a post make since.
If you guys need more data to help me out that I am missing let me know.
thank appreciate it