Supporter
Supporter
Full Member
Minuteman
Another thread on the same/sim subject inspired me to try putting it to the test.
Link here to other thread.
https://www.snipershide.com/shooting/threads/facing-ar-15-receiver.7133119/
Since I was about to build an 18" 223 Wylde on quality parts I figured it'd be a good test bed to maybe shed some light on this.
I've been kind of agnostic as too how much difference it'd really make when using quality parts. Despite that I'll admit to having lapped every build I've done.
Not only have I lapped every build, but also shimmed or bed set every barrel extension to the receivers. Tight or thermal fits in BCM receivers still get slid in with a light coat of 620 Loctite. Loose fits get SS .001 shim stock + 620.
So here's the plan.
​
Part A (Complete as of 8/6)​
Build the gun using high quality parts without facing or shimming the extension.
Break it in (i.e. tune gas, zero scope).
Shoot groups with various brands of factory 77gr match ammo.
Part B​
Tear gun back down, lap receiver face, shim/bed extension to receiver, & reassemble with no other changes.
Re shoot groups with same brands/lots of 77gr Ammo
I got a deal on a barrel (4th of July sale) so decided to build a gun around it. Purpose is to shoot PRS style IWI & Geissele gas gun matches.
Build list:
Upper.
VLTOR Mur-1 upper that's unmodified. Accushim added to upper for a slight drag fit of rear take down pin.
Mega Wedge lock 12-5/8" rail that I had to mill out the front of (I know sacrilege)
Proof Carbon 18" 223W 8T. Gas system is .815 dia & 5/8" shorter than RL so intermediate I guess. The gas block is Iron, pick rail on top, fully adjustable, keyed to barrel, retained with a nut, & straight gas tube attaches via flared compression fitting like a brake line
SRC low mass BCG - Head space was Go +.002
Geissele Airborne CH
Precision armament Hypertap brake
Area 419 Keymod Arca rail (I also had to mill this to fit)
Topping it off will be a MPA 1.25 x 34mm mount & an XTR 3 3.3-18 SCR-2 mil.
Lower
Std Forged Lower machined for Ambi bolt catch (Teal Blue Bravo catch)
AR Gold trigger set +-2.5lbs
BCM mod 3 grip
VLTOR EMOD stock with the RE10/A5SR extension & A5 buffer/spring setup.
For part A test
VLTOR MUR-1 upper receiver face unmodified & barrel extension was pretty loose. Barrel just torqued 60 ft lbs dry fit.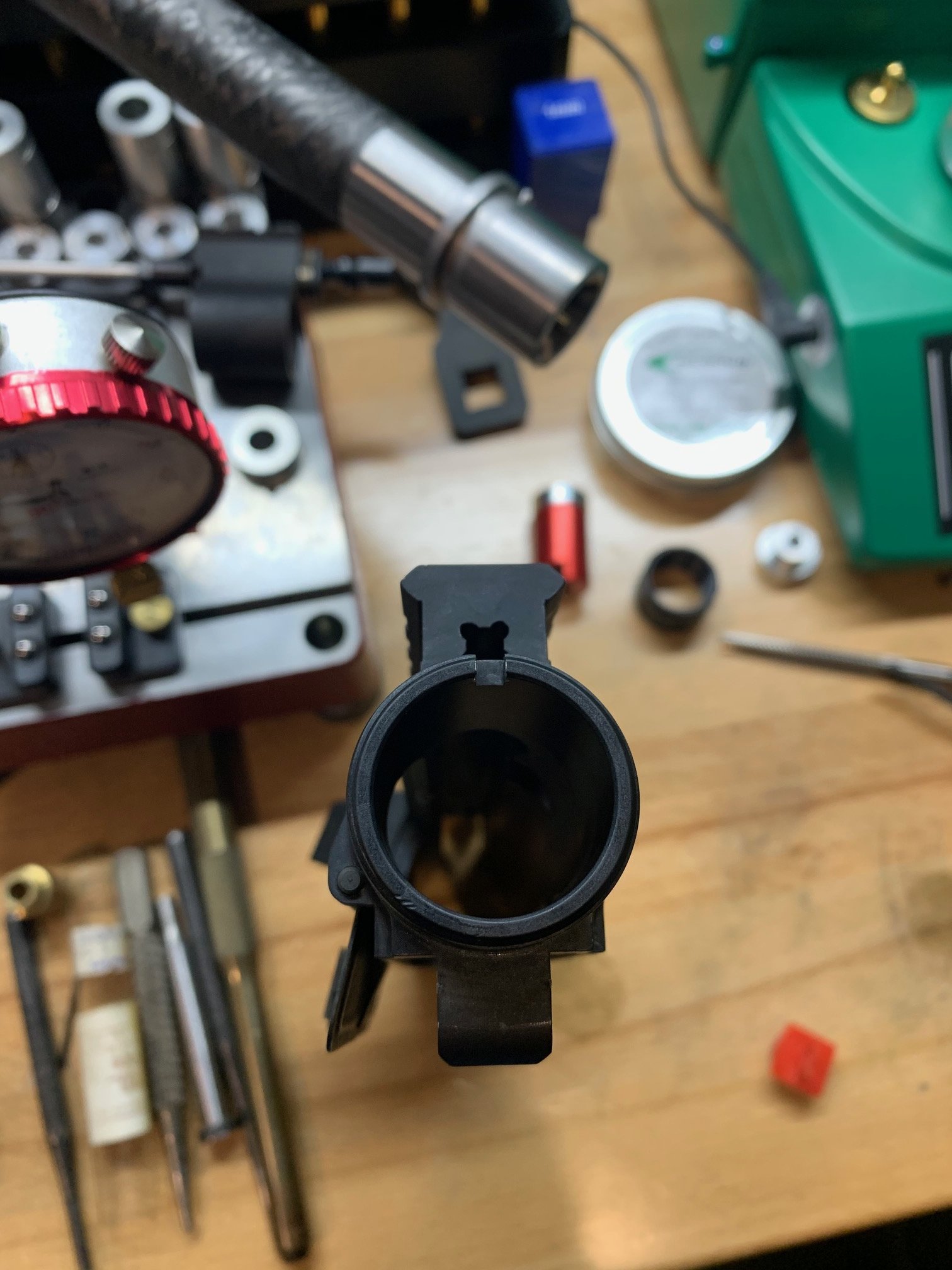 As detailed in the build list above, this barrel is and oddball. It was a run Proof did for the Savage MSR competition rifle. As of 2022 Savage has, without any notification removed all AR platforms or even mention of them from their catalog.
Thanks to their Woke-mess & the likely lack luster sales for the $3000 MSR I got a great deal on the barrel from Stockey's. It included the Steel Gas block, gas tube, & a really ugly 2 port brake.
Unfortunately the Savage handguards for this rifle were probably all burned in a fire pit to pledge some sort of Woke allegiance BS.
The gas system is 1" short of rifle length & combined with the pic rail gas block, limits handguard length to about 10.5".
There's a lot to like with this barrel. Profile is IMO pretty close to ideal for a Carbon 223 with the .815 gas block size, the threaded/keyed block retention, and the flared straight gas tube. I liked it enough to offset the PITA it would be to fit a handguard. Plus I already had the 12-5/8" Mega wedge lock (keymod) & the Area 419 Keymod Arca rail.
Pictured below is this barrel on end next to a proof steel 20" with rifle length gas. Also a pic showing gas block/gas tube - handguard fitting.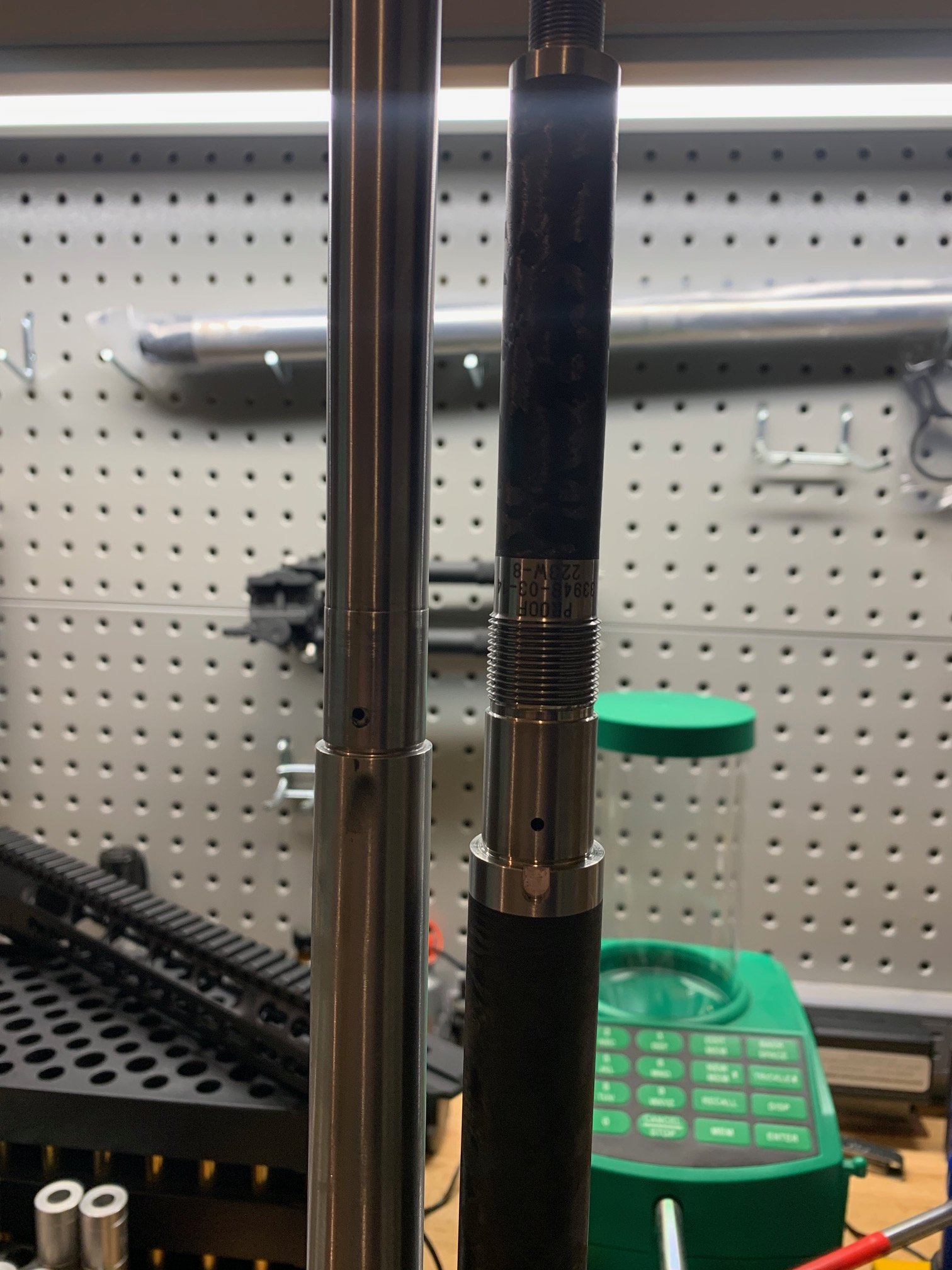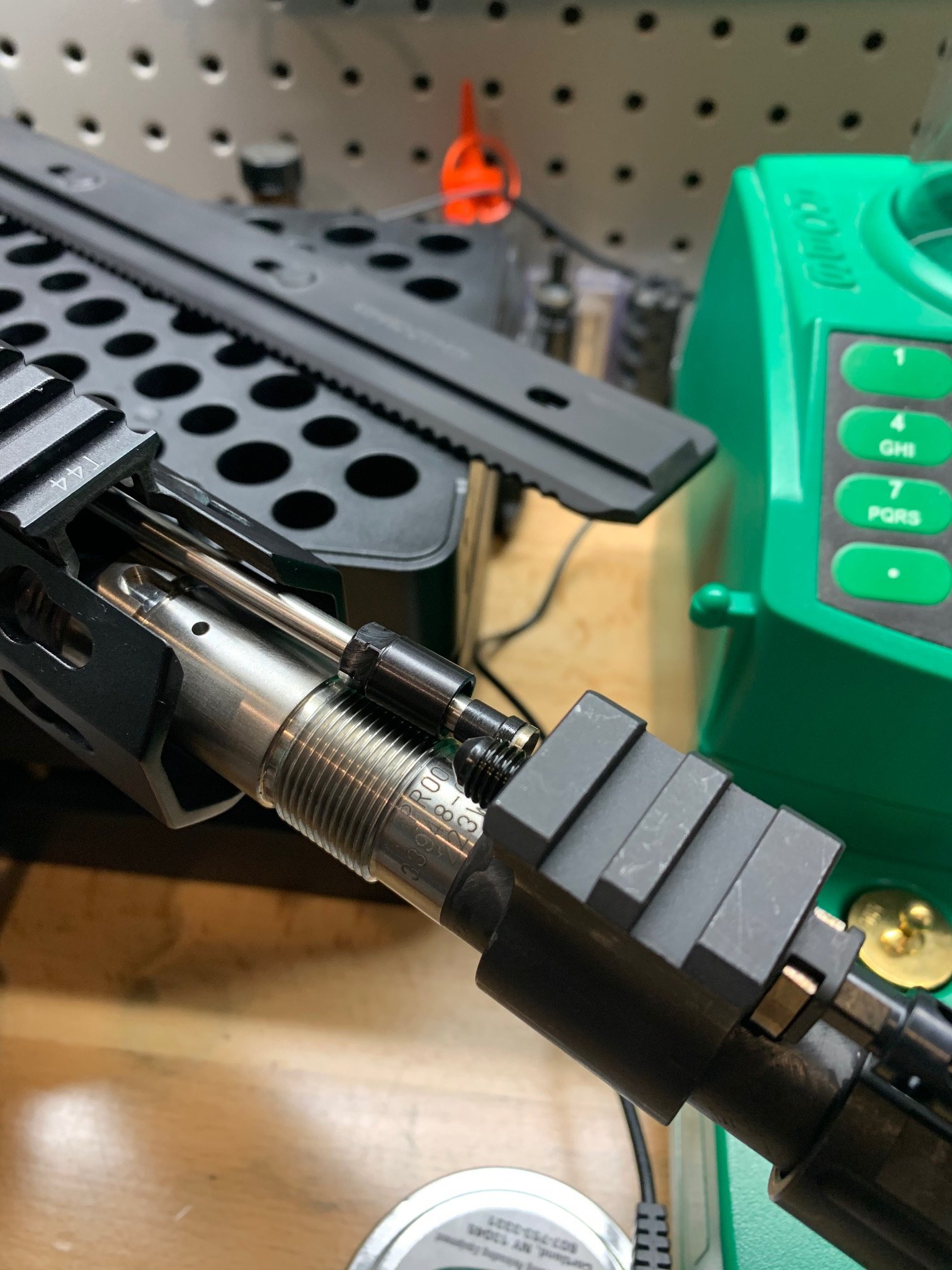 Did the usual tricks. Bolt extractor & ejector removed to check head space. Rounded the ejector & deburred the extractor. Not pictured but check & blend M4 feed ramps as necessary (they matched really well on this one).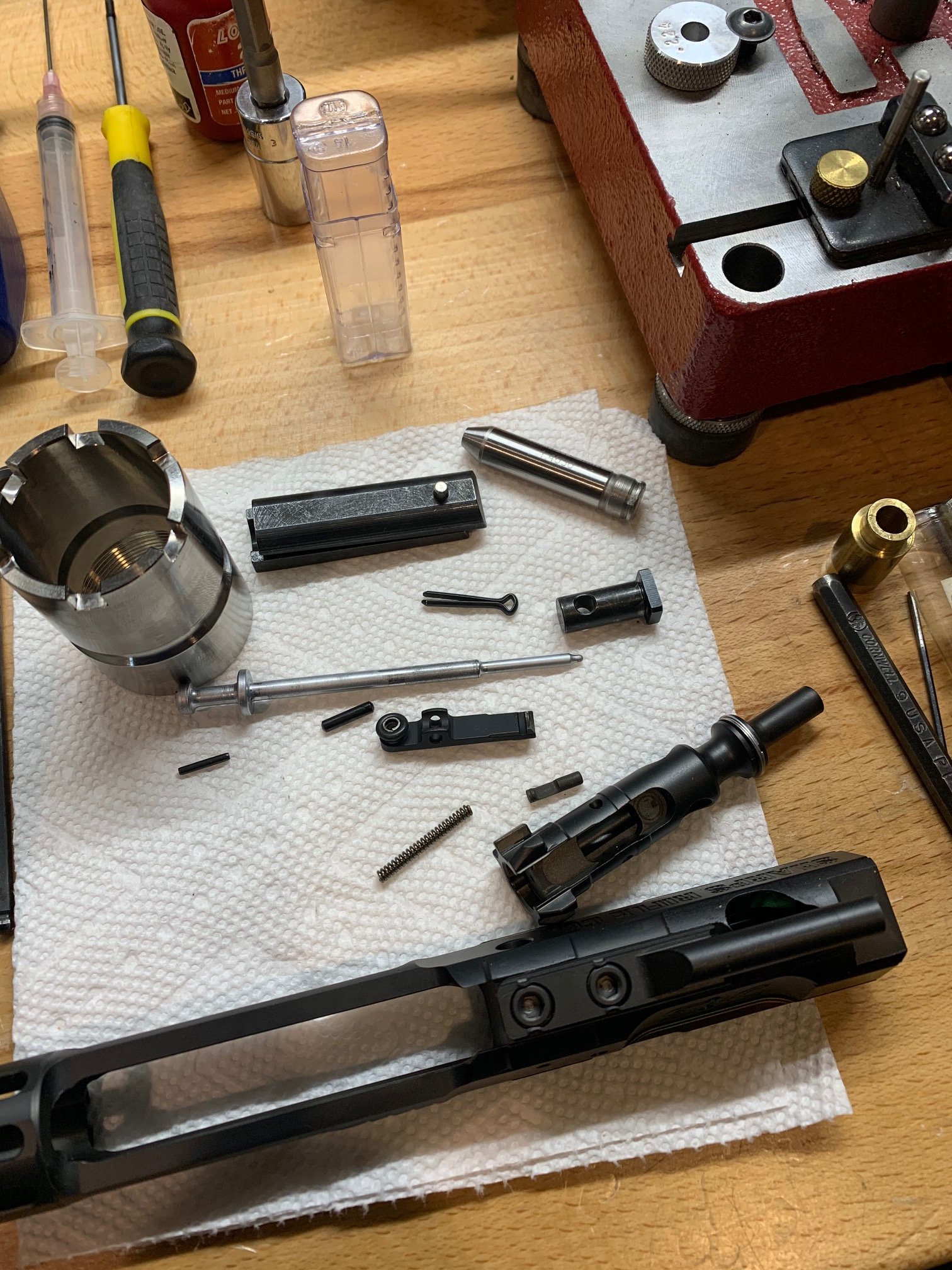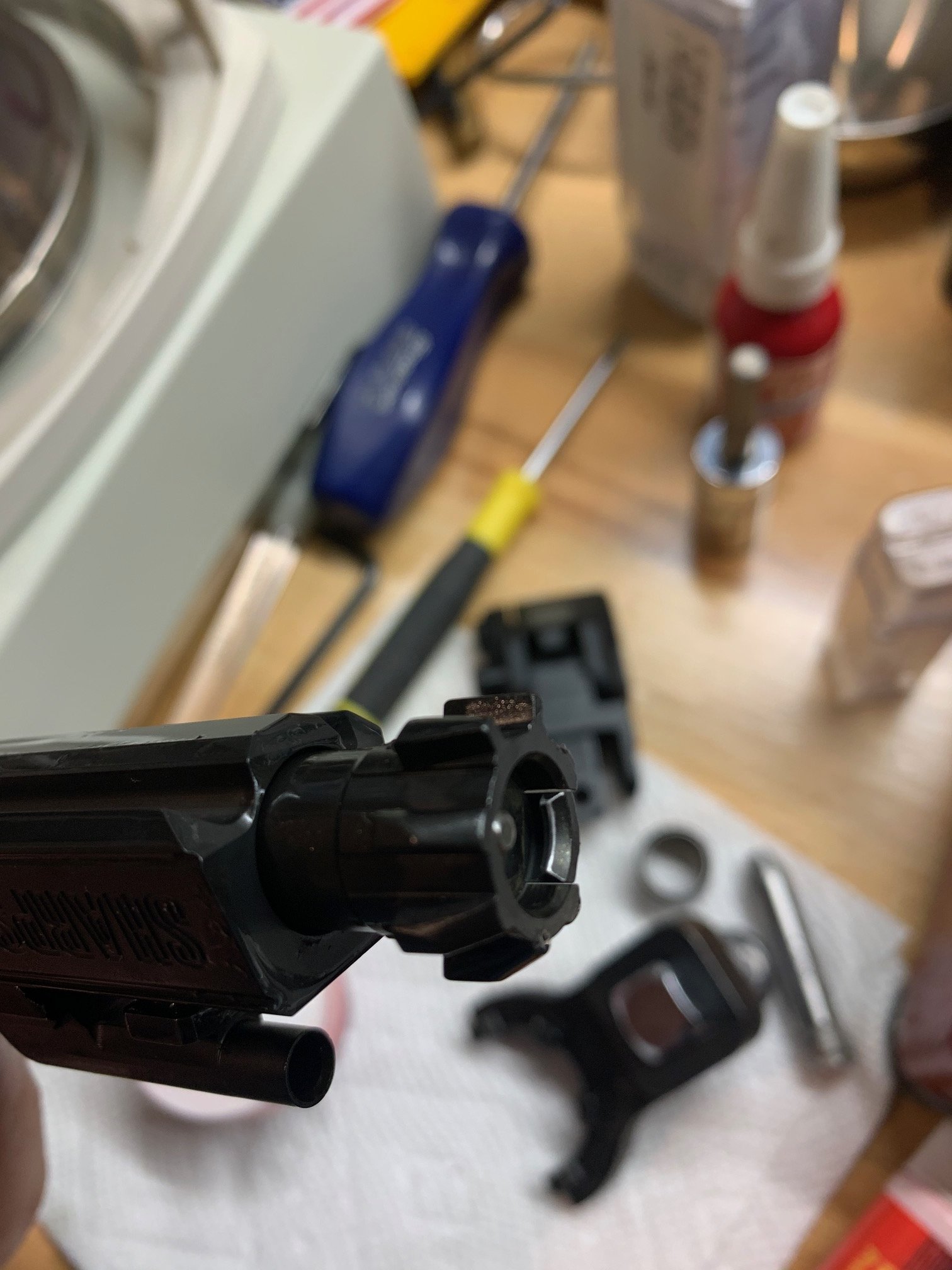 Yeah I chopped a Mega wedge lock. At least it was a key mod I chopped on. Insured clearance all the way around this bastard gas system to handguard. Even had to cut the bottom back of the LWRC front sight to clear. I like the look, it was worth the effort to me.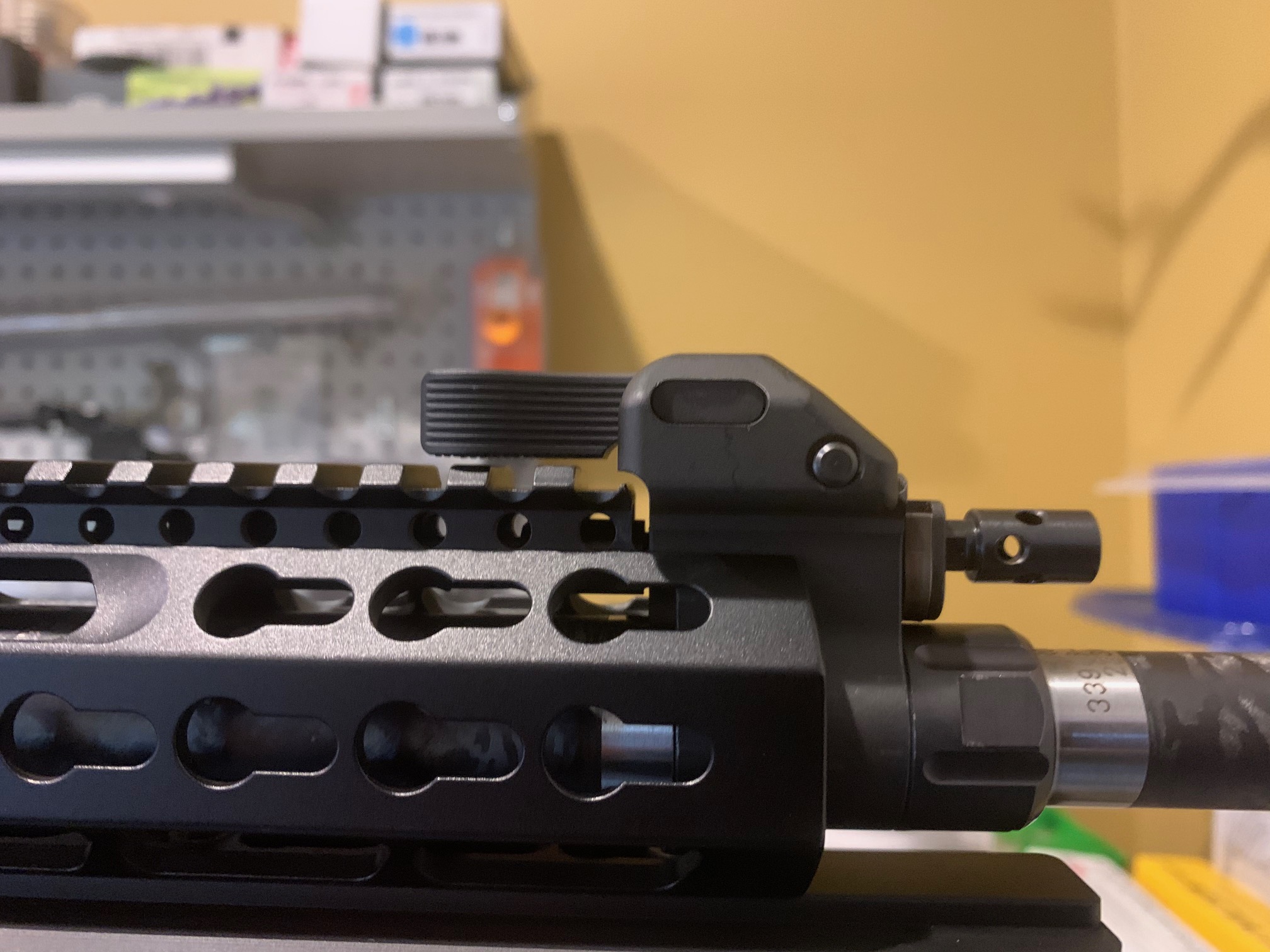 Just need to get a taller scope mount so the rear buis will fit.