Sergeant
Full Member
Minuteman
Today I received my FL bushing sizing die and Wilson neck bushings from Whidden Gunworks and Sinclair, respectively. I thought I would share my initial impressions for those who care to know. This is my first experience with a bushing die, so I don't really have a benchmark by which to compare. So, if I rave about some features of the Whidden die that are common to this type of die, you know why...
The die came well packaged in rust-inhibiting paper inside a nice storage box that is pretty much the same box used by Forster. It's my favorite type of storage box. Included in the box, was the die and decapping assembly, expander, adaptor to use the die sans expander, a shoulder bump gauge, and instructions.
Below are a few pictures of the die and contents of the box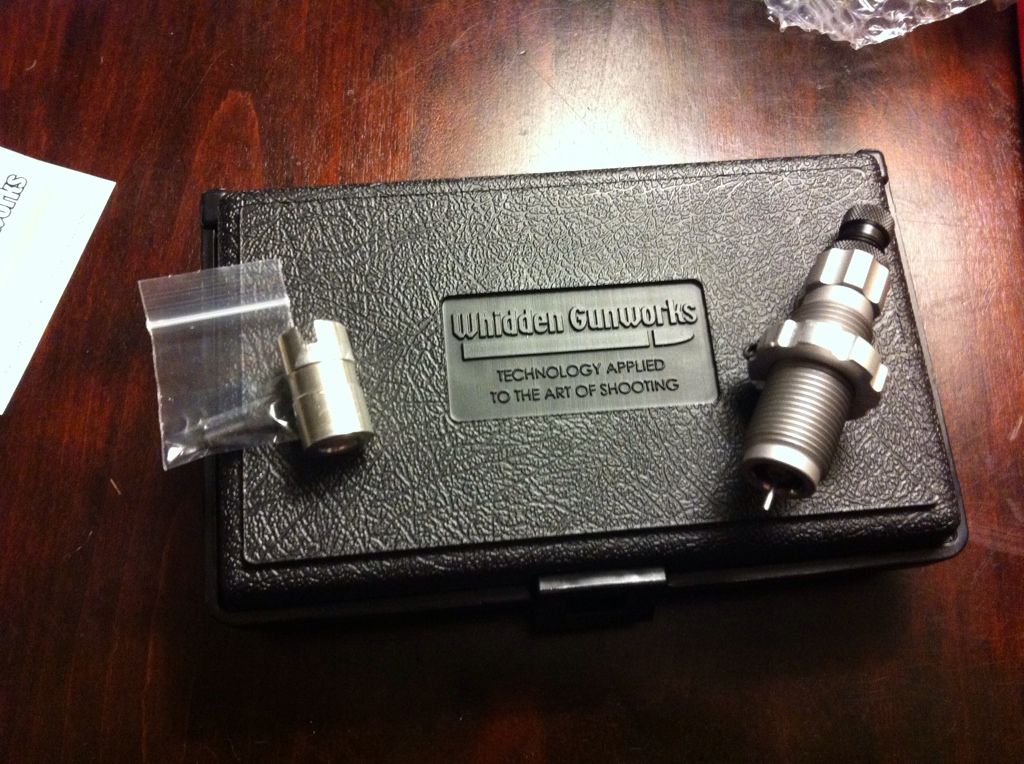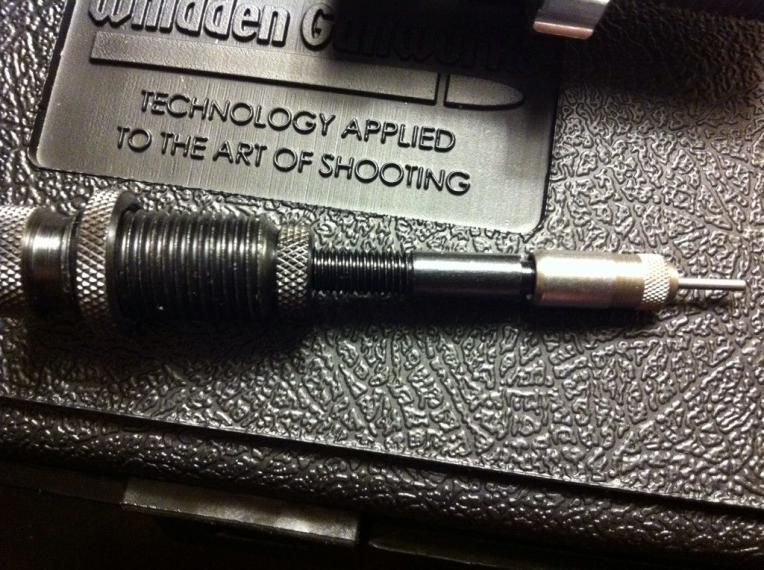 I was delightfully surprised at the inclusion of a shoulder bump gauge with the die(Redding and RCBS take note!) This is a must have for every reloader, as there is really no way to properly set up an FL die without one, and it's a nice touch that John Whidden included it with his dies. The only problem is that it is not marked, so if one has multiple Whidden dies he might have a mix up at some point. However, this would be easy enough to fix by marking yourself. I also like the design of the expander, as it provides a lot of contact with the case neck (I prefer this to the Redding & RCBS expanders which only provide about 1/16" inch of contact at full diameter), and is highly polished right out of the box. Both of these features, in my opinion, help to reduce runout at the case neck. Truth be told, I think LEE has one of the best expander designs on the market, as it works more like a mandrel. I know many people eschew the use of expanders, but they are a must for most gas guns and everything loaded with standard sizing dies. Another aspect of this die that I like, with respect to the expander, is that the decapping stem is independently adjustable, (it screws into the bottom of the plug that secures the neck bushing) which makes adjusting the position of the expander a snap. I prefer to keep the expander pretty high in the die, as I feel the case is more supported when the expander passes through the neck and this aids in reducing runout.
The Die has the best interior finish of any I've owned (LEE, RCBS, Hornady, Redding). It's HIGHLY polished, and shows no obvious imperfections.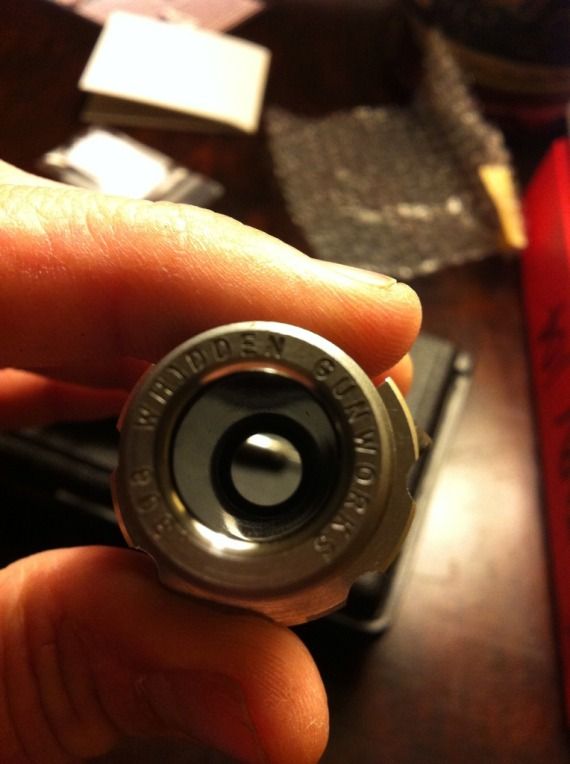 Notice the high polish. The engraving on the bottom is a nice custom touch.
According to Whidden, the dies are made to match PTG reamers. This distinction is important because PTG reamers are used by A LOT of custom gunsmiths. This hopefully translates to ammunition that fits tightly in chambers cut with the aforementioned reamers.
Loading Impressions:
The first thing I noticed after switching to the Whidden die was how much smoother it was in operation when compared to my standard RCBS & LEE sizing dies. It was better than the LEE, and light years ahead of the RCBS. This may be one of those things one has to "feel" to understand, but the difference was quite noticeable. I can only assume this is due to the high polish of the die. The expander was also extremely smooth and did not "grab" the case necks whatsoever. I usually have to spend about 15 mins carefully polishing the expanders of RCBS, Redding, and LEE dies to make them run smoothly and they still don't run as smooth as the Whidden. Most importantly, the darn things makes straight ammo! All of my brass has been fired in my rifle (which has straight chamber) so I only checked for loaded round runout since the bodies are already straight. Of the 30 rounds I loaded, 27 exhibited .001" or less runout, and none showed more than .002" runout. Part of the reason for this is that I turn my necks and use the excellent Forster Ultra Micrometer seater die, but I never achieved this kind of consistency using my previous dies.
A few photos showing how handsome these dies are on one's press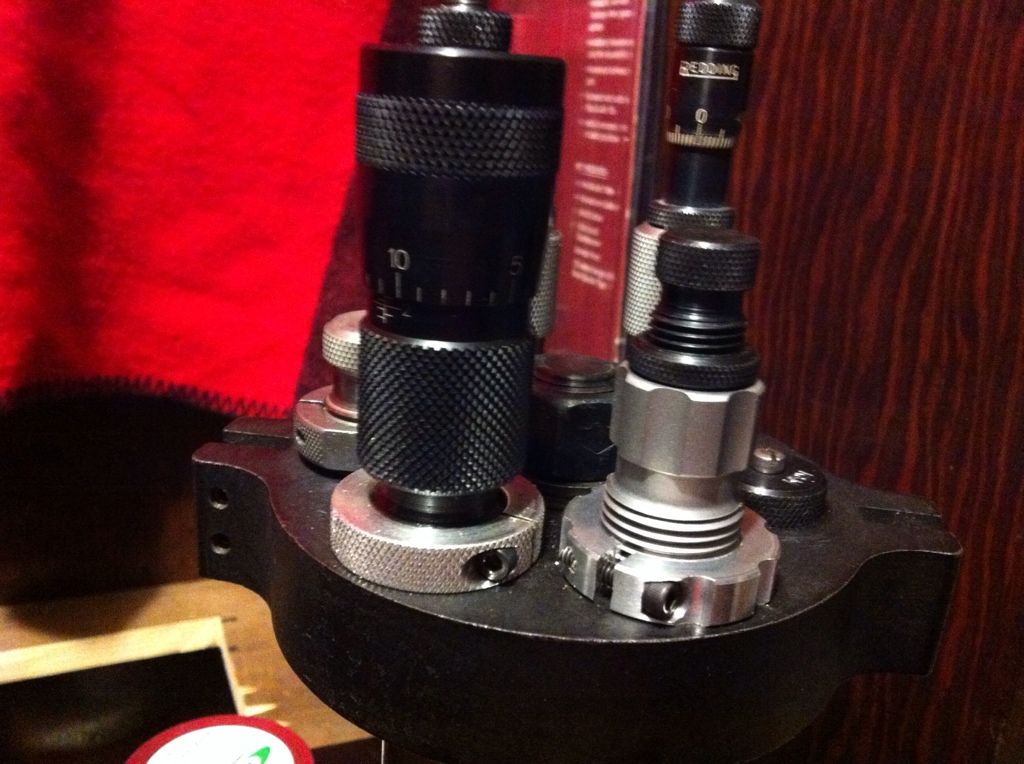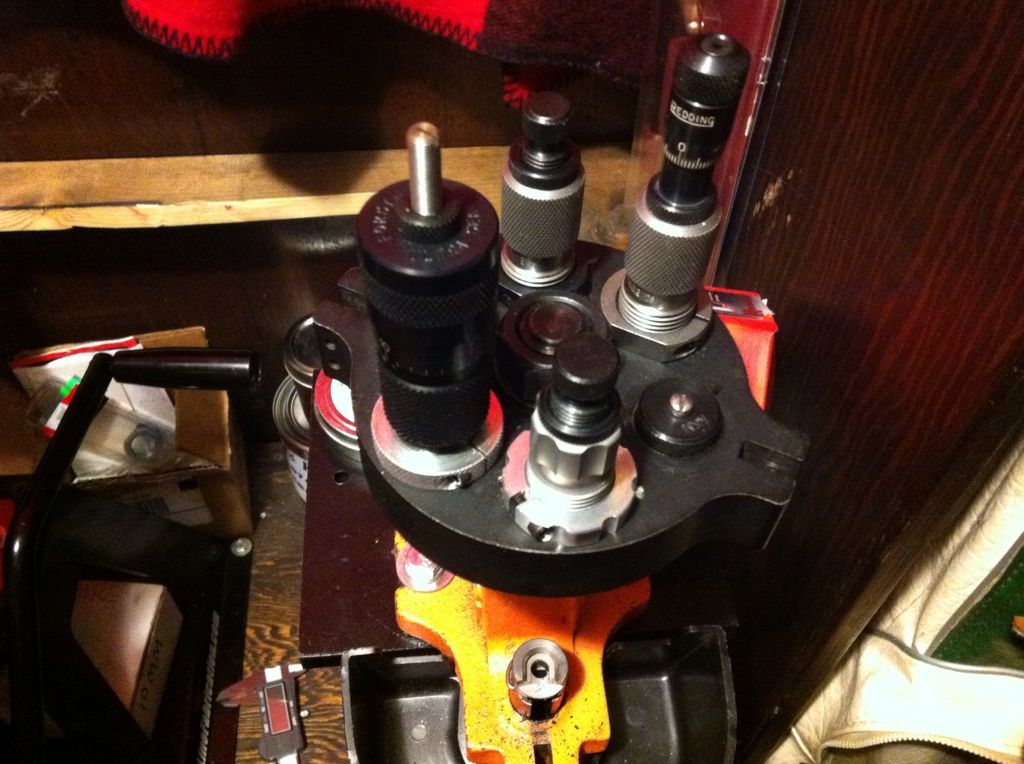 Whidden Gunworks also offers a micrometer seater die that is reported to be outstanding. However, since I already had the Forster seater I decided to forego the extra expense(about $100).
So far I am very pleased with the new Whidden die, and I would not hesitate to reccommend it to anyone who is looking to upgrade to a bushing die. For an extra $25 over the Redding, which I'm sure is also an excellent die, you get a fantastic die with nice custom touches, a great expander, shoulder bump gauge, and the satisfaction that comes with supporting a fellow shooter's company.
I almost forgot to mention that the dies are available in standard form (non bushing) as well. Furthermore, they can be had as a full custom die, made to the dimensions of cases fired in your chamber, or they can just hone the neck on a standard die to a dimension specified by the customer.
I hope this has been helpful to you guys, and please feel free to ask me any questions you may have.
Here's a link to Whidden's website
Whidden Gunworks
Last edited: