Sergeant
PX Member
Minuteman
Brand new unfired Vudoo V22 Factory Build .22lr just got this stick Monday 4/5/21 after a order in 2020. Things sweet just don't need it at this time and have other projects. Avoid the wait ..... thing came out beautifully!!!
Specs:
Vudoo Factory Built and assembled
V22 Gen 2 action black
40 MOA Rail
Bartlein Kukri contour fluted and threaded barrel with thread cap 18" black
Manners mini chassis in swamp camo
Trigger Tech Diamond
pro trigger
3 Vudoo polymer mags
1 rifle mag that comes with manners chassis
Plano hard gun case for shipping from Vudoo
Rifle no wait $3609.85 +shipping or pick up by Marylanders only @ FFL
Pick up in Maryland 18+ years old @ FFL for Marylanders or shipping /insurance FedEx ground paid by buyer to their FFL who accepts from individuals. Any questions please ask.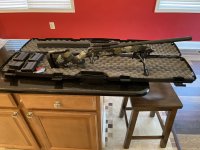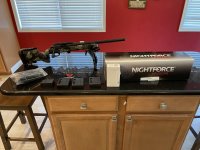 Last edited: