Old Dude
Commercial Supporter
Full Member
Minuteman
We recently got in our first order of HOG & PIG Saddles from Shadowtech. Joshua (owner) was kind enough to come visit the shop last week and give me the rundown on the products. First take-away is that I need to upgrade my inventory of tripods, second is that the PIG is a no-brainer for me.....
https://www.triadtactical.com/PIG-Saddle.html
https://www.triadtactical.com/HOG-Saddle.html
Here are some photos: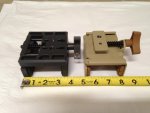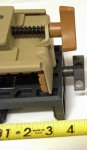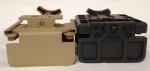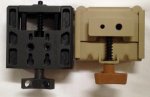 PIG in tan, HOG in black.
Weight on my scale:
HOG 16oz (aluminum)
PIG 21oz (steel)
The PIG has a slightly narrower footprint, but opens wider.
Jaw widths:
HOG from 1 1/2" to 2 5/8"
PIG from 1 3/8" to 3 1/4"
(note: past 2 1/2" out to 3 1/4" the jaw spring is no longer under tension)
Obvious difference between CNC aluminum and steel construction. Trade offs in weight and cost. Poly tension knob on PIG is another difference.