Posted this on a BR forum, wanted to see what the hide had to say from the .30 cal guys.
2 pics below, 2 x 3 shot groups at each target. 500 and 700 yards. Rifle is a 300wm shooting 215 hybrids at 2988
It's a good load, ES of 9 and SD of 3.5, so I'm not thinking that's the problem. Steady full value 10mph wind today, but it was steady as it gets.
Have a few questions/thoughts. 2 distinct groupings mixed from 6 shots. The higher impacts are more in line with what AB is calling for elevation.
I dont think they were flyers, it's too consistent of locations to be that. My guess is (and I can feel it sometimes) my POI is impacted by how much I load (or dont load) the bipod. Didnt take notes on which ones went high. But based on 2 distinct POI's of low/right and the others more on elevation, but left....is this just a fundenentals issue?
At that range would a little less loading (more free recoil) cause a big enough dip in velocity to impact low like that? If I remember correctly the upper impacts had more of a load on the rifle, but really cant say for sure.
Anyt thoughts? Is this a fundamentals issue? If so, which is correct/more consistent with POI/velocities the firmer bipod load or the softer bipod load?
My 3 shot zero to start the day at 100 was sub .5...and the 2 different POIs if I measure them seperately are holding to that...figuring it's got to be my lack of consistency?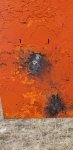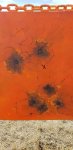 Last edited: