Sergeant of the Hide
Belligerents
Minuteman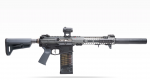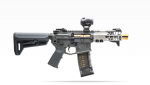 What are the drawbacks of a short-barrel 308 and 6.5 Creedmoor? I'm talking 7"-9" 308, and 7"-12" 6.5 Creedmoor. (I can't find barrel lengths shorter than 12" for 6.5 Creedmoor.)
I want to do short-barrel pistol builds with a PDW type stock seen on the Honey Badger / Ghetto Blaster, using JP Enterprises AR-10 H2 Heavy Silent Capture Springs.
I mostly want a fun gun to shoot suppressed, and unlike the 300 Blackout, 1moa or less out to 500 - 600 yards. (Min-Max) I don't mind shooting them unsuppressed either, so long as noise levels are tolerable with ear protection.
I've heard that gas systems with such short barrels on 308, especially suppressed, will wear the bolt/pin out very quickly, and I don't know if such guns can be as soft-shooting as a suppressed 300 Blackout setup.
Is there a ton of powder that is not yet burnt up before 10 inches of barrel length and how much barrel is needed for those two calibers to be accurate at 500 yards?
Will 6.5 Creedmoor be softer shooting? And at what cost? Is it a faster bullet, and will it be louder out the muzzle than the heavier slower 308, especially at these lengths? Or is a 308 more ideal for such a fun-gun setup. Would the 308, subsonic and suppressed, be closer to a 300 Blackout build than the 6.5?
And yes, I know the 6.5 Grendal exists, and I will get one a couple of years from now. Just a fun little experiment with two fun guns I hope to build.