If you're looking for Gucci, do a 375 socom on a piston upper. 8-10 inches is all you need. It'll get to 500, but accuracy is more on the barrel, ammo, and shooter quality.

Slap a can on and have it cerakoted something rediculous and be the star of reddit for a day.
I'm thinking more like starting a gun channel on youtube based on my awesome builds, but reddit is also a definite!
I was actually thinking doing something like that, just a 22 plinking gun in the m4 body and cerekote it with a can, like this Chiappa M4-22: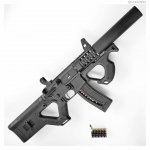 An M4 SBR would be cool, but since my heart isn't really drawn to either 22 or 375, I'd need it to be a killer gun with high resale value since I wouldn't be keeping it anyways. The guns I'm building are guns I plan on keeping for a very long time.