Gunsite Rangemaster
Commercial Supporter
Full Member
Minuteman
Mar 5, 2004
2,133
1,351
65
We are down to the last 3 Vector IV's. Three different models are available. These will ship with lens caps, manual, field QR card, camo soft case, and 9 pin serial data cable with remote trigger. Additional optional equipment is available, PVS-14 adapters, tripods, ARD's and the BE-10XT 10x enhancer. Prices do NOT include shipping and insurance. Once these are gone, that's it, the well is dry.
These units all range in feet/meters/yards and measure angle in degrees/mils. All have tested serial data ports, 1200 baud set in PC mode. IV's range to 5000+ yards, have a 1550nm laser and are not visible to NVG's and have a night vision mode for the display.
One Vector IV/Viper II - This is a new condition mil-issue type Vector IV with Swiss T reticle. $6500 for the kit
One Vector IV model S - Near new commercial software version with no etched reticle, electronic reticle only. $6000
One Vector IV model SFR1 - Mil software, full mil dot reticle. This unit is in used very good condition. There is a small fleck in the prism on the left side, resulting in a tiny blurred spot if you look for it. $5000
One Vector 1500 DAES - Near new, no reticle. The 1500 is a 905nm laser. but tested and verified to read 2000+ yards. The 1500 has a data only cable, no remote trigger function. I have only a QR card, no manual, though it is very similar to the IV in operation. $1500
I have 1 only BlueTooth adapter for the Vector IV to connect to a Kestrel, $200
There are plenty of BE-10XT's, now $1800 each. TACT 3 tripods are non-magnetic, there are 2 models available, the Q has a fixed adapter plate, the S is a removable QR plate, $500. PVS-14 adapters are $250. I have 9 pin serial data cables with remote triggers for the IV and 21/23 at $250. 15 pin PLGR/DAGR cables are available as well.
There are still several Vector 21A's available, smaller beam and longer range, $10,000 each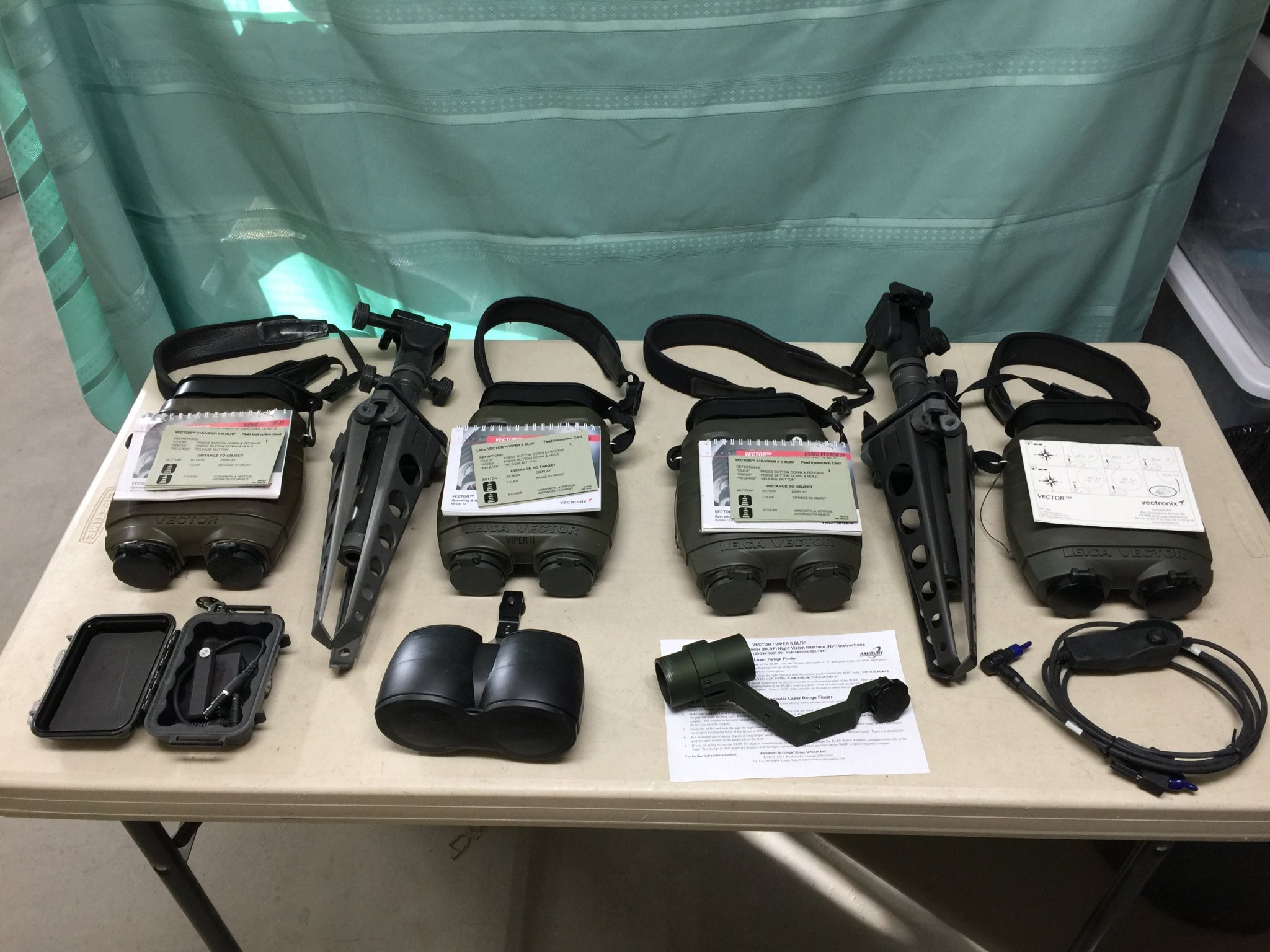 Contact me for more details or additional pictures.
Cory Trapp
Gunsite Academy, inc.
CoryT@<remove>gunsite.com