Sergeant of the Hide
PX Member
Minuteman
So awhile back I decided that I would see how hard it would be to hit a quarter at 200 yards with the "M40A1" build.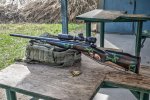 Well let me say that with a straight 10x scope... it is not very easy to spot that quarter!
It's funny, with my other precision rifle with it's 24x scope I would have no real issue spotting it.
Surprisingly though it only took me two shots to hit it. The first shot went just off to the right edge of the quarter. The next shot pretty much hit it square on.
I happened to catch the shot on video even.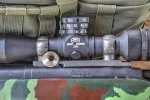 I then decided I need to try something else with the quarter. I took one of my bullets and epoxied it into the quarter for a sort of momento.