I have acquired several 640x480 BAE thermal cores and Focal Plane Arrays that are in varying degrees of not working.
I have the Electrical Interface Document but the problems are deeper at the circuit board level.
By swapping boards around and testing with known good microbolometers I have narrowed the problems down to a single source of failure. At least I think I have.
It seems that the processor board needs be calibrated to the FPA.
I have: One board that does not boot.
One board that NUCs but the Shutter is not activated.
And another board needs the video aligned.
I am looking for any help in finding someone who can do this.
<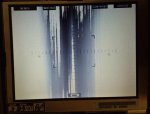 Last edited: