Howdy, all.
This is a brand new latest-generation Barrett MRAD bolt-action rifle, color black with the MLOK handguard. Currently set up in .300 Win Mag configuration. If you're unfamiliar with the system, you can find more about it from Barrett's website
here
-- the short of it is that it's a badass precision rifle offering user-changeable caliber configurations (.300 Norma, .338 LM, etc.), and it was the rifle selected for the United States Army Precision Sniper Rifle program... which explains why it's on backorder status everywhere.
This rifle system is brand new, only ever removed from its Pelican case for taking photos.
Included is everything it shipped from the factory with: manual, MLOK picatinny rail sections, and two magazines. I picked up an extra magazine that I'll throw in as well, still new in packaging, for a total of
three
mags. Rifle ships in its factory Pelican 1750 hard case.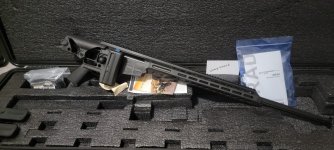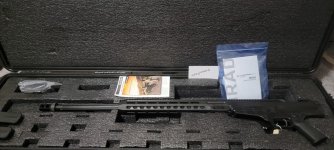 Asking
$6350 $6200
OBO shipped/insured to your FFL. Payment via discreet Paypal F&F, Venmo, or Zelle.
More pictures, including close-ups, are available on my ARFCOM listing, which can be found
here.
Images have been taken with my username here. I have more feedback available on other platforms, under the following names: vvayvvard @ Arfcom (+10), and Confuse-a-Cat_LTD @ Reddit's GunAccessoriesForSale (+42). Feel free to message me on either of those places to confirm.
Last edited: