This is just an old classic without high speed or zero stop turrets.
5.5-22x50mm
Reticle is illuminated
.25 MOA turrets with 10 MOA per rev
No sunshade that I know of but if one of them in my pile fits it I'll include it. No box, but I do have a manual and butler creek flip caps included with it. It has lived on my 6.5 creed for the life of me owning it and has tracked and performed flawlessly. The NPR1 is a nice and thin reticle and great for shooting groups and steel. Scope is in good condition as you can see from the photo. I can get more if necessary but it's pretty straight forward.
No trades please. $1,050 shipped. I'll cover $500 of insurance so if you want more then it's on you (I think like $10 additional). Rings not included.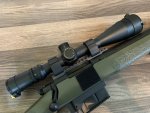 Last edited: