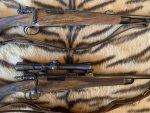 Posting up a pair of short or Kurtz custom Mausers.
Flat bolt 20" is very rare original Oberndorf action.
Long barrel rifle is Granite Mountain Kurtz. 300 were made and this is #300.
Both are color case hardened finish, Krieger barrels chambered in 6.5x250 Savage 1/7 twist.
The scoped rifle has been used from Mexico to Alaska with excellent result. Often with Lyman bolt peep as a sight.
Sadly, the short barrel rifle remains unused after 20 years.