Hey gang... new to these forums, so be gentle. I did search the forums for similar and found some info that I found useful, but wanted to ask the question anyway to see if there is any additional info specific to this situation.
I have a new Remington 700 Magpul edition .308. Less than 100 rounds through it thus far - all on the range.
22" barrel, 1:10 twist rate
Vortex Viper PST II 5-25x 50mm Scope
ASR muzzle brake(not mounted when pic was taken), but no suppressor used this day.

Took it out to the range a couple months ago when I first got it to zero the scope. Everything was fine... rifle definitely out performs the shooter.
Couple months pass, and I picked up a bench rest and bags and decided that I wanted to re-zero the scope to fine tune it. Just used bi-pods last time. Crude I know, but was good enough to be effective.
Went to the range, and proceeded with zeroing the scope. Was using factory S&B 168gr HPBT rounds for this. Everything was on point. You can see the final result of the zeroing. 3-shot group at 100yrds. So I was pretty happy with this.... then I switched over to test several small batches of some hand loads.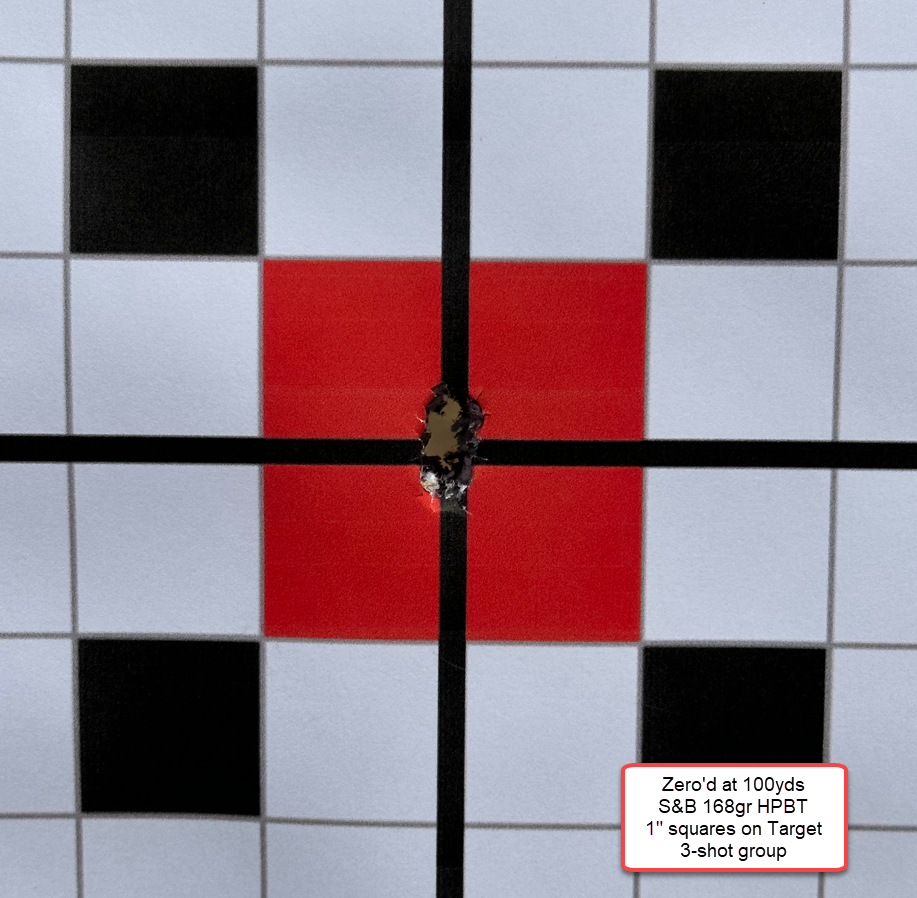 The hand loads use Barnes 168gr TTSX BT. The accuracy and precision was dreadfully bad, and after collecting the velocity data across several small batches, I just assumed that my hand loads were just garbage.
As such, I opened up a new factory box of Barnes VOR-TX 168gr TTSX BT. Put several rounds of that into this group and it performed just a poorly as my hand loads. Only commonality between the hand loads and the factory loads is the same projectile.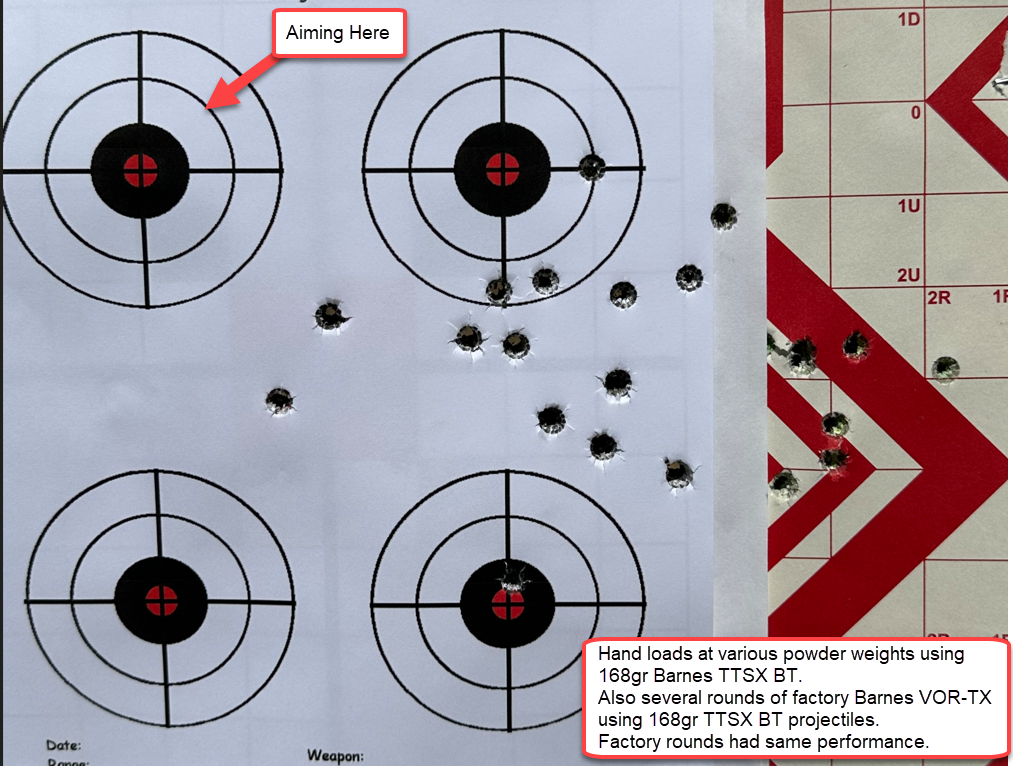 As I said, I thought my hand loads were just terrible, but since the factory ammo performed just a poorly, that made me pause.
I really expected the factory Barnes ammo to at least group well, even if not dead on since I zeroed with a different bullet.
Unfortunately, I did not have any S&B ammo left so I did not get a chance to send a few more of those rounds to see if it was just the ammo or something else.
Checked all scope mounting hardware, muzzle brake, etc and nothing off there.
I am going to clean the rifle really good and I have a borescope on order so I can inspect the barrel better...
I know some rifles can be finicky about ammo, but surely this is a bit extreme, right?
Also thinking about copper fouling in the barrel... I wouldn't think so much since I just had near perfect performance minutes prior... and I would think that would be a more gradual degradation and not some thing so sudden and severe.
I know the S&B ammo uses a copper jacketed projectile and the Barnes is a solid copper projectile... but surely that can't be it, can it? I haven't seen any notable negative reviews of the Barnes factory ammo or these specific bullets, so I would expect to get decent performance from them.
Anyone else run into similar issues and is there anything else that I should be looking at?