Quo Vadis?
PX Member
Minuteman
So, I had the opportunity to finally get my new 'tOBR to the range to zero and see what she can do. I recently sold my OBR to another 'Hide member in order to fund this purchase. I got to the range today with my good friend JD Thomas of High Speed Shooting Systems, and we had a little fun. After obtaining a zero, I thought I'd see how this beautifully machined rifle would do - having no real idea what to expect. I used the leftover handloads I worked up for my old OBR: LC LR brass, 44.4 Varget, 175SMK, FED210M.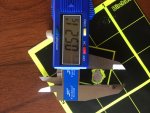 Disclaimers:
Yes, I am aware it is "only" a 3 shot group
No, I don't believe I can do this "all day long"
I do however, believe that this is a good indication of the potential this gun has to perform. 0.213 center to center from a bipod and rear bag. I am happy!
Last edited: