"Cartman 1-2, come in"
Supporter
PX Member
Minuteman
Oct 23, 2017
6,035
11,494
I mean what the actual fuck are they smoking when they describe a "safe" (which isn't an actual safe, btw) as having a 33 long gun capacity, like a Browning 33, and they have this picture.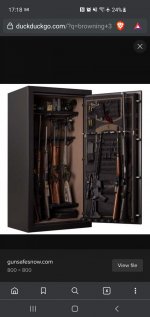 To me, that's maybe 10 in the safe (2 rows of 4-5), 2 pistols in pistol cases, and 3 on the door = 15 mostly-fudd-guns that don't have all kinds of bullshit optics, lights, chainsaws, sharks with laser beams on their heads, 63 degree canted iron sights, unicorn clip-ons, 90 degree red dots, bipods, trans-pods (monopods that identify as bipods), actual monopods, and whatever the fuck else we idiots hang on our pew pews.
Another picture of a 40+ gun safe had like 5 AR's with 10 ROUND MAGAZINES in one of the rifle storage areas and that looked full. I'm over here like what the fuck is a 10 round AR mag.
You put a hamdful AR's with optics, and a couple bolt guns with optics and you're tapped out with space.
So, like, I have to take what they say and basically take 25-40% of that as the actual capacity depending on the layout.
Fuckers.
/end rant
Discuss/shitpost if you wish.
EDIT: I'd be totally on board if they said something to the effect of " Can hold either 33 of grand-pappy's tube-fed, iron sight, 22LR squirrel rifles and a jar of moonshine, or 10 Modern Sporting Rifles.... and a jar of moonshine"
Last edited: