Feel free to move this if this isn't the proper forum.
Hello, my name is Scott Rice. I purchased the Savage 110BA in .338 Lapua Magnum. I will be purchasing a Sightron SIII 10-50x60mm optic and plan to mount it with Badger Ordnance 30mm xtra high rings. This brings up my first question, would you recommend scraping the rail that comes on the rifle and upgrading or is the stock rail fine? If an upgrade is necessary, what would you recommend?
Next, I plan to use an Atlas Accu-shot bipod but the 110BA only has a short piece of square stock with a sling mount rather than a section of rail at the front of the stock (see attached pic.)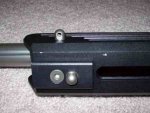 To fix this issue I am planning to use the BT28 AFAR Kit from Accu-Shot. (Pic below) however, the stock will need drilled and tapped to make this a secure fit and to keep it in a forward position like I want it, correct?
Thanks for your time have a great day.