Private
Supporter
Full Member
Minuteman
FOR SALE: Schmidt Bender 1-8x24 PMII ShortDot Dual CC black scope with MDR-T6 reticle and CCW ST LT MTC (model no. 683-811-43E-K2H2).
Excellent, like-new condition. Comes with original box, accessories, papers.
Bought it but then went in another direction with my rifles/scopes. Has been mounted and taken to the range two or three times, but otherwise it's been sitting in my gun cabinet for many months. These are priced right now at $5460 at EuroOptic, but are backordered.
Price: $4100 shipped and insured. No trades. I can do PayPal F&F, Venmo, Zelle, USPS money orders.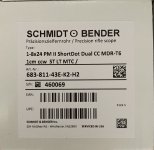 Last edited: