I've noticed recently when trying to do a search using the forum's search function that it doesn't allow me to enter keywords and only offers a "members" search parameter. I can select Everywhere or This Forum, This Thread - but no topic. Only Member. It used to have a field for keywords. I noticed the change maybe a couple of weeks ago.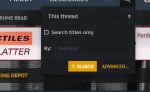 I've tried using the Advanced search, and you do get to enter keywords there, but no Search This Forum choice.

Any idea what happened?