Strictly Offensive Kit
Supporter
Commercial Supporter
PX Member
Minuteman
Well, it all starts with a picture... so here ya go! A video will follow shortly.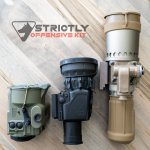 These are initial thoughts after playing with the Tig to learn it's capabilities and how it compares to what the US commercial customers have access too. They're not conclusive, but it's a damn good start!
Shuttered NUC:
Some love it; some hate it. I've never had a product with this feature that I particularly liked for the fact that it always seemed to go off at the wrong time. Imagine tracking a sounder in Texas and having to pause while the getting is good before you engage your targets. Yeah, that was me. With the TigIR, it's lightning fast and pretty dang quiet. It also gives you a short countdown so you know when it's coming. Upon start-up the unit triggers itself multiple times which is my exact procedure with any of my manual NUC devices – this is a huge positive for me. Once the unit is good an warm after a few minutes, it does it less and less as you would expect. With four CR123s or two 16650s, you can last all night (remind you of the good ole days?).
Color Pallets:
There are options upon options. With the FLIR I-Series 640 Boson core, you get all the options. I find myself using Black Hot these days, but it's nice to have options for you particular types. You can enable and disable the color pallets you like within the menu which enables you to shorten your cycle times to find the option that best suits your conditions.
Collimation:
This unit does not have a risley prism like most high end clip-on units. Not a problem. You can go through collimation procedures at every magnification level your heart desires (1x, 2x, 4x, 6x) with the exception of .8x, but that's on Andres roadmap. .8x is less useful for me, but some may have a need. What are you giving up without a Risley Prism you ask? The ability to swap from host to host without going through a zero procedure. For those that have multiple firearms to use, rest assure, you can save up to 6 different profiles. The collimation procedure is simple with the four button layout and I found it very easy to manipulate. If you can read a manual, you can collimate this optic to your system.
Button Layout:
It's strange. There are four buttons on this unit, all of which serve great purpose and are easy to manipulate. The two buttons on the left (bottom button is #1, the one above it is #2), you can zoom, switch pallets, and increase display brightness. These are the primary buttons I find myself needing access to and they're in a good spot for manipulation. The top button (#3) is hardly used, but useful during menu operations. The ocular side button (#4) is very handy in the event you break the objective lens cover on the thermal. It allows you to turn the unit on and off, or NUC. It's also needed for saving menu items.
The Objective Lens:
The device is engraved with 55mm F/1.0 which is very compact yet still able to do its job quite well. The objective cover when flapped down will cut the units power, and while in the up position it turns the unit on. No more finding small buttons with gloves in the pitch black to operate this unit.
The Ocular:
You're going to have a hard time looking through it as a monocular without a 3x rear end magnifier (we offer and stock them), but most won't use this unit in this capacity. As a clip-on, you're in the chips.
Mounts:
This unit does not come standard with any pic rail mounts as per German export rules. This is resolved with a few additional parts included with every unit we offer, an EraTac mount and a plate bringing the overall optical center to 1.5" with a 38mm mount. Additional mounts can be had in several flavors: 36mm, 39mm, etc., as well as Bell Mounts in 50mm and 56mm as an example. We're working with the manufacturer to bring additional options for the guys running NV capable red dots with magnifiers approaching the 2.25" optical center height. Other options may be available based on demand. Let us know what you need. Additionally, the display (see below) has the ability to shift within the viable pixels up to +/- 3mm. This means if you typically run a 1.5" optical center and a 38mm mount, you can get away other host systems that have a taller or shorter optical center. 34mm is the lowest mount made today, and that would net you a 31mm height at the lowest possible display setting. In order to achieve 50bmg recoil ratings, they cannot make a shorter mount with the existing pic rail option.
Power:
This unit will run on four CR123 or two 16650 rechargeable. We have not yet tested if it will run on two CR123s or one 16650 rechargeable batteries. There is also an accessory cable which plugs in easily to the Tig which allows for external power.
Recording:
Just like the external port that allows remote power banks, there is an accessory cable and DVR that allows you to record what the TigIR sees. It does not allow you to see any reticles internally (it doesn't have them anyways) or externally with a day scope since it does not see through the day scope lens. If you're looking to perform long range recon or record your guns from a tripod, this unit is ideally setup for that.
Fixed Focus:
Yes, it's fixed, albeit, at infinity. This means you will have usable images from 25 meters to beyond. If you find yourself needing this unit to be short range capable, it will of course work at ranges, of say, 15 meters, but the image will be a little fuzzy.
Display:
This sucker has a large for core OLED display meaning you have more pixels to work with than the core is capable of pushing out. This offers you a cleaner image compared to comparable 640 cored 640 display units.
Weight:
The naked unit weighs 1lb 2.9oz.
Size:
It's tiny. You only need a small amount of rail space to leverage this optic as a clip-on compared to other competitors which are significantly larger. Images of sizing will be posted shortly.
Packaging:
The optic comes with all of its documents, batteries, and lens cloth, packaged inside of a nice plastic hard case with what appears to be water jet cut foam. It fits like a glove. There's room inside to carry spare batteries too and mounts.
Negatives:
Regarding Warranty, Strictly Offensive Kit will help facilitate your unit getting shipped back to the manufacturer should you have issues. What we know thus far is these things were designed to be 50BMG rated, but we cannot say a SCAR17 won't eat its lunch. I would advise against putting it on a SCAR as I have first-hand experience of what it can and will do to a thermal clip-on.
No Risley Prism. Having several clip-ons that have this technology, and now using the Tig without it, it doesn't bother me much, but you will have to go through a collimation procedure which is quite simple.
Doesn't come factory with a mount, only the 6M does. This is due to German law. We are still able to provide the exact same mounting solutions despite it not being packaged with one.
Shuttered Auto-NUC. Depending on your use case, maybe it's a detractor, and maybe not. Regardless, it can be turned off in the menu. Its lightning fast and I tend to like the feature.
Positives:
It turns on when the objective cover is opened and it auto-NUCs itself as part of its startup regiment. This is a positive for me.
Weight and size. It crushes the competition. In fact, there is no other unit that is even close in class based on price, features and value. It was never a fair fight.
Rechargeable batts!
Loads of pallet options with the ability to turn desired pallets on or off so you don't have to cycle through them if you know they aren't your speed.
Minimal rail space required to mount.
Flexibility for different mount height options, or even bell mount options.
Half the price of a UTC-xii, 2/3rds the price of an LWTS-LR
With some closing thoughts, having used thermal clip-ons for years, and living by the Risley Prism is King mentality, this is the first unit that absolutely blows me away with its capability in light of not having it. Comparing it to my UTCxii, it's about 90% of the image quality, less than half the cost, and has loads of features the UTCxii could only dream about. Not having to deal with NUC'ing a device is turning out to be an amazing feat, and being able to protect the objective by closing the flap and also preserving battery life (because it turns off) is game changer (ew, I said it). If you're in the market for a device that's a decade newer than its nearest rival, look no further.
In summary, we are very pleased with this unit's capability and feel we are just scratching the service on its capabilities. There is still a lot to be learned and we're leaving that opened ended until we have significant time behind these units.
We have spots available on our waitlist and are not charging in advance of receiving these units. ETA is end-of-June, but the sky is blue and we see a path of having them much sooner than that.
Link to Product:
The TigIR-Z is currently the lightest and smallest thermal imaging device with 55mm optics. No other device reaches a range (standing man) of 3000m with such a short overall length of only 111mm. These small dimensions could only be achieved by developing a specially folded eyepiece optics. The...
strictlyoffensivekit.com
For you social media types, we plan to release more content, video, photos of this sucker via Instagram: @strictlyoffensivekit. We'd appreciate your feedback.
Questions? Feel to ask here or contact us directly.
Cheers,
Preston
214-744-3589
Last edited: